Chinese artists create a work of art after the inauguration ceremony of the Philippine-Chinese Art and Culture Exchange Program in Shenzhen, Guangdong province on Sept 21, 2019. (Photo: China Daily)
Renowned artists from various parts of China will strengthen the bonds between China and the Philippines by joining in an art exchange program, inaugurated on Saturday, in Shenzhen.
The exchange program, called the Philippine-Chinese Art and Culture Exchange Program with the theme In Harmony with Nature, is expected to last about two months. Chinese and Filipino artists will exchange visits to each other's countries to create art and exhibit their works once the visitation program is finished.
Five Chinese artists - three from Jiangsu province, one from Hong Kong and another from Yunnan province, will join five of their Filipino counterparts in the Philippine island province of Palawan, in southwest of the Philippines, to express their visions with their paint brushes, for five days, commencing Sunday.
Art pieces created during the trip will be exhibited in Manila from Sept 28 to October 19, with corresponding public programs, aimed at raising awareness on climate change and the need for environmental protection.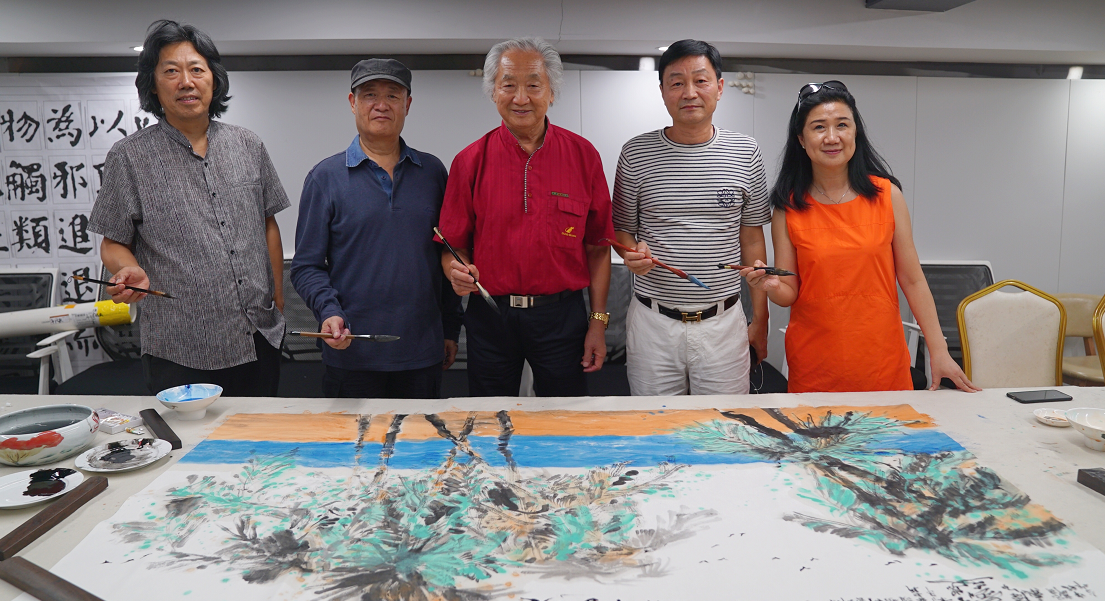 A group of renowned Chinese artists, from three places of China, present their collaborative masterpiece in Shenzhen, on Sept 21, 2019. (Photo: China Daily)
The aim of the program is to deepen bilateral communication and people-to-people exchanges, including art and culture. The program is co-organized by the Metropolitan Museum of Manila, the Bank of China, China Daily and the Chinese Culture and Art Association (CCAA).
Kate Yau, executive director of the China Daily Asia Leadership Roundtable, spoke at the inaugural event on behalf of Zhou Li, publisher and editor-in-chief of China Daily Asia Pacific. She spoke of the importance of enhance bilateral exchanges between countries, through art, not only at the official but through the people of both countries. .
"China Daily has been active in co-organizing such programs for a long time, bringing Chinese artists to Thailand in 2015 and Myanmar in 2018, respectively, (to promote art exchange between different countries)," said Yau.
Zhou Yanzhao, chairman of the Chinese Culture and Art Association (CCAA) said the program is of great importance, since the Philippines is an important destination in the Belt and Road Initiative, which aims to strengthen connections around the world on many levels.
Hong Kong-based artist Kuki Chai Bu-kuk who participated in China Daily's previous programs in Thailand and Myanmar, said the art exchanges help to attract global attention to Chinese art and culture. The importance of the work, she said, gives artists a strong sense of responsibility to introduce Chinese art to the world and to make their best efforts.
"Unlike the Philippine artists who are good at oil painting, (the participating) Chinese artists are experienced in ink and wash painting, (which gives us a chance) to show something special to them," said Chai. She is also a council member of the China Artists Association and an examiner for the Hong Kong Arts Development Council.
Ding Jie, a national first class artist from eastern China's Jiansu province, spoke of his excitement about meeting the Filipino artists, even though he speaks no English well. He said he will communicate the stories of China with his brush and, at the same time, show Filipinos how their country is seen through the eyes of Chinese artists.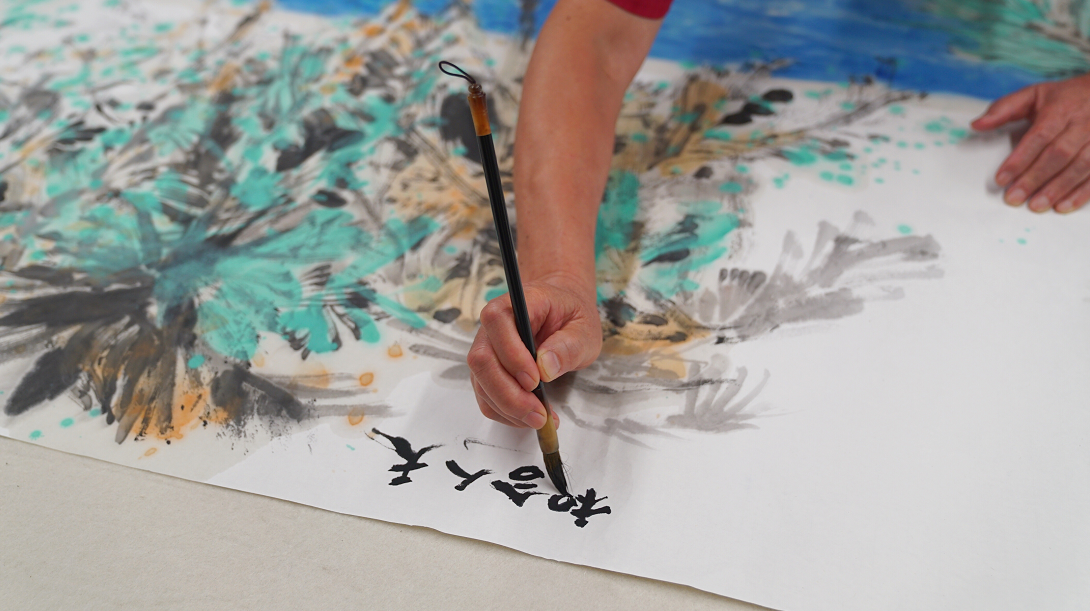 An artist inscribes "In Harmony with Nature", the theme for the Philippine-Chinese Art and Cultural Exchange Program. The inscription is placed on the collaborative painting by five renowned Chinese artists in Shenzhen, Guangdong province of China, on Sept 21, 2019. (Photo: China Daily)
The program comes at a special time as China and the Philippines enter a new chapter of bilateral relations.
In August, Philippine President Rodrigo Duterte visited China to meet with Chinese President Xi Jinping. During his five days in China, Duterte participated in events intended to improve cultural and people-to-people exchanges. It was Duterte's second visit this year and his fifth in the past three years.
"I hope artists from both countries can experience the natural sceneries and the magic landscape (in both countries) together to find inspiration," said Zhou of CCAA.
After the exhibition in Manila, the Philippine artists will visit Liling city in Central China's Hunan province from Oct 20 to 24 to sketch and paint in a city famous for its artistic atmosphere and for its ceramics. After that, the collection of art works created in the Philippines and China will be exhibited in Shenzhen, between Oct 26 and Nov 16. That exhibition will be open to the public for free.