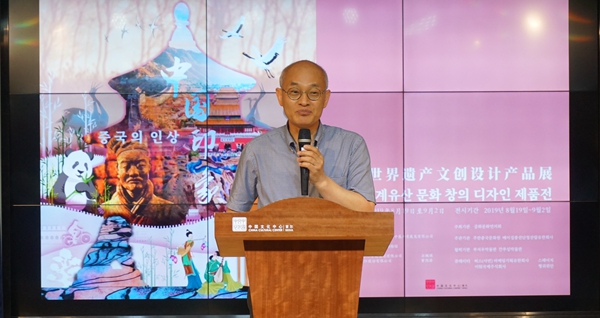 Senior curator Lee Dong-Gook gives an opening speech.[Photo/Chinaculture.org]
The World Heritage Cultural Design Products Exhibition of China opened at the Chinese Cultural Center in Seoul on Aug 19. Leaders such as Wang Luxin, consular minister of the Chinese Embassy in South Korea, senior curator Lee Dong-Gook and Chinese cultural enthusiasts from all walks of life in South Korea participated in the event.
South Korean curator Lee then delivered a speech. Lee said that the exhibition integrates human culture, natural heritage and handicraft, painting and calligraphy heritage into daily necessities such as penholders, rulers, tapes, notebooks and parasols and vividly reproduces thousands of years of history like precious stones.
The rice paper tear painting.[Photo/Chinaculture.org]
The exhibition relies on the creative designs for and exhibition of cultural heritage, which provides a new perspective for Korean people to experience Chinese traditional culture. The exhibition hall is divided into three areas: graphic exhibition, creative products and workshop experience. The graphic exhibition area matches the images and key elements of each heritage site with an oil painting mosaic. The creative products area selects Chinese World Heritage Sites so people can experience the historical sites in the city and the cultural relics in the warehouse. The three manual experience zones of paper-cut embroidery balls, rice paper tear painting and seal-cutting round fan allow the audience to design and manufacture round fans, and experience the innovative design.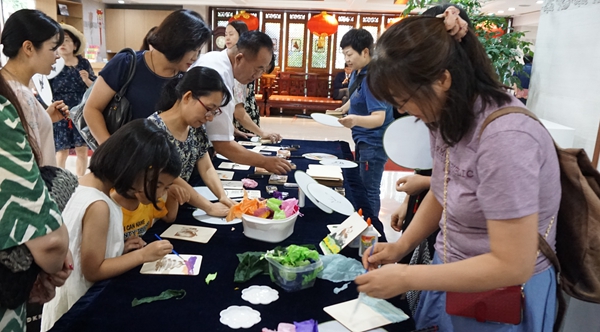 People are making paper-cut embroidery balls.[Photo/Chinaculture.org]
Korean guests said the exhibition enables Korean people to understand Chinese culture and directly experience heritage protection.
The exhibition was jointly organized by the Chinese Cultural Friendship Association, the Chinese Cultural Center in Seoul and the China International Art Exhibition.