Chinese President Xi Jinping's footprints in Africa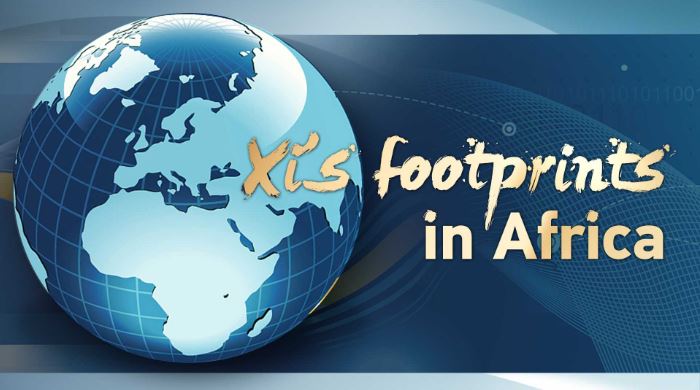 It's a big year for the development of the China-Africa relationship. The Beijing Summit of the Forum on China-Africa Cooperation (FOCAC) will take place in September.
The summit is expected to roll out new measures and create new opportunities for further strengthening of all-around China-Africa cooperation.
Last month, President Xi Jinping finished his fourth visit as Chinese leader to Africa, injecting new impetus into the friendship.
Fourth visit: July 2018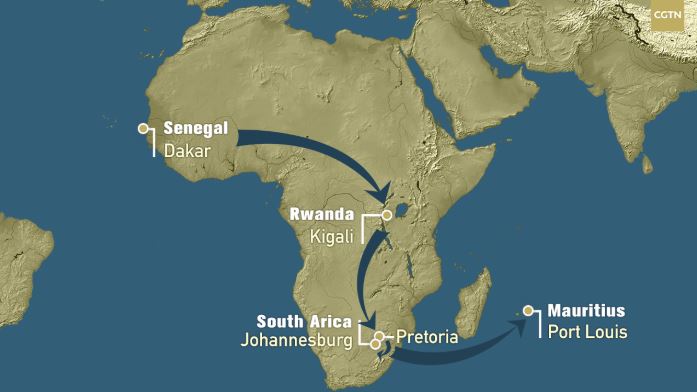 State visits to Senegal, Rwanda and South Africa and an official visit to Mauritius
Attending the 10th BRICS summit in Johannesburg, South Africa.
"Every time I come to Africa, I have seen the dynamism of the continent and the aspirations of its people for development. I am very confident in the future of Sino-African relations."
President Xi told a joint press conference with Senegalese President Macky Sall
The Outcomes:
Some 40 cooperation documents were signed.
Cooperation documents signed regarding the Belt and Road Initiative:
– Senegal became the first West African country to sign a Belt and Road cooperation document with China;
– Senegal and Rwanda signed memorandums of understanding with China on the Initiative;
– Mauritius reached agreement with China to sign the cooperation accord on the Initiative at an early date.
South Africa was promised 14.7 billion dollars of investment;
Rwanda signed 15 deals worth millions of dollars with Beijing;
Mauritius continued negotiating Africa's first free trade agreement with China.
Third visit: January 2016
State visit to Egypt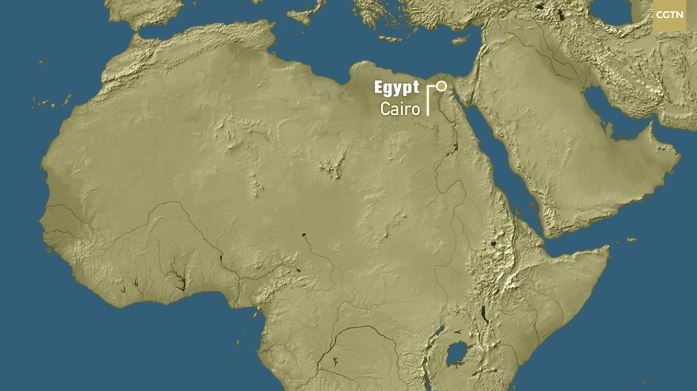 "If you drink from the Nile, you will return."
Xi quotes an Egyptian proverb in his written remarks upon arrival.
"China welcomes Egypt and other Arab countries to get on board the fast train of its development, and hopes that our respective development and growth could be well aligned and mutually reinforcing."
Xi made the remarks in an article published in the Egyptian newspaper Al-Ahram on Jan. 19, 2016.
Results of the trip:
China and Egypt signed deals worth 15 billion US dollars, including:
– A five-year outline document to develop the China-Egypt Suez Economic and Trade Cooperation Zone;
– Bringing to Egypt over 100 companies in the textile, garment, oil equipment, motorcycle and solar energy sectors, among others;
– Creating more than 10,000 jobs in Egypt;
– A memorandum of understanding signed on jointly implementing the Belt and Road Initiative;
– A number of other cooperation agreements were inked, covering areas such as electricity, space, infrastructure, trade, energy, finance, culture, media, technology and climate change;
– China agreed to help train 2,000 Egyptians in the five years from 2016 to 2020.
Second visit: December 2015
State visits to Zimbabwe, South Africa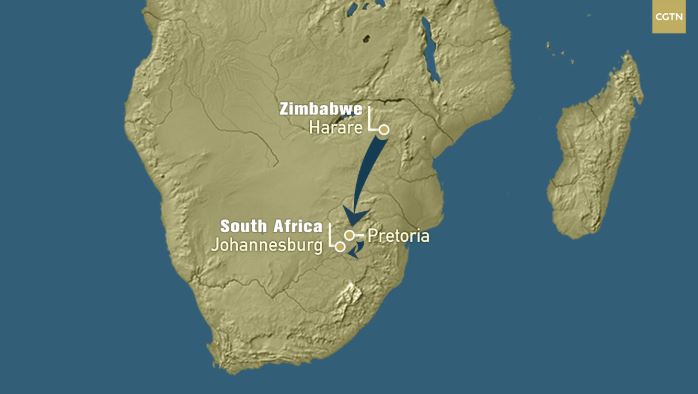 Co-chairing the Johannesburg Summit of the FOCAC
"We should leverage our strengths in political mutual trust and economic complementarity, translate our friendship into a strong boost for practical cooperation, and promote more fruitful cooperation in such key areas as marine economy, production capacity, energy, infrastructure, human resources and finance."
Xi made the remarks in an article "A Rainbow of Friendship" published in the Star newspaper of South Africa ahead of his visit.
The outcome of the visits:
– 60 million US dollars in grants to the African Union (AU) to support the building and operation of the African Standby Force and the African Capacity for the Immediate Response to Crisis;
– 156 million US dollars of emergency food aid to African countries hit by El Nino;
– 2,000 educational opportunities with degrees or diplomas and 30,000 government scholarships to African students;
– Training for 200,000 technicians in Africa and offering 40,000 training scholarships in China.
First visit: March 2013
State visits to Tanzania, South Africa and the Republic of Congo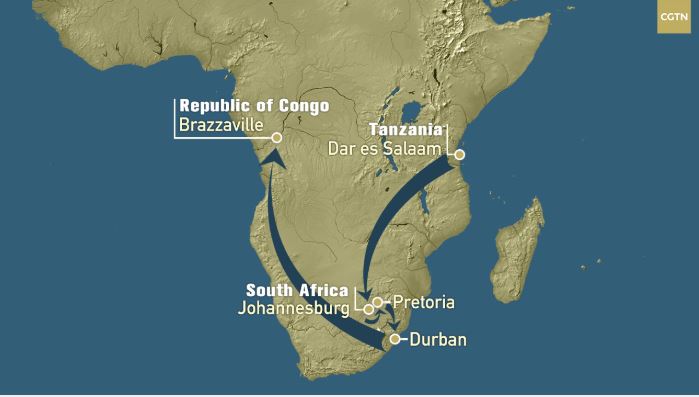 Attending the fifth BRICS Summit in Durban, South Africa
"No matter how the international situation will change, China is always Africa's all-weather friend and partner."
Xi declares in a speech delivered at the Congolese parliament in Brazzaville, capital of the Republic of Congo, March 29, 2013.
"Africa belongs to the African people. In developing relations with Africa, all countries should respect Africa's dignity and independence."
Xi says in a keynote speech in Dar es Salaam, Tanzania, March 25, 2013.
"Let me assure you that China will intensify, not weaken, its efforts to expand relations with Africa."
Xi asserts in a speech in Dar es Salaam, March 25, 2013.
Xi witnessed the signing of a number of bilateral agreements on economic, trade and cultural cooperation during his visit to Tanzania. Both nations agreed to carry on their traditional friendship, construct a comprehensive cooperative partnership based on mutual benefit and win-win results, and lift bilateral relations to a higher level.
China and South Africa agreed to accelerate the bilateral comprehensive strategic partnership to a higher level through broader and deeper cooperation in politics, economy and trade, people-to-people and cultural exchanges as well as in coordination and communication in regional and international affairs.
During the visit to the Republic of Congo, the first by a Chinese head of state since China and the African country established diplomatic ties in 1964, Xi and his Congolese counterpart Denis Sassou Nguesso agreed to make joint efforts in building and developing a comprehensive cooperative partnership of solidarity and mutual assistance between the two countries.