Nepal's Oli visits Beijing amid China-India-Nepal Triangle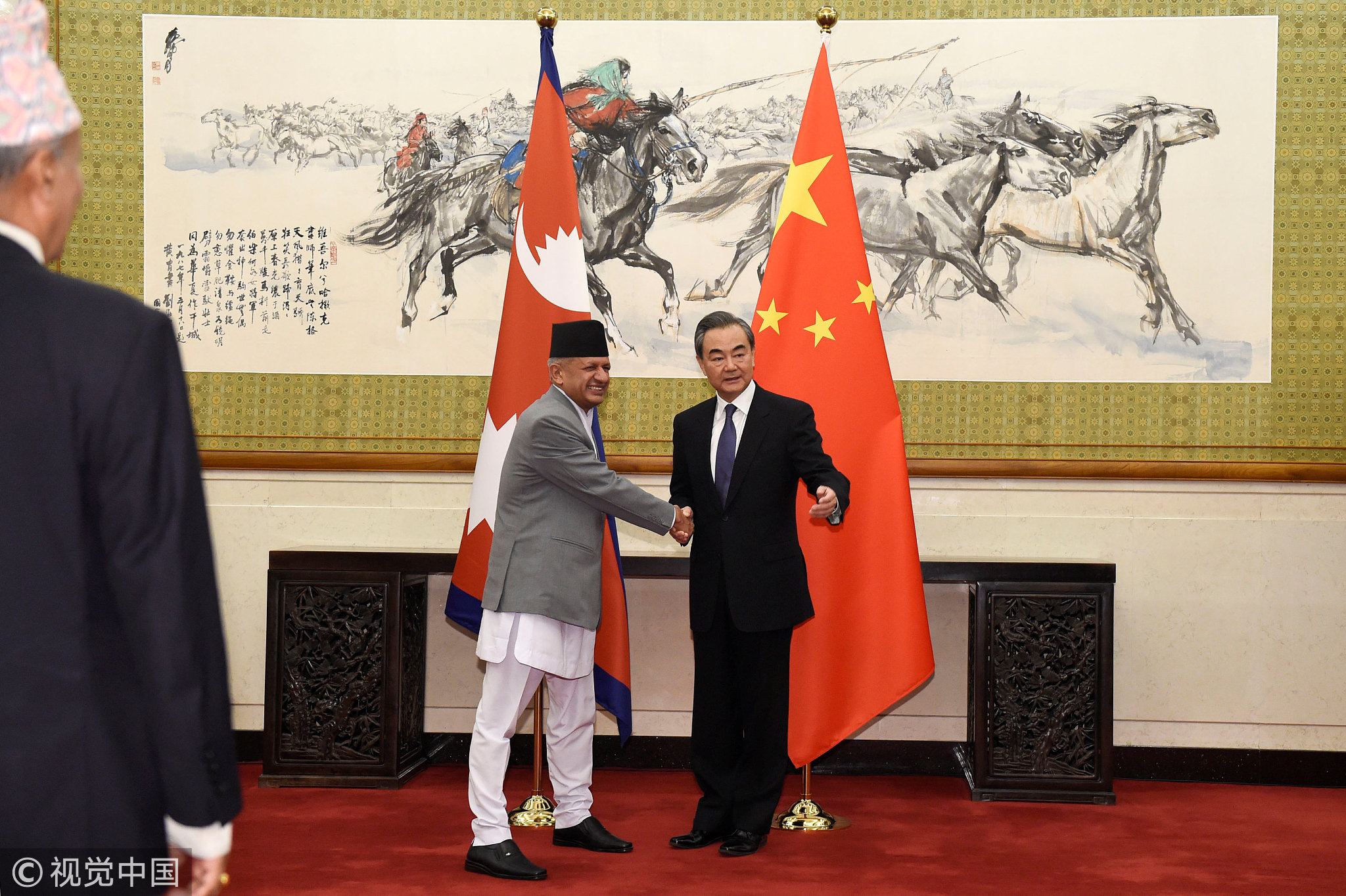 Nepalese Foreign Minister Pradeep Kumar Gyawali, left, shakes hands with Chinese Foreign Minister and State Counselor Wang Yi as they pose for media before their meeting on April 18, 2018, at the Diaoyutai State Guesthouse in Beijing, China. (Photo: VCG)
Nepali Prime Minister Khadga Prasad Sharma Oli with a 100-plus delegation is embarking on a six-day official visit to Beijing on Tuesday at the invitation of Chinese Premier Li Keqiang.
Oli's Beijing visit comes a couple of months after his trip to New Delhi and a return trip by India's Prime Minister Narendra Modi last month, who later announced India-Nepal ties are back on track and promised to complete certain Indian projects in Nepal by September.
While maintaining a good relationship with India, the Nepali prime minister is now turning more focus on diversifying the areas for and scope of engagement with China.
To make preparations for Oli's upcoming visit, Foreign Minister Pradeep Gyawali visited China in April, where he held high-level talks on a wide-range of bilateral issues.
Last week, a Nepali delegation also arrived in China to seal transit and transport deals ahead of Oli's visit.
A senior leader of Nepal's ruling party, Communist Party of Nepal (NCP), said Oli's visit will see the two countries sign a number of agreements, adding that projects under the Belt and Road Initiative as well as China's plan for an India-Nepal-China economic corridor are also expected to be discussed.
Comprehensive cooperation partners
As close neighbors linked by mountains and rivers, China and Nepal developed a traditional friendship and enhanced cooperation in various areas after diplomatic ties were established in 1955.
The two sides have maintained close and frequent high-level exchanges and trade, while investment volumes have grown fast during the past few years.
In the past decade, bilateral trade has surged from 108 million US dollars to 990 million dollars, and China is now Nepal's biggest source of foreign direct investment and its second-largest trade partner.
In May 2017, Nepal and China signed a framework agreement on the Belt and Road Initiative.
Some China-funded projects such as constructing Pokhara International Airport and the Kathmandu Ring Road expansion are underway.
Language, art and culture exchanges also bring the two countries closer. The Confucius Institute in Kathmandu University was established in 2007, and China is the second largest source market for Nepal's tourism.
Meanwhile, Xinhua reported Chinese tourists visiting Nepal overtook those from India during the first quarter of 2018 for the first time.
China-India-Nepal Triangle
The Nepal Prime Minister said to develop a "balanced" relationship with India and China, and cordial relations with all countries regarding the economy as the highest priority for his foreign policy.
Oli, who visited China in March 2016 as a prime minister, agreed to cooperate more under the Belt and Road Initiative and signed some "historic agreements" including a trade and transit agreement that, at least in principle, ends India's monopoly over Nepal's supply system.
Nepal's relations with China and India are independent, the Ambassador of Nepal to China Leela Mani Paudyal in a recent interview also said, adding that Nepal can cooperate with both China and India as a sovereign country.
However, experts pointed out that much needs to be done for Oli's government to truly decrease dependence with India as India views Nepal as within its traditional sphere of influence containing China's engagement in the region and Nepal's economic pattern still heavily dependent on India.
Meanwhile, there are some twists and turns on economic cooperation between China and Nepal, like some long-delayed projects under Belt and Road over Nepal's foot-dragging, as Zhao Gancheng, director of the Shanghai Institute for International Studies' Center for Asia-Pacific Studies, pointed out.
During last year's campaign, Oli also voiced his ambition to link Chinese railways to Nepal, and now he is in a position to deliver on his promises. The question is whether India will deliver when it comes providing a railway link with Nepal.
Nevertheless, in his recent visit to India, Oli signed an agreement on expanding railway links between Kathmandu and Raxual in India; many took this agreement as India's countermove to the proposed Chinese railway link.
For China's attitudes about the trilateral ties, Wang Yi said: "Whether it's China or India, our two countries shall be happy to see Nepal's new development after its political transition" after meeting his Nepali counterpart.
Wang, who described the three as "natural friends and partners," called to build a highly interconnected network and a trilateral economic corridor to improve connectivity for three close neighbors to achieve common prosperity.