Cameroon looks forward to a fruitful FOCAC Beijing summit
YAOUNDE, Aug. 29 (Xinhua) -- Michael Fru, 49, looks proudly at his merchandise exhibited in front of his shop, Fru and Sons Enterprise, in downtown Douala, the most populous city in Cameroon.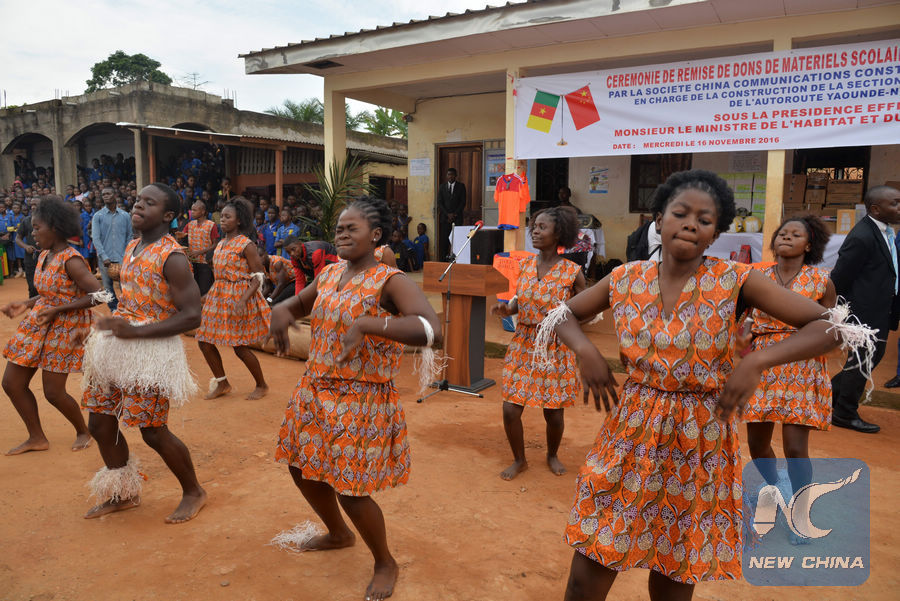 Locals perform a traditional dance during a Chinese firm's donation ceremony in Yaounde, capital of Cameroon in 2016. (File photo: Xinhua)
Covering a surface area of approximately 10,000 square feet (about 930 square meters), Fru's shop is one of the biggest in town.
The store sells household utensils, furniture, electronics, clothes, shoes, toys, furs and car parts. "Everything you see here is imported from China," Fru said.
In 2008, Fru, then a struggling businessman, forged connections in China, and began travelling to the Chinese cities of Guangzhou and Shenzhen to buy goods.
He started off with a few thousand U.S. dollars, but now handles 400,000 to 500,000 dollars in orders at a time.
"I travel to China at least six times a year. I have sustained a mutually beneficial relationship with my Chinese partners since 2008," he said, describing China as his "second country."
Fru, one of many Cameroonians who've benefited from a close relationship with China, hopes that the upcoming Beijing summit of the Forum on China-Africa Cooperation (FOCAC) will push bilateral ties to a new high.
Jean Magloire, rapporteur at Cameroon's Ministry of Economy and Finance, said economic and trade cooperation between the two countries has yielded very positive results in the areas of agriculture, technology, infrastructure, health and energy, since 1971, when Cameroon and China established full diplomatic relations.
In March, Cameroonian President Paul Biya was the first African leader to visit China this year. It was the sixth trip to China by the president.
Samuel Bambo, a foreign affairs officer at Cameroon's Ministry of External Relations, said the FOCAC summit in Beijing is more than just Africa-China cooperation talks; it's about sitting down with one of Africa's greatest partners.
President Biya's China visit in March "gave the reassurance of not only a friendly but rich and fruitful Sino-Cameroon relationship that has existed for decades now," he said. "China has been very supportive in the areas of development and is a strategic partner for the quest of emergence of Cameroon by 2035."
During the visit, Biya made it clear that Cameroon is committed to enhancing strategic cooperation with China, and welcomes more investment from China in such areas as industry, agriculture, energy, transportation, social housing, and new technology, Bambo said.
Prof. Kizitus Mpoche, vice-dean of the Faculty of Modern Letters and Social Sciences of the University of Douala, said the sectors highlighted by President Biya are essential to Cameroon.
"Fruitful deals from FOCAC Beijing summit can significantly revamp the country's economy," Mpoche said. "That is why, I think the Belt and Road Initiative is laudable."
Nick Ngwanyam, political scientist and CEO of St. Louis University Institute, says the FOCAC could be a game changer for Cameroon if the country has a mindset geared toward development, integrity and accountability.
"We have to warm up the relationship based on what is at stake and what we want. We want to bring something from FOCAC that will help us move ahead as a nation and as a people," Ngwanyam said.
According to the Cartel of Cameroon Entrepreneurs, known in its French acronym as GICAM, close to 100 Cameroonian businessmen will visit China on the sidelines of the Beijing summit, scheduled for early September.
The businessmen traveling to China intend to seize the opportunity and sign deals with Chinese private companies to "boost our cooperation and create more jobs for the youths back home," said Magloire, the rapporteur at Cameroon's Ministry of Economy and Finance.
For his part, Ngwanyam said signing deals is not enough.
Cameroon needs to learn from the best practices of China, he said. "We have to work with China... to add value to our systems."
"China can give us something that is worth more than dollars," Ngwanyam said.
"We must bring back from China the capacity to create wealth and jobs in Cameroon," he added.