Kenya marks 1st anniversary of SGR passenger train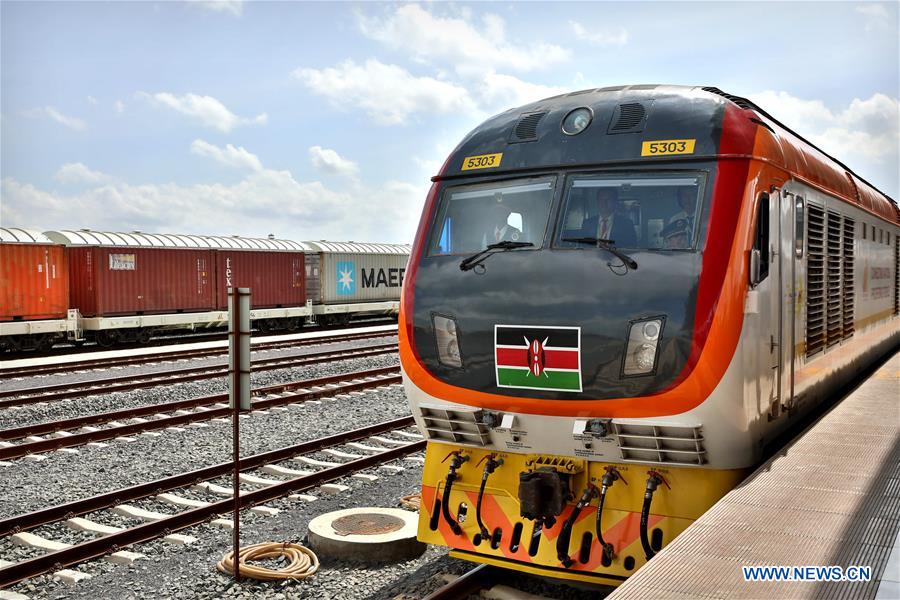 A train leaves the Nairobi terminus of Mombasa-Nairobi Standard Gauge Railway (SGR) in Nairobi, capital of Kenya, on May 31, 2018. [Photo/Xinhua]
Kenya on Thursday marked the first anniversary since the launch of the Standard Gauge Railway (SGR) passenger train service amid smooth operations that has endeared it to regular travelers, entrepreneurs and tourists.

Senior Kenyan government officials, Chinese diplomats and executives from the SGR contractor China Communications Construction Company (CCCC), graced the occasion to mark one year since operationalization of the modern commuter train service dubbed "Madaraka Express".
According to James Macharia, Kenya's Cabinet Secretary for Transport and Infrastructure, the SGR train has in the last one year revolutionized movement of people, goods and services in the country.
"From the onset, Madaraka Express has always strived to lower the cost of transport and make it more affordable, convenient and reliable for Kenyans to travel for business and leisure," Macharia said in a speech read on his behalf by the Managing Director of Kenya Railways Corporation, Atanas Maina.
President Uhuru Kenyatta on May 31, 2017 launched the commuter train service to run through the 480km SGR connecting the capital Nairobi to the port city of Mombasa.
China Road and Bridge Corporation implemented the mega infrastructure project that is deemed an early result of the Belt and Road Initiative.
Proposed by China in 2013, the Belt and Road Initiative aims to build trade and infrastructure networks connecting Asia with Europe and Africa along the ancient Silk Road routes. It comprises the Silk Road Economic Belt and the 21st Century Maritime Silk Road.
Macharia said that Madaraka Express that has so far ferried about 1.3 million passengers, has unleashed huge benefits to critical sectors of the economy like manufacturing and tourism besides enhancing technology transfer.
He added that both the train and the SGR freight service launched in December last year are instrumental in driving the country's Big Four Agenda alongside quest to achieve regional integration.
Chen Yun, Vice President of CCCC, said the SGR project has been an integral part of Kenya's socio-economic transformation that has benefited ordinary citizens.
"The SGR is not only an engine for Kenya's economic development, but also a project that brings real benefits to people," said Chen.
"Up to now, the SGR operation business has trained some 1,600 Kenyan railway professionals," he added.
Chen stressed that safety and efficient service delivery will continue to underpin operations of the SGR passenger and cargo services in the future.
Madaraka Express, which is now making two trips in each direction between Nairobi and Mombasa daily, has attained over 95 percent occupancy while reducing by half the time spent to connect to Kenya's first and second-biggest cities.
An inter-county train that was launched in November last year has been making seven stops hence providing a safer, convenient and affordable mode of transport to Kenyans traveling to their rural homes.
Atanas Maina, the Managing Director of Kenya Railways Corporation, said Madaraka Express has operated without major hitches thanks to introduction of online booking platforms and upgrading of access roads in the main stations.