Soaring China-Europe freight trains facilitate international trade
yidaiyilu.gov.cn
1661661006000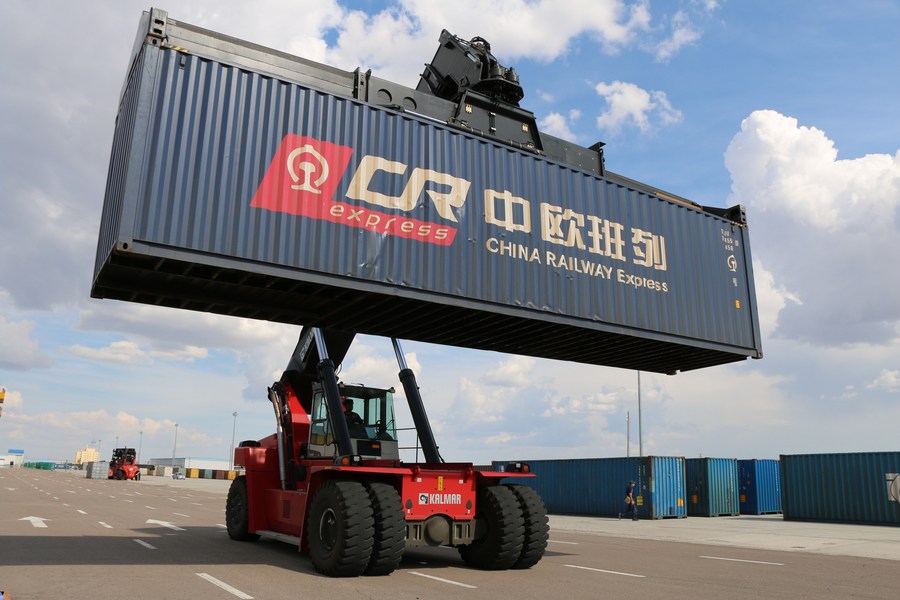 HARBIN, Aug. 27 (Xinhua) -- At the Suifenhe Railway Station, in China's northernmost province of Heilongjiang, freight trains are resting on tracks leading to Europe, with gigantic gantry cranes busily loading and unloading cargo above them.
In the first half of this year, over 373 China-Europe freight trains passed through the Suifenhe port to Europe and carried 34,942 20-foot equivalent units (TEUs) of goods, with an increase of 74.3 percent and 82.9 percent year-on-year, respectively, according to China Railway Harbin Bureau Group Co., Ltd.
Such an increase in international freight trains has been seen in the whole eastern corridor of the China-Europe freight train service. From January to June, a total of 2,212 trains and 212,866 TEUs of goods were handled at the Chinese land port of Manzhouli, in north China's Inner Mongolia Autonomous Region, both registering a year-on-year increase of 7.7 percent.
The China-Europe freight train service has three main corridors -- western corridor, eastern corridor and middle corridor -- with the Suifenhe and Manzhouli ports on the eastern corridor.
According to the China State Railway Group Co., Ltd. (China Railway), the eastern corridor mainly focuses on the import and export of goods between east China, south China and northeast China, and the European countries.
The efficient operation of international freight trains relies on supportive policies and measures. As the northern center of China's opening up, Heilongjiang Province has made an invested effort in accelerating customs clearance and cargo handling, firmly supporting the development of the China-Europe railway service.
To ensure the smooth and steady inbound and outbound flow of China-Europe freight trains, Suifenhe Railway Station opened a green channel for cargo transportation, with staffers of the station communicating with customs administrators and freight forwarding companies in advance.
Currently, there are 22 China-Europe freight train routes running through Manzhouli and Suifenhe ports, carrying daily necessities and industrial machinery from Guangzhou, Suzhou, and other cities across China to numerous European countries.
The prosperous development of the China-Europe freight train service has greatly boosted international trade.
Heilongjiang saw its foreign trade in goods grow 31.9 percent year on year to 145.06 billion yuan (about 21 billion U.S. dollars) in the first seven months of 2022, according to customs authorities in the capital city of Harbin.
Inner Mongolia's total import and export value hit 68.07 billion yuan from January to June, up 17.3 percent year on year, Hohhot Customs said.
"Heilongjiang Province will continue to expand the scale of foreign trade and promote the steady development of foreign trade by strengthening the role of trade platforms, accelerating the development of trade digitalization and focusing on the outsourcing work of key foreign trade enterprises," said Wang Xianhua, deputy director of the provincial department of commerce.