Nearly 180 American companies will attend the first-ever CIIE
Global Times
1541281101000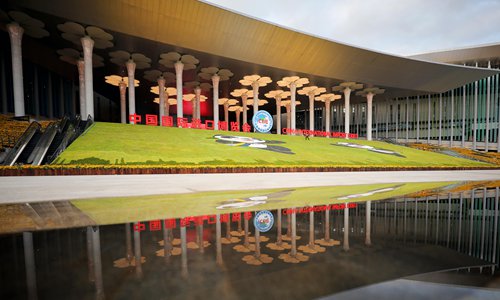 The main entrance at the Southern Square of the CIIE. (Photo: GT)
China warmly welcomes US and other foreign enterprises to the China International Import Expo (CIIE), said Vice Minister of Commerce Wang Bingnan at a press conference in Shanghai on Saturday, two days ahead of the opening of the global event.

"As an open platform for 'buy global and sell global,' US enterprises have positively responded to the expo, as well as enterprises from around the world," Wang said.
Nearly 180 American companies will attend the first-ever CIIE from November 5 to 10 in Shanghai, making the US third among all participating countries, he said.
US exhibitors include Fortune 500 companies, including Qualcomm, General Electric, Johnson & Johnson, GM, Microsoft and Dupont. Top managers of many American and multinational corporations will lead their delegations.
This fully shows the Chinese market's attractiveness to American companies, Wang said. "We hope Chinese and US companies can seize the opportunities that CIIE brings, reinforce complementary economic advantages and realize mutual benefits and win-win situation."
Cooperation is the essence of Sino-US economic and commercial relations, Wang said. China is willing to negotiate with the US on the basis of equality, trust and mutual respect, and together promote the healthy and equal development of the bilateral economic and commercial relationship.
Groundbreaking event
The CIIE is the first-ever national exhibition in the world with imports as the theme, Wang said.
"It is also an important enabler for efforts to jointly build the Belt and Road Initiative (BRI), a global public platform by the Chinese government to promote economic globalization, and concrete action to build a community with a shared future for mankind," he added.
The expo has attracted companies from the G20 and BRICS, as well as 58 of the BRI countries and many other developing countries, deputy director of the CIIE Bureau Sun Chenghai said.
It also involves companies from more than 30 of the world's least developed countries, including Afghanistan, Myanmar, Laos, Ethiopia and Zambia. They will showcase their distinct local products during the six-day event, such as Ethiopian coffee and Zambian honey.
The CIIE offered each of these countries two booths for free to support their participation, Sun said.
The expo attracted over 3,000 enterprises from more than 130 countries and regions to be part of expo's 270,000 square-meter business exhibition area, showcasing and selling their products, techniques and services in various industries, including high-tech, intelligent equipment, medical equipment, food and consumer goods.
The expo also has a 30,000 square-meter national comprehensive trade and investment exhibition area. Eighty-one countries and international organizations will attend, such as the World Trade Organization, the United Nations Industrial Development Organization and the International Trade Center. There will be no commercial transactions but displays in this area.
IP protection
For a few foreign companies concerned that the CIIE may not bring them actual gains, Wang said that China will try to make their trip to the expo worthwhile.
To promote deals, the expo organizer has helped build 39 trade groups along with nearly 600 subgroups from all over China, he added. More than 150,000 purchasers will gather for potential deals.
A service center has been set at the expo's main venue for intellectual property protection and commercial dispute resolution services, Wang said, adding that the expo will earnestly safeguard the legal rights of all its participants.
"Through the expo, we hope to provide a channel for exporters to China, and build a platform for commercial cooperation between Chinese and foreign enterprises," Wang said.