China-ASEAN strategic partnership a boon to Asia-Pacific
SINGAPORE, Nov. 14 (Xinhua) -- China and the Association of Southeast Asian Nations (ASEAN) adopted here Wednesday the China-ASEAN Strategic Partnership Vision 2030, widely seen as an ideal model for cooperation in the Asia-Pacific region.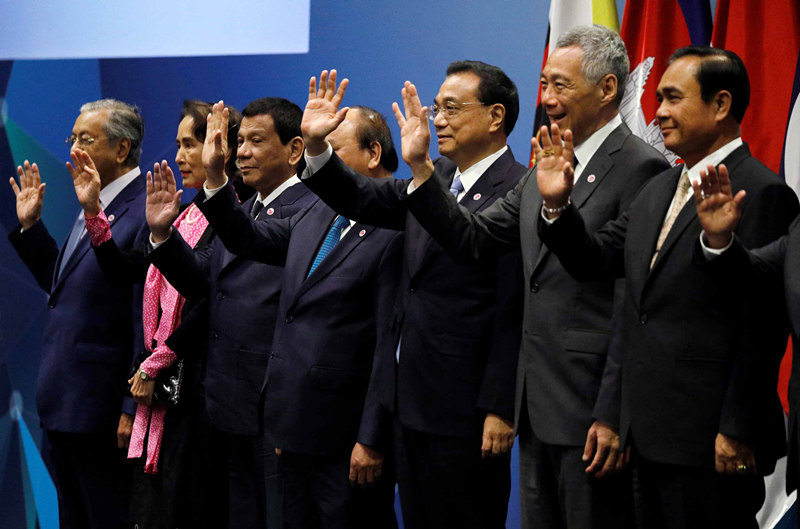 China's Premier Li Keqiang poses for a group photo with ASEAN leaders at the ASEAN-China leaders' meeting in Singapore, on November 14, 2018. (Photo: CGTN)
The vision comes in a year that marks the 15th anniversary of the China-ASEAN strategic partnership, reflecting the common aspiration of both sides to build a region of enduring peace and stability.
This new cooperation framework from two sides is supported by the three pillars of political and security cooperation, economic ties and people-to-people exchanges.
In 2003, China and ASEAN decided to establish their strategic partnership, ushering in a new chapter in their relations. Over the past 15 years, the partnership has endured a changing international landscape and cooperation has continued to deliver real benefits to the countries and peoples of the region.
China and ASEAN are firmly committed to good-neighborliness and friendship while enhancing political and security ties to create stability across the Asia-Pacific.
Under this partnership, the two sides have properly managed sensitive issues and disputes through dialogue and negotiation in order to keep their relationship on track.
While first implementing the Declaration on the Conduct of Parties in the South China Sea (DOC), China and ASEAN arrived at a single draft negotiating text of the Code of Conduct (COC) in the South China Sea in August this year. Tensions in the South China Sea have significantly cooled down, generating positive regional momentum.
Breakthroughs have also made in maritime cooperation. Both held their first ever large-scale joint exercises on maritime search and rescue in October 2017 and first-ever maritime drills in October this year.
The two continue to work together on fighting terrorism, disaster relief, combating transnational crimes and dealing with cross-border communicable diseases and other challenges.
China and ASEAN both promote trade and investment liberalization, an approach that has provided the backbone and engine for development and prosperity in the region.
The China-ASEAN Free Trade Area (FTA), the largest regional FTA in the world in terms of population, went into effect in 2010, removing tariffs on more than 90 percent of goods traded between China and ASEAN members Indonesia, Malaysia, the Philippines, Singapore, Thailand, Brunei, Cambodia, Laos, Myanmar and Vietnam.
Moreover, an updated FTA was hammered out late in 2015, further facilitating trade, scaling up bilateral investment and encouraging technological cooperation.
China and ASEAN are now working together to speed up establishing the Regional Comprehensive Economic Partnership (RCEP), a proposed free trade area made up of the 10 ASEAN member states and its six FTA partners -- China, Australia, India, Japan, South Korea and New Zealand, in order to further facilitate trade and investment in the region.
Trade between China and ASEAN countries hit a record high in 2017, totalling 514.8 billion U.S. dollars in value, the fastest pace of growth between China and any of its major trading partners, according to the Chinese Ministry of Commerce early this year.
Based on the principle of collaboration, China and ASEAN have worked to align the former's Belt and Road Initiative with the latter's development plans. Connectivity projects include the China-Laos Railway, the China-Thailand high-speed railway, and Indonesia's Jakarta-Bandung high-speed railway.
China and ASEAN have advocated people-to-people exchanges and mutual learning among their different and numerous civilizations. Ties have rapidly developed in the areas of culture, education, tourism, media, science and technology, environmental protection, disaster relief, poverty reduction and youth, among others.
Commenting on the China-ASEAN Strategic Partnership Vision 2030, Phay Siphan, Cambodia's secretary of state and spokesman for the Council of Ministers, said the vision is a concrete roadmap for both sides to work together to build a closer community with a shared future
He stressed that the China-ASEAN strategic partnership "should serve as a model for countries all over the world".