Together with China
People's Daily app
1508469336000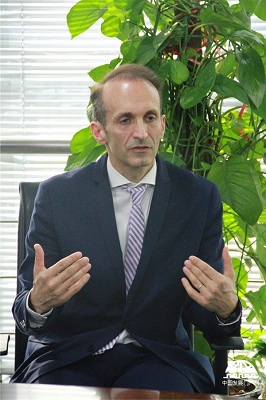 Vincent Martin
Since 1978 when FAO started its programme of technical assistance in China, both sides have maintained and enjoyed an active and mutually beneficial cooperation. For the period 2016 to 2020, FAO and China have entered into a new era of collaboration by signing a Memorandum of Understanding for the establishment of a strategic cooperation and comprehensive partnership that will foster innovation, synergies and complementarities in the realization of national development goals in the context of the "New Normal", and in China's pursuit of increased regional and global cooperation with developing countries to achieve the United Nations Sustainable Development Goals (SDGs) on poverty and hunger eradication.
The establishment of the strategic partnership responds to a changing trend from one-way development assistance from FAO to China, to a two-way collaboration highlighting and sharing China's experience in agriculture development and food security. FAO will still be active in providing cutting-edge policy advice, and technical assistance on food security and safety, sustainable agricultural development, management of natural resources, surveillance and control of transboundary animal and plant diseases. At the same time, China is increasingly becoming a key partner of FAO in promoting South-South Cooperation (SSC) to help improve the capacity for sustainable agriculture development in other developing countries.
I worked as FAO's representative in Senegal from 2013 to 2016 and Head of FAO Emergency and Resilience Hub for West Africa. This experience has been enriching and definitely broadened my horizons and understanding of development issues in Africa and beyond, in the spirit of South-South exchange of experiences and transfer of technologies in-between developing countries but also with emerging economies. It also allowed me to put into action FAO's mandate and renewed vision on Agriculture and Food Security in Senegal. Today, this represents a great help in my new position especially in support of the FAO-China South South Cooperation programme, which has strong ties with African countries and builds on their specific needs, as well as on their socio-economic, agro-ecological, political and cultural context.
Linking national agriculture development plans with FAO comparative advantages, the FAO China Country Programming Framework (CPF) (2016-2020) sets out four priority areas for joint collaboration, including: 1) Fostering sustainable and climate resilient agricultural development; 2) Reducing rural poverty, food insecurity and malnutrition; 3) Promoting a one-health approach for sustainable agriculture trade, and improved Public Health 4) Facilitating China's regional and international agricultural cooperation. Positioning FAO's work in the country during the period 2016 to 2020, the CPF aims to bring added value in addressing domestic agriculture development bottlenecks, supporting its supply-side reform, whilst at the same time, facilitating China's engagement in the regional and global agriculture development agenda, especially in the context of the Belt and Road Initiative. The current CPF captures this dual goal and as such will display unique features reflecting the growing contribution of China on the international scene in the area of agriculture development, climate change, poverty reduction and food security. More particularly, it will place agricultural innovation and partnerships at the heart of its interventions to foster knowledge and innovation exchanges across the region and beyond.
FAO will assist China's agriculture sector in fulfilling its commitment to the Paris Agreement on Climate Change by improving its resilience to it in both areas of adaptation and mitigation with a focus on the poorest. Climate-resilient agriculture will be piloted in agricultural provinces with higher risks for climate change threats. FAO will target natural resources as a whole and more particularly water, lakes, forests, and wetland ecosystems for interventions in the domains of biodiversity conservation, ecosystem threat mitigation, ecosystem monitoring and evaluation, protected area management, alternative sustainable livelihoods, food waste and loss as well as on environmental education and capacity building.
Sustainable intensification of agriculture production will contribute to translate the national development priority of "building an eco-civilization" into agriculture sector. FAO's support in this regard aims at introducing innovative ideas and interventions that could bring greater added value to the already on-going national initiatives. Novel practices of global agricultural development including but not limited to agro-ecological approaches, climate-smart agriculture, nutrition sensitive agriculture, sustainable food value chains, Globally Important Agricultural Heritage Systems (GIAHs), and E-agriculture, will be mainstreamed by means of policy advice and development support, awareness-raising, capacity building, institutional networking and, when and where useful, pilot initiatives in the field.
FAO witnessed China's development history from food shortage to abundant supply, and to paying more and more attention to food safety and quality. However, quality and safety of food products, animal diseases and public health issues remain of concern in China. In addition the increased movement of plant or animals and their products in a globalized world through both domestic and international trade can lead to the spread of pests and diseases that directly impact agricultural production, pose risks to the environment and can hinder trade. In this regard, FAO in China will promote the "One Health" approach for sustainable agriculture and trade and improved public health, aiming to manage and reduce the impact of animal and plant diseases and other public health threats, especially Transboundary Animal Diseases (TADs) and Antimicrobial Resistance (AMR), thus improving food safety, enhancing trade flows, and improving human health and nutrition. Interventions will take forms of multi-disciplinary action-oriented research, policy dialogue and regulation enforcement, governance mechanism, capacity building technical exchange, as well as development of community level strategies and action plans. This will assist China in strengthening national food control regulatory capacities for global trade facilitation, supporting science-based food safety governance and decisions, improving capacities in risk assessment, communication and management and enhancing food safety management along food chains.
Eradication of poverty is one of FAO's important strategic objective and has been translated into FAO China country programming framework for the period 2016-2020. China has made remarkable achievements in poverty reduction. According to China State Council's official release in 2016, the country has lifted 700 million people out of poverty over the past 30 years. The number of rural poor had fallen to 55.75 million by 2015, with the incidence of poverty dropping to 5.7 percent. In October 2015, the Chinese government has set the objective to eliminate rural poverty by 2020, which has thereafter been listed as an obligatory index in China's 13th Five-Year Plan for Economic and Social Development.
FAO is designing programmes with partners on supporting poverty reduction in China by bringing in its poverty reduction expertise such as empowering the rural poor and their organizations, promoting decent rural employment and rural social protection. FAO will support China to address specific challenges resulting from the complex interactions between rural population dynamics (aging, feminization of agriculture, youth skills-building) and sustainable development, through analysis, policy advice, and the demonstration of innovative solutions. Special attention will be given to inclusive and equitable development of the most vulnerable groups. In addition, with a similar development context, China's experience in poverty reduction is invaluable to other developing countries, and a number of countries have demonstrated great interest in adapting the China experience to their national contexts. In that regard, FAO is mapping China's experience in poverty reduction with a view to sharing it with other developing countries.
The author is FAO's representative in China and the DPRK.