CIIE another step in open trade between China and Africa
People's Daily Online Original
1541816623000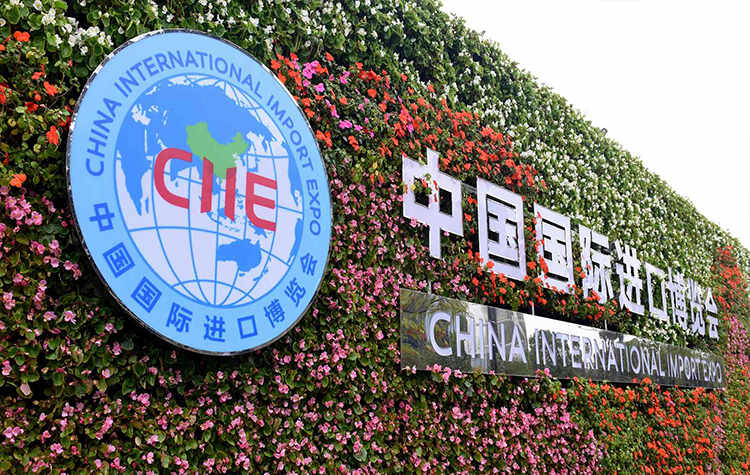 2018 has been a positive year for friendship and trade links between China and Africa. The 2018 Beijing Summit of the Forum on China-Africa Cooperation took place in September of this year, and the CIIE has welcomed a number of African businesses and government officials to Shanghai over the last week, to discuss a more open and accessible trade and investment system.
As a continent, Africa trades goods worth $1.2 to $1.3 trillion every year, of which between 14 and 15 percent comes from China, explained Vinod Madhavan, Group Head of Trade at Standard Bank. Standard Bank, as the largest bank in Africa, has been at the CIIE all week with 60 to 70 of its customers, many of whom also have booths at the expo.
China's involvement in Africa has only been relatively recent. Although diplomatic relationships have existed for years, Madhavan explains these relationships have only started to have a noticeable effect in his company more recently.
"In reality, it started hitting us about 6 or 7 years back, that's when China's involvement in our markets became apparent, be it in terms of construction, be it in terms of people on the ground and more importantly, how the governments in Africa were actually engaging with the Chinese government," he explained.
Madhavan said that there are currently over 10,000 Chinese corporates operating on the ground in Africa, noting that Chinese corporates and entrepreneurs are one of Standard Bank's largest growing client segments.
The two African countries currently trading the most with China are South Africa and Ethiopia, he said, adding, "both of these countries have national government plans on how to engage China."
One South African company present at the CIIE, Sasol Ltd, has already expanded to 130 countries with about 8,000 customers globally. Executive Vice President of Chemicals Business, Sasol Ltd., Fleetwood Grobler, told People's Daily Online that a new chemical facility in Nanjing was announced recently, expected to triple production capacity of their special disinfectants. He explained that he is using the CIIE as a way to meet more prospective clients here in China.
Grobler explained, "I participated in the opening ceremony as well as some of the breakout forums, and I must say I was really encouraged to hear government and business interacting about growth and prosperity. I think from an industry point of view we welcome that - we welcome open trade, we welcome the opportunity to bring our product to areas we know we can add value to our customer's needs."
It's not just businesses that have already entered the Chinese market that are benefiting from the CIIE, either. Kuyu Dhel, representing Ramciel Multipurpose Cooperative Society, an agro-business company based in South Sudan, explained that the CIIE marks the company's first entry into China, and the event has opened up a range of opportunities for him.
"We've had very good interactions - many people are coming to ask about the product, and equally they want to know about South Sudan. People who want to buy these products want to buy in a high quantity - some of them are asking, do you have them here in China? We can buy them immediately!"
The company brought along a range of products including sesame, hibiscus, groundnuts, sorghum, and gum arabic, which is used as an emulsifier and a thickening agent in things like Coco Cola and cosmetics. Dhel noted that he's already met some Chinese companies who can help produce machinery for harvesting and processing. Asked if he will be back next year, he said, "We will definitely be back next year, to make the relationship deeper and deeper and look for new markets."
During the Forum on China-Africa Cooperation earlier this year, President Xi Jinping committed $60 billion to Africa over the coming three years, $5 billion of which will go directly into importation. Madhavan is looking forward to it, saying the next step is executing the plans and removing any residing roadblocks, noting, "If the last three years are anything to go by, the plans will be delivered."
Although the trade between China and Africa, which is made up of 54 countries, is still on a lower level compared with many countries, Madhavan said the growth rate is encouraging.
"The trade between China and Africa has been growing at a rate of over 10 percent, and it's expected to go pretty high. So the potential coupled with technology augmenting, easing the way of doing trade, makes it an amazing place to be," he said.
Rob Davis, South African Minister for Trade and Industry, agrees, noting that investment is the way to move forward in Africa. "We think that it's in building a stronger and deeper investment relationship, in supporting the development of stronger and more sustainable industries in bringing in the new technologies of the fourth Industrial Revolution, it's through that that we believe that we can begin to lay the foundations that will allow us to work effectively for a stronger, more inclusive, more developed and fairer global trading environment."
Grobler noted that the Belt and Road Initiative of President Xi Jinping is focused on seeing Africa as a partner, so there will be results, adding that the CIIE "has been a great event in terms of the interaction with business and the contacts that you muster through it."