Opinion: What to expect from Modi-Xi summit?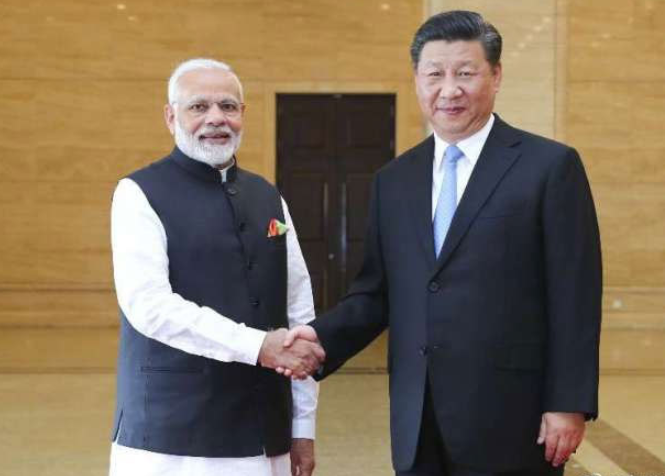 Chinese President Xi Jinping meets with Indian Prime Minister Narendra Modi in Wuhan, Central China's Hubei province, April 27, 2018. (Photo: Xinhua)
As President Xi Jinping shows Indian Prime Minister Narendra Modi around on the bank of the Yangtze River in Wuhan, it should rekindle memories of their first meeting in September 2014. Prime Minister Modi escorted President Xi around the Sabarmati Ashram in Ahmedabad, which is a memorial to India's founding father Mahatma Gandhi. Just as Prime Minister Modi took the opportunity to explain to President Xi the essence of Gandhi's thought and India's ethos, President Xi may today explain to Prime Minister Modi the revolutionary spirit of Chairman Mao and its relevance to China's growing global responsibilities. The iconic picture of the two leaders sitting together on a swing at the river front during that visit may today be joined by a picture of a boat ride or a walk by the side of the famous East Lake.
This meeting is also being compared to President Xi's other efforts to recast China's great power relationships, especially his meetings with President Barack Obama at the Sunnylands retreat in California in 2013, and his 2017 meeting with President Trump at the Mar-A-Lego resort in Florida. These "no neckties" summits, described by some as China's attempt to "dui dui biao" ("synchronize our watches"), is a well thought-out strategy.
Retreats for brainstorming by world leaders seeking to shape the future was especially noticeable during Second World War, when Soviet, British, and American leaders met to negotiate the foundations for post-World War II global relations. Closer to home, looking at the history of China-India relations, comparisons are also being drawn to the ice-breaking December 1988 visit by Indian Prime Minister Rajiv Gandhi, which fundamentally transformed post-1962 China-India ties. India's young prime minister formally endorsed Tibet as part of China, which was described as a 'sell out' by his opposition at home as he geared up for a general election. Prime Minister Modi is also facing a general election next year, which raises the question of whether he will he make a tectonic shift in India's approach to the Belt and Road Initiative, given that it may carry a political cost at home. It is important to remember that Rajiv Gandhi's visit to Beijing in 1988 came after a gap of thirty-four years, whereas the visit by Prime Minister Modi to Wuhan is his fourth to China in as many years, and he will be back in China within six weeks for the Shanghai Cooperation summit in Qingdao.
In terms of their outcomes, the Modi-Xi meeting at Ahmedabad in September 2014 opened a floodgate of investment in India by China. The promises of more than 20 billion U.S. dollars of investment reflected their newfound bonhomie. This was followed by their second meeting in Xi'an in May 2015 in advance of their formal summit in Beijing, which produced another set of agreements for an additional 20 billion U.S. dollars of investment.
The irritants that engulfed the relationship between the two countries over the last three years have meant the benefits of these investments have not been fully realized. But in the run up to the Wuhan meeting, most commentators believe that it will help to turn the tide towards an improvement in future relations. Could it mean China expands its imports from India in response to the increased tariffs on imports by the United States? Could it mean China promising big ticket investments that match India's size and stature? Or will it be an exchange of ideas that further develops the personal chemistry of the two leaders as they develop their shared understanding of global trends, and the role of their two countries in the world?
Most experts see great promise in the upcoming Wuhan summit. After a decade of stagnation, last year saw bilateral trade grow by 18 per cent to reach 84.45 billion U.S. dollars. India's exports rose by 40 per cent, with substantial increases in exports of cotton, sugar, and soybeans. This year, bilateral trade might reach the magic figure of 100 billion U.S dollars. Last year also marked another important milestone, as more than one million visits were made between by travellers between the two countries. Today we see 42 flights between cities in China and India every week.
These developments form an important backdrop to their unprecedented pace of recent high-level exchanges that will perhaps see new developments in the relationship between China and India, and perhaps even a change in the center of gravity of global politics.