Japanese FM's China visit breaks deadlock but analysts warn of two-faced strategy
Global Times
1517173168000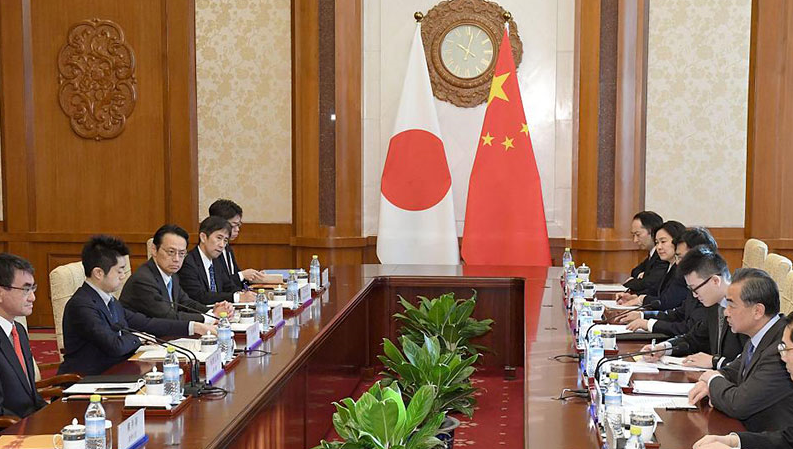 China's foreign minister sent a positive message on Sunday to his visiting Japanese counterpart on repairing bilateral ties, but experts said the future of relations remains in question since Japan continues to hype the "China threat theory."

China hopes to get Sino-Japanese relations back on a normal track, Foreign Minister Wang Yi told his counterpart Taro Kono on Sunday, during his first visit to China since assuming his post in August.

Wang welcomed Kono's visit, saying that the 40th anniversary of the signing of a bilateral peace and friendship treaty has special and important meaning to bilateral ties.

Your visit to China at the beginning of the year shows to Japanese government's strong desire to improve bilateral relations. Sino-Japanese ties are at a crucial stage, which sees progress but also faces many disturbances and obstacles, Wang said.

China-Japan relations have always been like a boat going against the current, and if there is no progress then things go backward, Wang said.

China hopes that Japan does not slacken its efforts and puts its words into action and works with China to get ties back on a normal, healthy track as soon as possible, the Chinese foreign minister said.

Kono's visit breaks a deadlock in the two sides' relations, which have been plagued by historical and territorial disputes, Lü Yaodong, director of the Chinese Academy of Social Sciences' Institute of Japanese Studies, told the Global Times on Sunday.

Abe has signified his willingness to improve Sino-Japanese relations on a number of occasions and to deepen high-level exchanges with China, the Xinhua News Agency reported.

Kono said Japanese Prime Minister Shinzo Abe's government is willing to work with China under the Belt and Road initiative (BRI). He said they want to cooperate on projects that abide by international standards.

"China welcomes Japan's friendly gesture but further improvement of bilateral ties relies on how the Japanese government would implement its promise," Lü said.

To repair bilateral ties, Japan should make multiple efforts - historical, economic, political, and even environmental, Lü stated.

Hu Lingyuan, a professor at the Japanese Research Center of Shanghai-based Fudan University, said "it's impossible for Japan under the Abe administration to fundamentally alter its tough position against China. China shall be alert and not be misled by its two-faced strategy."

Being a right-wing politician, Abe has embraced an ideology which cannot change overnight, Hu told the Global Times on Sunday, adding that Abe's efforts to amend Japan's constitution and two-faced foreign diplomacy toward China is contrary to his willingness to improve bilateral ties.

While pressured by US policy uncertainty, Japan tried to counter China through the "Free and Open Indo-Pacific Strategy" with India and Australia.

There are preconditions for the two sides to improve ties - Abe needs to stop hyping the "China threat theory" and creating tensions by criticizing China on the South China Sea issue, Lü said.

The Japanese government needs to admit its irresponsibility toward the visits by cabinet ministers to the Yasukuni Shrine, which are a breach of faith since they had already admitted the shire is the result of Japan's past militarism, Lü further said.

Trilateral summit

Kono also hopes to work out a specific timetable for the China-Japan-South Korea trilateral summit, which Abe hopes will be a catalyst to restart reciprocal visits by the leaders of the three countries, Nikkei Asian Review reported on Sunday.

An obstacle to the summit is the tension between Japan and South Korea. They have been sparring over historical issues, primarily on comfort women, and the Japanese government has hesitated over attending the Pyeongchang Olympic Games, Lü said.

Tokyo was scheduled to host a trilateral summit in 2016 which was cancelled by the political turmoil in South Korea. Japan has proposed to hold the long-delayed summit in April this year.