Xi meets Trinidad and Tobago PM in Beijing, and calls for integration of development strategies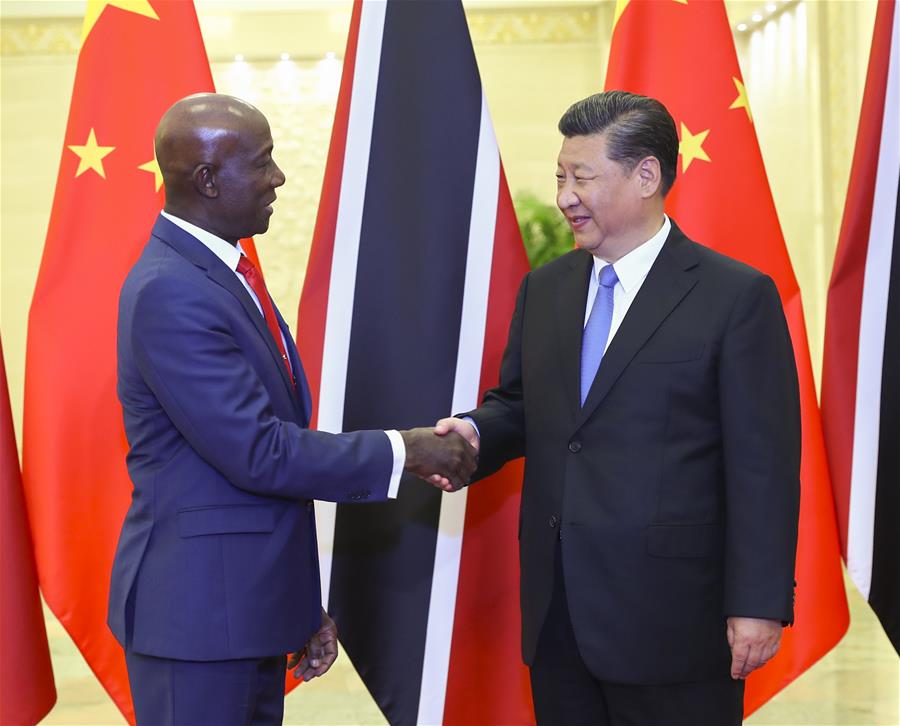 Chinese President Xi Jinping (R) meets with Prime Minister Keith Rowley of Trinidad and Tobago in Beijing, capital of China, May 15, 2018. (Photo: Xinhua/Xie Huanchi)
Chinese President Xi Jinping on Tuesday called on China and Trinidad and Tobago to increase the synergy of their development strategies and plans.
President Xi made the remarks during his meeting with Keith Rowley, prime minister of the Republic of Trinidad and Tobago, at the Great Hall of the People in Beijing.
"China is deepening its reform and opening up in an all-round way. While realizing its own development, China is willing to work with other countries to build a community with a shared future for mankind," Xi said.
Xi also stressed that China is willing to use the Belt and Road Initiative to strengthen cooperation between both sides, helping Trinidad and Tobago's economic and social development.
"We hope that Trinidad and Tobago will play an active role in promoting the overall cooperation between China and Canada, as well as between China and Latin American countries," he added.
Keith Rowley said that in the new period, Trinidad and Tobago is willing to actively participate in China's Belt and Road Initiative, expanding the scale of investment, bilateral trade and economic and cultural exchanges.
Keith Rowley is on an official visit to China from May 14 to 19 at the invitation of Chinese Premier Li Keqiang.
During the meeting, Xi also emphasized the importance of relations between China and Trinidad and Tobago, and expressed willingness to strengthen cooperation with Trinidad and Tobago under the Belt and Road Initiative, and help promote its socio-economic development.