Zoom in on Shaanxi: Local Snacks
Discover Shannxi
1588902068000
Shaanxi boasts not only a brilliant and cultural history but also a widespread cuisine culture. Shaanxi cuisine collects the essence of other regions, absorbs the style of ethnic cuisines, inherits court snack skills, and builds its reputation for diverse varieties and tastes.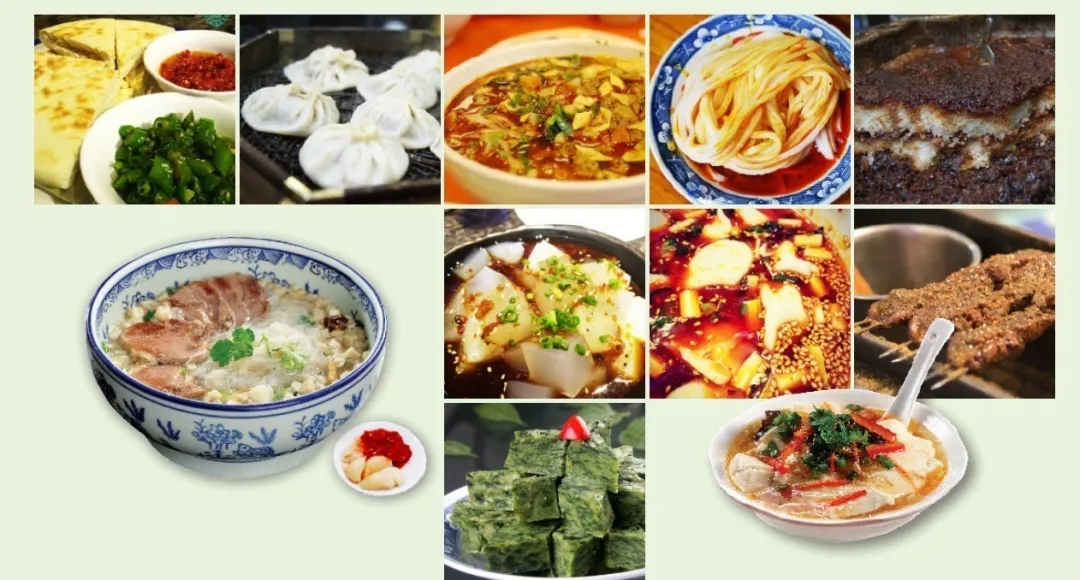 Pita Bread Soaked in Lamb Soup, short for Soaked Bread or "Lamb Soup" in ancient times with the ingredients of mutton, shallot slices, vermicelli and sugar-soaked garlic, etc., features fine cooking, thick seasoning, strong flavor, braised mutton, thick soup, fatty but not oily, nutritious, tasty and lingering aftertaste.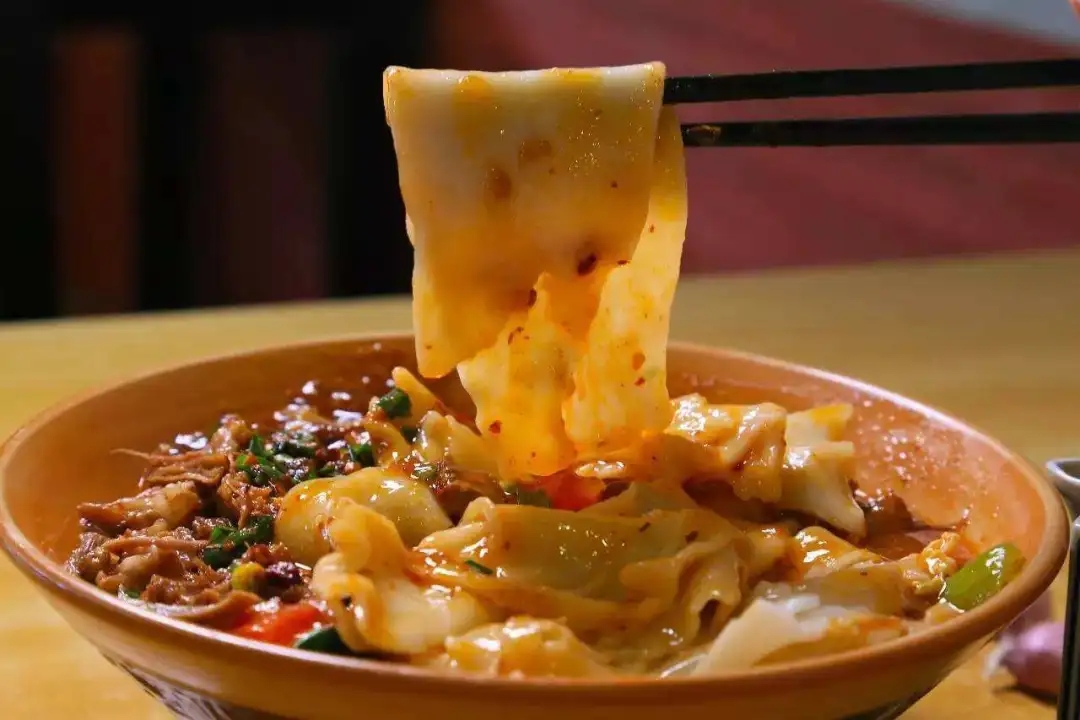 Noodles, the traditional handmade food in Guanzhong Plain, are served with soups seasoned with soy sauce, vinegar, monosodium glutamate, and pepper and hot oil.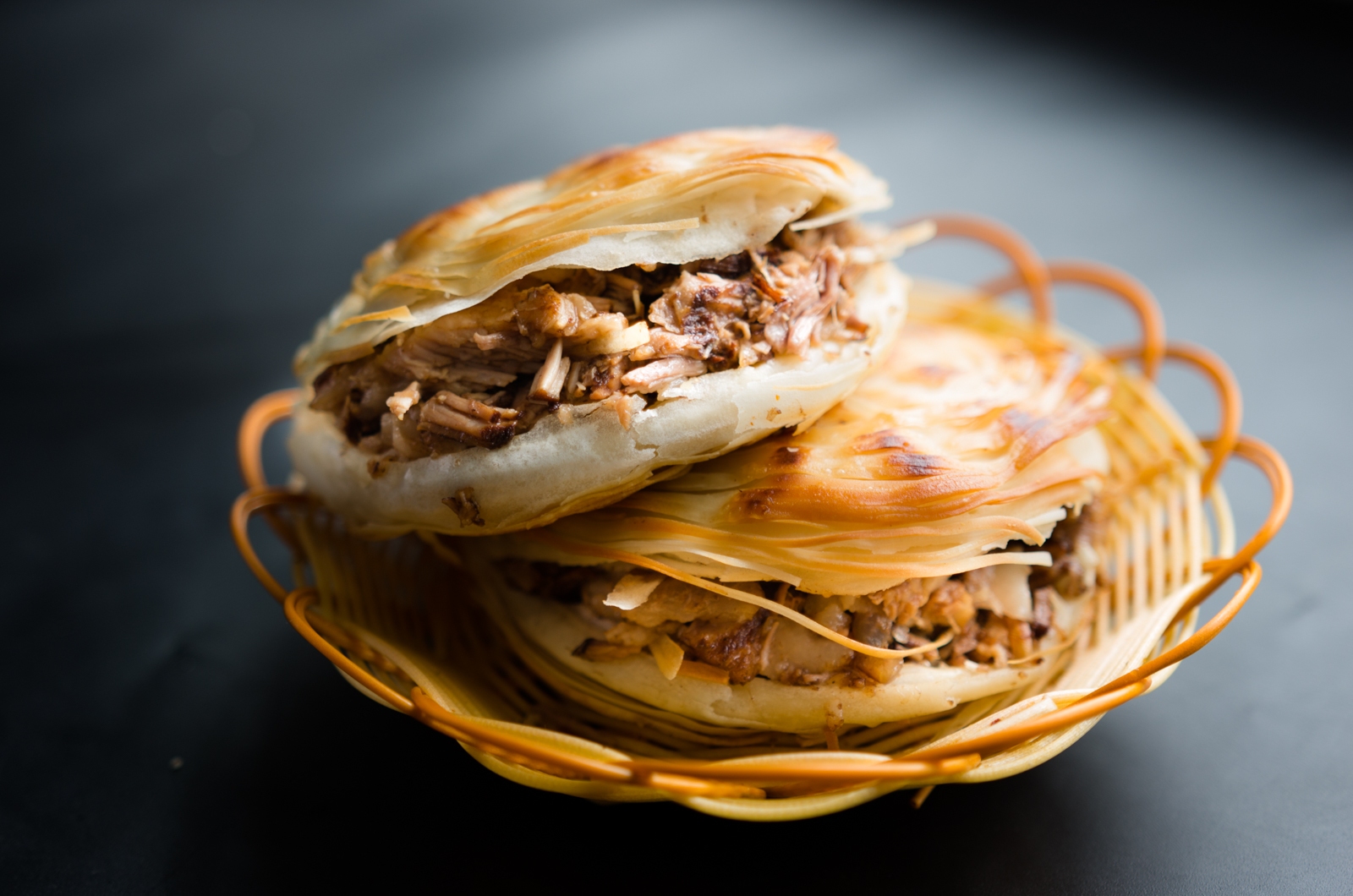 Meat Sandwiched in Pie (MSP) is a perfect combination of juicy meat and a partly-sliced pie. It is an integration of the two complementary foods and gives full play to their flavors. The sweet pie and the dainty meat bring a lingering aftertaste. The marriage of the long-standing juicy meat with the partly-sliced pie establishes the food's name of Chinese Hamburger and enjoys high popularity among the diners.
Gourd Head, a traditional Xi'an snack, is a braise of pig's large intestines and stomach. The unique flavor food originates from the "Fried lntestines", a street snack of the Northern Song Dynasty. The intestines with thick fat look like a gourd, thus the snack is called Gourd Head.
Longlong Meat, featuring bright reddish color, salty and spicy tastes and fatty but not oily, is made of steamed meat with seasonings.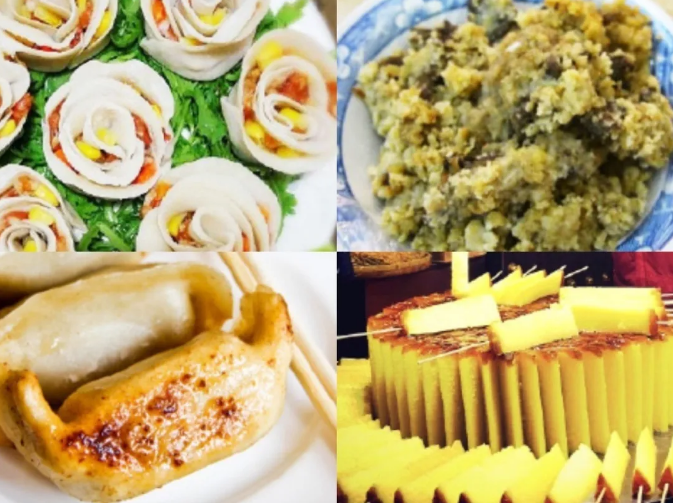 Meat Ball Spicy Soup, a popular breakfast in Shaanxi, is the juice stewed with cattle and sheep bones, thickened with starch, potato dices, cabbages, carrots, cauliflowers, celeries and other vegetables.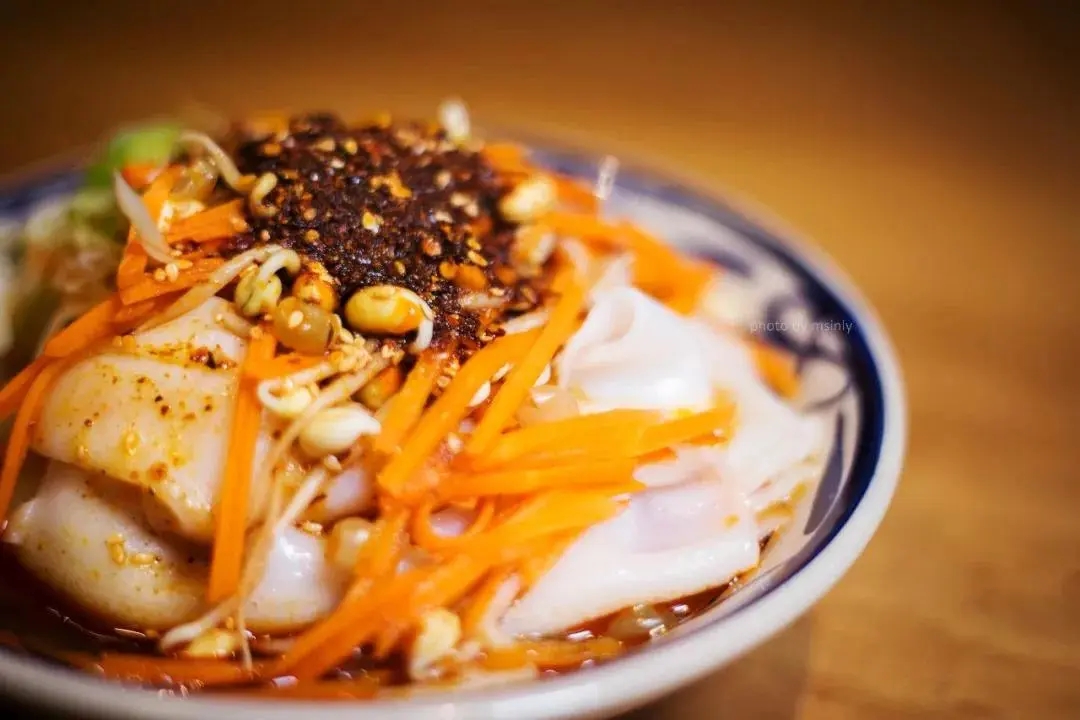 Hanzhong Hot Rice Slices is a famous snack in Hanzhong, southern Shaanxi. Rice is soaked and ground into slurry, then steamed into thin slices, applied with rapeseed oil, and cut into slices. Adding seasonings like fried pepper, monosodium glutamate, salt, vinegar, soy sauce, and smashed garlic according to your flavor, and then mixing it evenly to eat when it is still hot. So it is called Hot Rice Slices.
Vegetarian Tofu is one of the snacks of Hanzhong and an outstanding dish in Chinese cuisine with a long history. It is said that the dish was popular when Liu Bang was granted the title of King of Hanzhong. Soaking beans in water, then grinding them into slurry, and adding vegetarian soup into to prepare it. It has a distinctive flavor when eating with common dishes.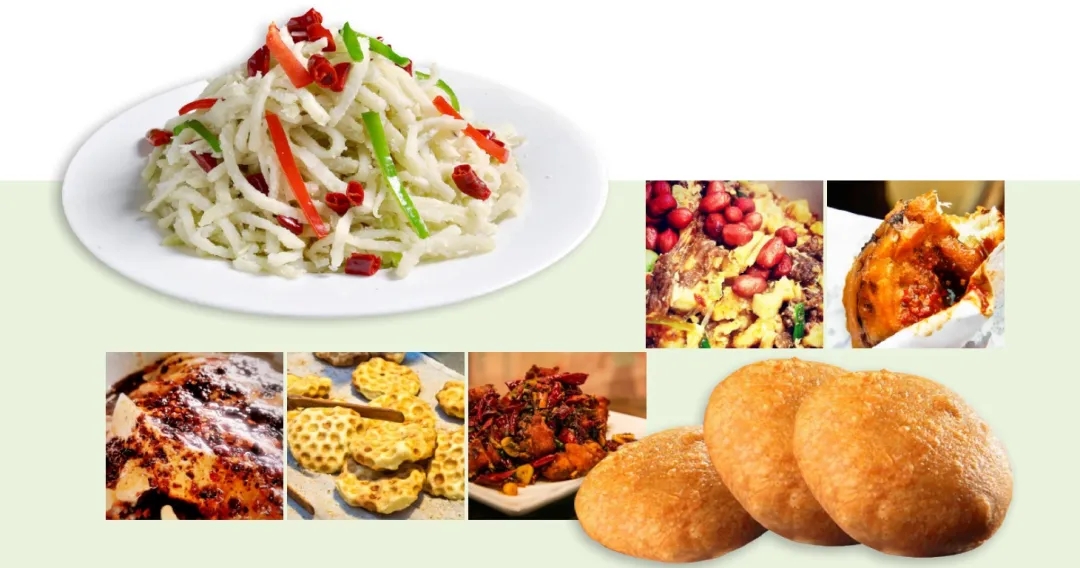 Fried Cake, made of millet and dates, is a kind of fried food in the shape of an oval with white or brown sugar stuffing. It tastes fine, sweet and delicious. It is a specialty delicacy in Northern Shaanxi.
Lamb Sweetbread is a braise of the heart, liver, lung, stomach and intestines of sheep. The boiled ingredients are sliced and eaten with the ginger-seasoned soup. It tastes gentle, crisp and delicious. It is a specialty delicacy in Northern Shaanxi.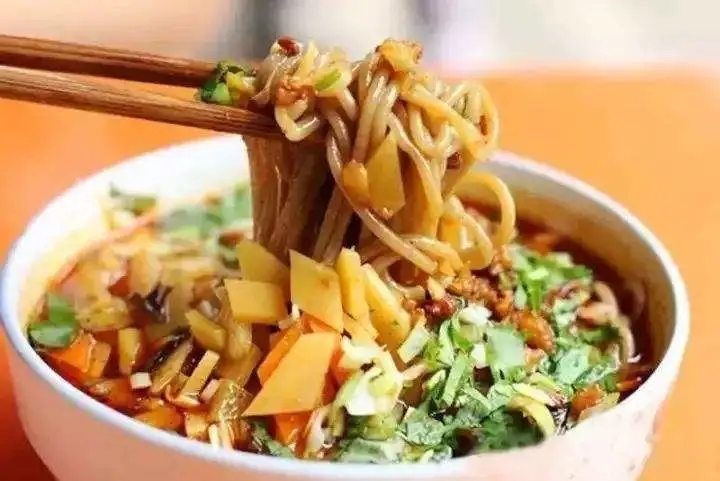 Buckwheat Vermicelli, made of buckwheat flour, mutton, potatoes and coriander, features a unique flavor and plentiful nutrients.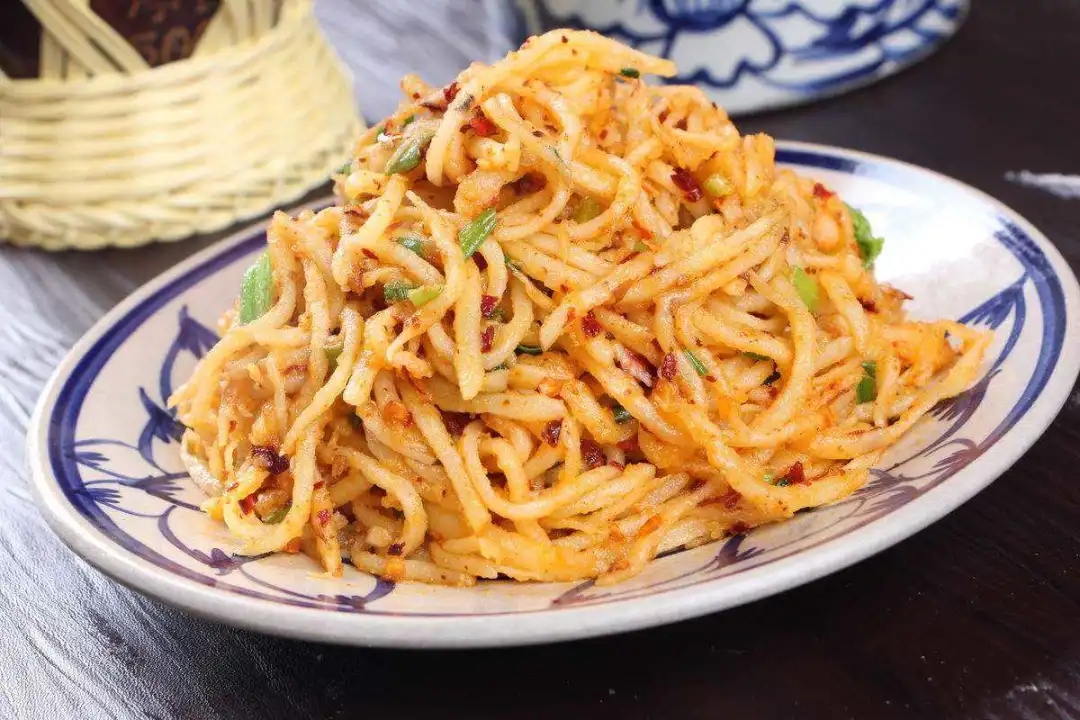 Steamed Potato Slices, made of sliced potatoes and flour, is a delicacy favored by northern Shaanxi folks.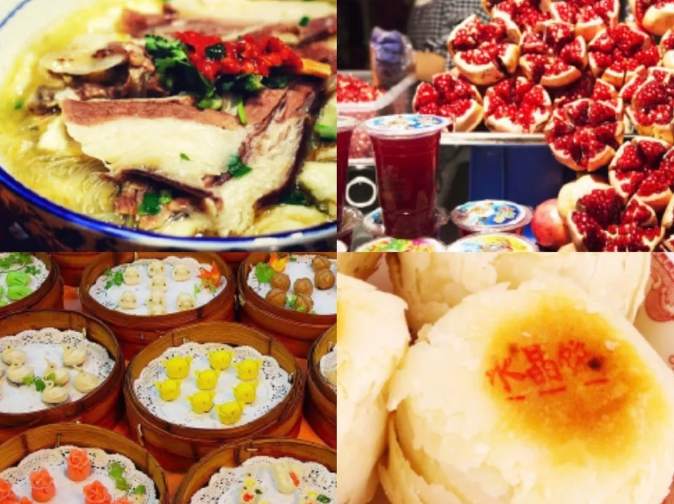 Shaanxi boasts numerous delicacies, such as fresh and tasty dumplings, al dente noodles of different shapes, aromatic and healthy wheat meal, sweet cakes, and juicy stuffed buns... They are not expensive but very delicious and famous as the typical popular delicacies of the ordinary folks. Tourists just need to walk along the street, follow the cooking smell and all the savory delicacies will be found.