Pakistan allows Afghan transit trade from Gwadar port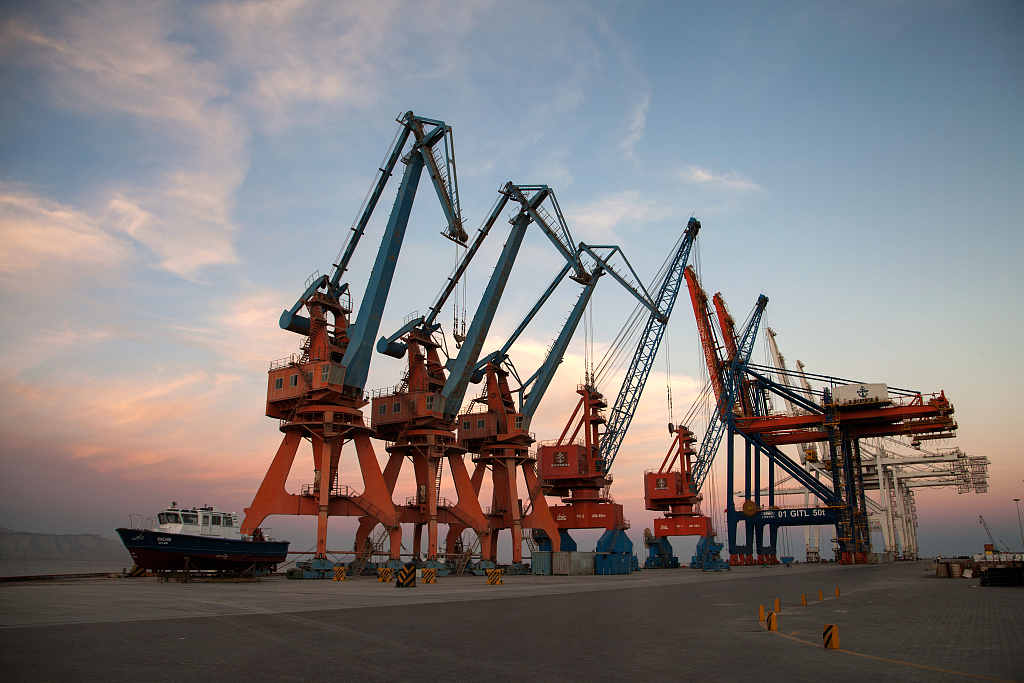 Photo: VCG
ISLAMABAD, Oct. 17 (Xinhua) -- Pakistan has allowed the Afghan transit trade from Gwadar port in the country's southwestern Balochistan province, an official statement said.
The notification issued on Tuesday said the trade related infrastructure at Gwadar port is ready to handle bulk cargos to and from Afghanistan.
"The bulk cargoes imported at Gwadar Port for onward transit to Afghanistan will be transported in containers after stuffing/loading the same into containers of international specifications," the notification issued by Pakistan's Ministry of Commerce and Textile said.
A five-member committee of officials has been formed for clearance of the Afghan transit cargoes arriving at the Gwadar International Terminal, another notification from the customs collectorate Gwadar said.
Afghan traders will have the facility of transshipment and transit through Gwadar port that will give a boost to their trade activities and quick clearance of their goods.
Experts believe that the start of Afghan Transit Trade (ATT) through Gwadar port in addition to Karachi port and Port Qasim is a right decision in making Gwadar port fully operational.
"It was a long overdue demand of the traders of both Pakistan and Afghanistan, declaring Gwadar as another facility for ATT," former Director General of the Gwadar Port Authority Munir Jan told Xinhua on Thursday.
However, Jan said there were a number of shortcomings for realization of ATT, such as fast internet connectivity for customs' clearance, quarantines and anti-narcotics examinations and above all the road connectivity of Gwadar with northern part of Balochistan.
"All the above requirements have since been ensured with a good road network, linking Gwadar with Chaman border (with Afghanistan) via Quetta," he said, adding the important factor for ATT will be its no-waiting time for ships calling at Gwadar port unlike Karachi and Port Qasim.
Last month Pakistan opened Torkham, one of the major crossing points with Afghanistan, for round-the-clock to facilitate Afghan traders. Officials said that trade between the two countries have increased due to the decision.
Pakistan and landlocked Afghanistan had signed a transit trade agreement in 1965 that was revised in 2010.