More Chinese to visit Italy, Switzerland
Global Times
1555893480000
Joining the China-proposed Belt and Road Initiative (BRI) would be a good choice for countries around the world as it brings joint economic development, cultural exchanges and jobs. It seems that the most immediate benefit for those who sign a BRI deal is a tourism boom driven by Chinese visitors as peak vacation season approaches.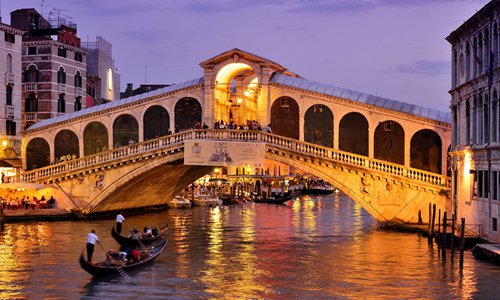 A view of Rialto Bridge in Venice, Italy. (File photo: VCG)
The most recent example is Italy. The European country's search popularity increased 28 percent month-on-month in March, the month when it signed a BRI memorandum of understanding with China, data provided to the Global Times by domestic online travel platform Mafengwo.com showed.
Italy was the first G7 member to sign a BRI deal and also the largest economy - eighth-largest in the world - to join the BRI by far, according to media reports.
Xu Xiaolei, manager of marketing at China's CYTS Tours Holding Co, said that during the upcoming May Day holidays, which have been extended from three to four days by the State Council, China's cabinet, the number of Chinese tourists going to Italy is expected to grow by about 20 percent compared with the same time last year.
In a recent interview with the Global Times, Italian Ambassador to China Ettore Francesco Sequi, said that the two countries have broad cooperation opportunities in the tourism sector. Italy established 11 new visa centers in China in 2016, and Chinese tourists can get now a visa within 36 hours.
A report from the China Tourism Academy said that Italy is rated by Chinese travellers as the most popular destination in Europe, second only to Russia.
Xu told the Global Times on Sunday that Switzerland, another European country that is set to join the BRI, is expected to see an increase of around 15 to 20 percent in Chinese tourists during the May Day holidays this year.
In a statement on April 16, the Swiss Federal Department of Finance announced that President Ueli Maurer will pay a state visit to China from Monday to April 30, during which the two countries will sign a memorandum on cooperation in third markets under the BRI.
Wang Yuting, a white-collar worker based in Nantong, East China's Jiangsu Province, booked a seven-day group travel package to Italy for the upcoming May Day holidays. "I have a more favorable impression toward Italy and Switzerland, as well as their people, when noticing the news of their participation in the BRI, which was top news everywhere. That's why I made the decision," Wang told the Global Times on Sunday.
"The trip will cost about 10,000 yuan ($1,492), more than half of my monthly salary, but I prefer to give that money to those who are willing to cooperate with China and recognize our culture," Wang said. She said that she changed her mind about going to Canada as the bilateral ties deteriorated because of the Huawei case.
More than tourism
Industry analysts noted that Chinese tourists' sentiment is likely to be affected by bilateral relationships between China and other countries. A warming political relationship will quickly trigger a tourism boom. Thus, countries and regions along the BRI routes are expected to greet increasing Chinese tourists.
Knowing the trend well, Chinese travel agencies have also designed more "BRI travel packages" to cater for that demand. China's CYTS Tours Holding Co said it has designed travel products covering more than 90 percent of the tourist destinations along the BRI routes, and it is also planning to design more in-depth travel packages to Europe, a focus of its business this year, according to a report the company sent to the Global Times on Sunday.
Song Ding, a research fellow at the Shenzhen-based China Development Institute, told the Global Times on Sunday that a tourism boom is just the trigger of the development of a whole industry chain, as tourism is the best and fastest way to boost exchanges between countries.
"Sales of luxury products in Italy and the skiing industry in Switzerland, as well as related products, might soon receive a boost with Chinese people's burgeoning purchasing power," Song said. "Better-than-expected GDP data in the first quarter of 2019 provided firm support for that power continuing to grow."