LONGi Utilizes "Chang'An" Sino-European Freight Train to Transport Modules
People's Daily app
1588149824000
On April 26, a "Chang'An" freight train fully loaded with LONGi modules left Xi'an for Europe, the first time the company has delivered its products via intercontinental rail. The train, carrying 11MW of Hi-MO4 modules, is expected to arrive at LONGi's local bonded warehousing center in Rotterdam, the Netherlands, in around 20 days, with the modules subsequently delivered to the company's distributed solar customers in Europe.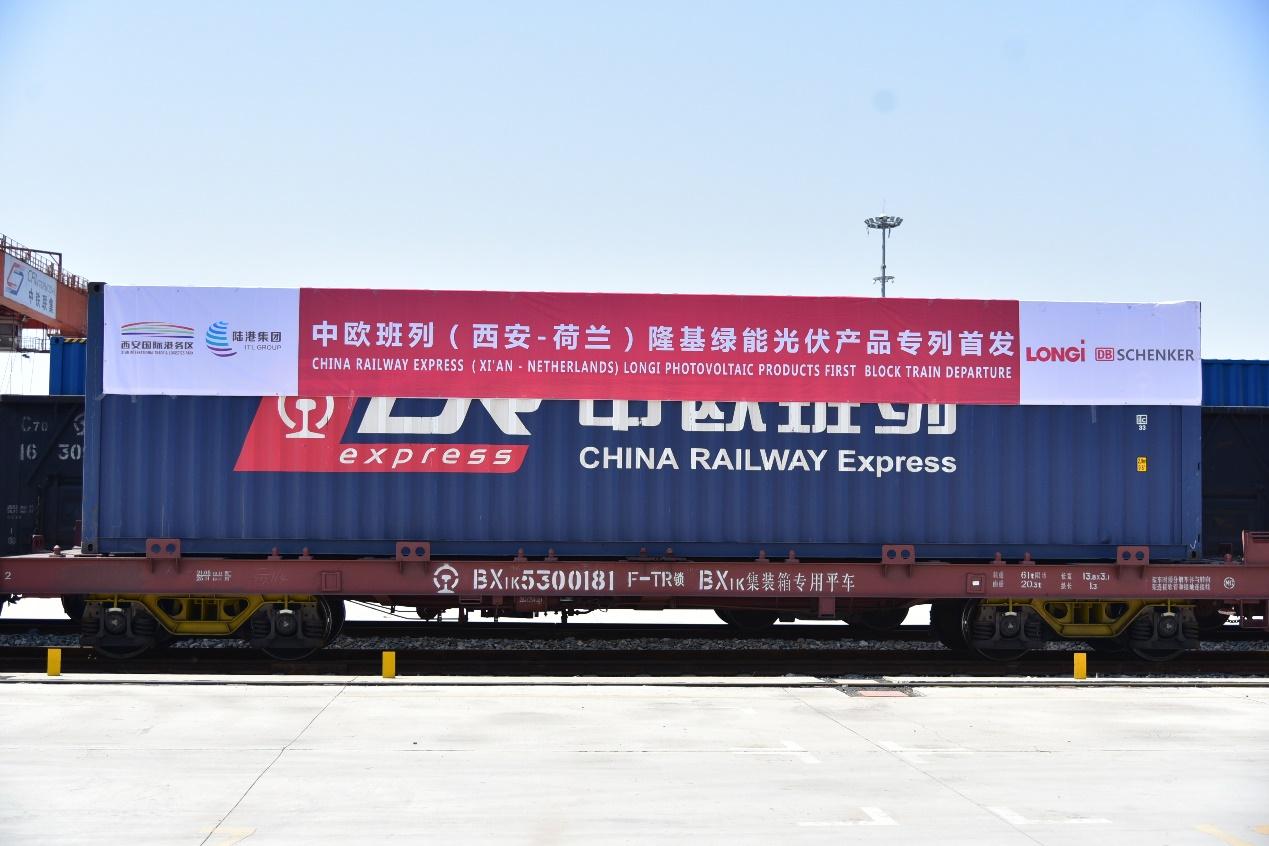 LONGi's First Sino-European Freight Train
"This is the first Sino-European freight train dispatched by LONGi," said Xu Zhipeng, Senior Manager of LONGi's Logistics Department. "Since the outbreak of the COVID-19 pandemic, global logistics, including transport capacity at ports and with shipping companies, have been seriously impacted. The rail option can greatly increase capacity, significantly improve the timeliness, and also lower cost of delivery."
The security and stability of logistics are crucial in the production and delivery of modules. To deliver products to customers in a timely and safe manner, and ensure that projects are completed on schedule, LONGi's logistics team has worked on several sea, land, and air solutions.
Since February, due to the pandemic, the Spring Festival holiday has been extended, and traffic restrictions implemented in many Chinese cities. Overseas, ports have closed, air travel has been suspended, and roads have been blocked. These factors have had a noticeable impact on procurement, logistics, and transportation. The timeliness and reliability of module delivery have naturally also been affected.

Opting for rail as a method for long-distance delivery was an innovative choice undertaken by LONGi after careful evaluation of several alternatives. Traditionally, modules destined for overseas have been mainly delivered by sea. Though timeliness can be an issue, cost and stability have made it the first choice among module manufacturers. Intercontinental rail transport was rarely chosen because of economic and other concerns. The use of rail on this occasion will effectively improve the time table for delivery of LONGi modules to Europe and also enhance the turnover efficiency of the European warehousing center. It will also significantly improve operational efficiency for customers, which is especially crucial for distributed businesses that require higher efficiency and flexibility.

To this end, LONGi's distributed strategy department coordinated for two months with more than ten other departments, carrying out testing, evaluation, and optimization of all links from production and packaging to logistics, testing, delivery, and supply chain support. To ensure the reliability of long-distance rail transportation, the department organized a test run between Xi'an and the Netherlands in March. The technical service and R&D teams scrutinized the products after the test run, optimizing packaging and standard cabinet modes accordingly, to ensure the protection of the products for the next journey.

Delivery by rail will suit LONGi's module production bases in Xi'an and Xianyang very well. Module capacity in Xi'an will allow the company to cover the European market more economically and further develop its overseas footprint.

"LONGi is committed to the concept of positive development and makes every effort to ensure production and supply. The opening of the Sino-European rail option is not only an inevitable step in LONGi's global business development but also an innovative approach for us to take advantage of the opportunity presented by China's Belt and Road Initiative. We will continue to optimize routes, improve delivery efficiency, and ensure efficient operations for our customers," said Niu Yanyan, Director of LONGi's Distributed Strategy Management Department.