Western China to see boost to transport infrastructure
People's Daily
1591109389000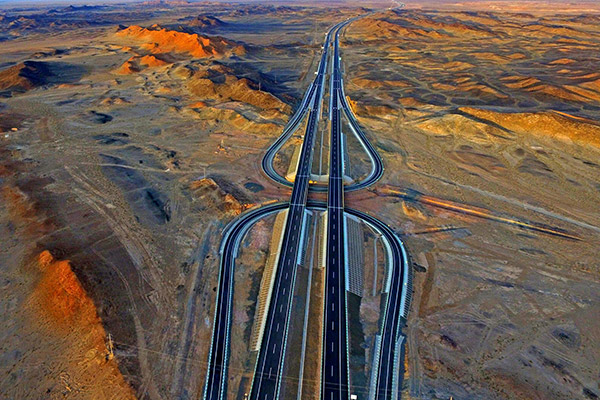 An aerial view of part of the Gansu section of the Beijing-Xinjiang Expressway. CAI ZENGLE/CHINA DAILY
China will leverage more resources in the construction of transport infrastructure in the western regions to promote coordinated regional development, the Ministry of Transport said on Friday.
In line with a guideline on advancing the development of western regions in the new era issued by the Communist Party of China Central Committee and the State Council, the ministry will take a slew of measures to enhance infrastructure connectivity, ministry spokesman Sun Wenjian said.
The transport authority will step up efforts to support connectivity projects under the Belt and Road Initiative in the Xinjiang Uygur autonomous region, as well as the provinces of Gansu and Shaanxi, he said at a news conference.
The country will make Xinjiang a transport hub connecting the country to Europe and make Gansu and Shaanxi important nodes on the economic corridor, he said, adding it will strengthen the development of Beibu Gulf Port in Guangxi Zhuang autonomous region to accelerate construction of the new ocean-continental channel in the western region.
Sun noted as all administrative villages have access to asphalt roads, the ministry will ramp up support to make sure all townships and administrative villages have access to bus services to facilitate the country's goal of building a moderately prosperous society in all respects.
The ministry will continue to deepen the construction of a modern logistics system and promote new transportation models in the western regions, as well as improve the quality of rural logistics services, he added.