World Cyber Game 2019 unveils in Xi'an
People's Daily app
1566055967000
XI'AN, China, July 18 (Xinhua) -- The World Cyber Game (WCG), suspended for six years, took a new start this year as the WCG Cube was illuminated here to mark the beginning of the 14th edition of the tournament here in the Xi'an city, capital of northwest China's Shaanxi province.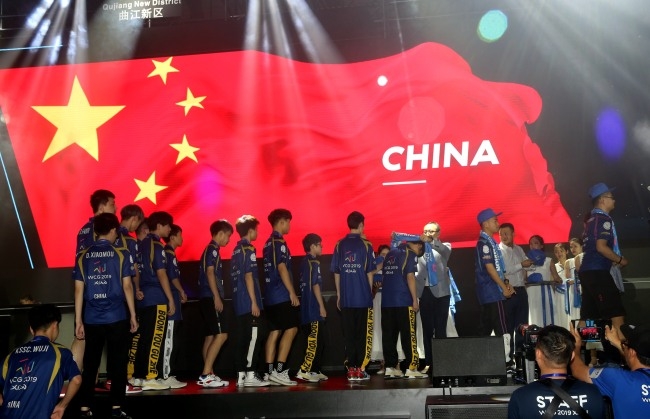 A total of 196 players from 25 countries and regions that excelled from their respective regional qualifiers will compete in six game titles, Dota 2, CrossFire, Honor of Kings, Clash Royale, Hearthstone and Warcraft III, as well as in invitational events including StarCraft II and Game for Peace.
Deputy mayor of Xi'an Wang Yong welcomed all the players and fans to the city of more than 3,000 years and hope for the tournament in his opening remarks at the opening ceremony.
"I believe WCG will help promote the development of e-sports in China and around the globe," Wang said.
"E-sport is the future, let's make it together," called Kwon Hyuk-bin, chairman of the WCG Committee.
The opening ceremony was followed by a much-anticipated 2v2 legendary showdown match between China's Li "Sky" Xiaofeng and Huang 'TH000' Xiang, and South Korea's Park 'Lyn' June and Jang "Moon"Jae-ho, which brought back the memory of the old rivalry between best Human player "Sky" and best Night Elf player "Moon" some ten years ago.
"I am trying hard to suppress my boiling emotions here on the stage, at a tournament which completely changed the course of my life," Li said. "Xi'an will always have a special place in my heart, because this is where I won my first world title and where I set off to win the WCG championship."
At last, Team South Korea defeated Team China 2-0.
"It feels great to play in such a match as the WCG returns after six years," said "Moon", a decorated player who is after his first-ever WCG title here in Xi'an.
"I was very nervous back on the stage"
The World Cyber Game, known as the e-sports Olympics, was an annual event initiated in 2001. The last edition was held in 2013 in Kunshan, south China's Jiangsu province.