China, Indonesia eye closer high-level exchanges Source: Xinhua| 2019-07-30 21:02:26|Editor: huaxia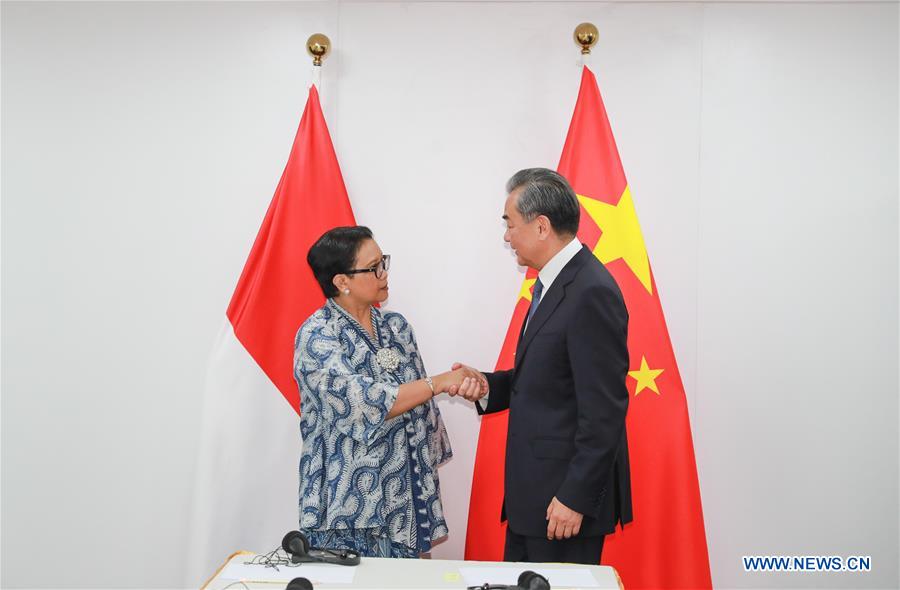 Chinese State Councilor and Foreign Minister Wang Yi (R) meets with Indonesian Foreign Minister Retno Marsudi in Bangkok, Thailand, on July 30, 2019. (Xinhua/Zhang Keren)
BANGKOK, July 30 (Xinhua) -- Chinese State Councilor and Foreign Minister Wang Yi met here Tuesday with Indonesian Foreign Minister Retno Marsudi, vowing to improve high-level exchanges of the two countries.
Wang said China attaches importance to Indonesia's global status and the two countries, as friendly neighbors, have broad prospects for cooperation on the sidelines of the ASEAN foreign ministers' meeting and other related meetings in Bangkok.
Chinese President Xi Jinping reached new consensus with Indonesian President Joko Widodo at the Group of 20 (G20) Osaka summit, Wang said. "We are willing to work with Indonesia in preparation for high-level exchanges of the two countries in the next phase and bring the bilateral cooperation to a new level."
China will work with members of the Association of Southeast Asian Nations (ASEAN) including Indonesia to strengthen cooperation at the meetings, united as one and focused on Asia including East Asia, for regional prosperity and stability, Wang said.
Retno said Indonesia will work with China for closer high-level exchanges, stronger political mutual trust and improved bilateral relations. "President Joko looks forward to visiting China and attending the second China International Import Expo."