Cambodian PM marks milestone in construction of China-aided stadium
Cambodian Prime Minister Samdech Techo Hun Sen and Chinese Ambassador to Cambodia Wang Wentian here on Monday attended an event to mark the completion of concrete seat installation at the China-funded national stadium.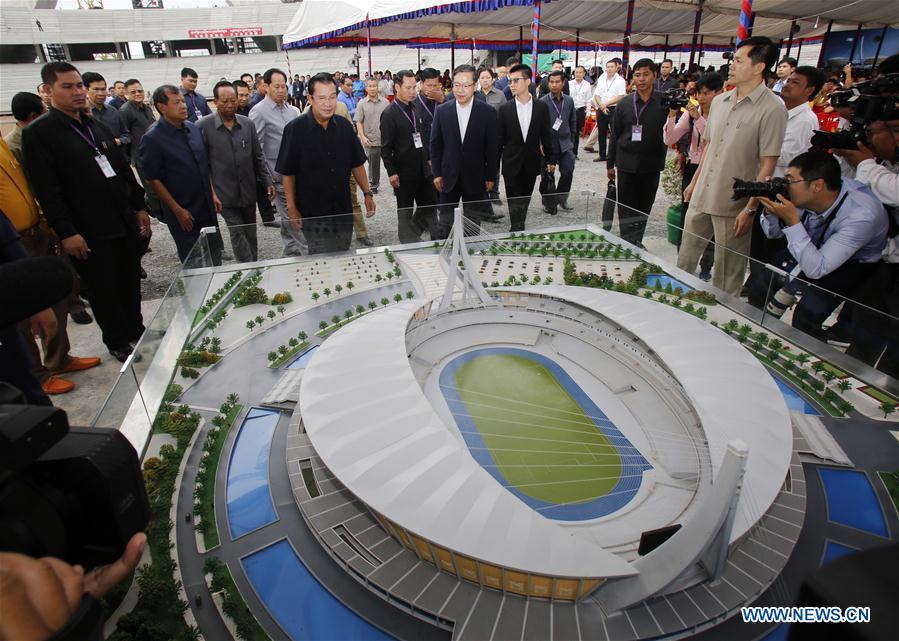 Photo: Xinhua
The stadium is being developed by the China State Construction Engineering Corporation (CSCEC) under the China's grant aid of 1.1 billion Chinese yuan (about 160 million U.S. dollars).
Speaking at the event, Hun Sen said that work on the project began in August 2017 and is scheduled to be completed by the end of 2020.
"So far, more than half of the construction work has been completed, and I believe that it will be finished on schedule," he said.
The prime minister said that the stadium was born of excellent cooperation between Cambodia and China under the frameworks of the comprehensive strategic partnership of cooperation and the Belt and Road Initiative.
"When completed, the stadium will be open for students, youths and people to visit, and we will tell them that it is built under China's grant aid," Hun Sen said.
He said the stadium will serve as the main venue for tournaments when Cambodia hosts the Southeast Asian (SEA) Games in May, 2023.
He said that he would like to express profound gratitude through the Chinese ambassador to Chinese leaders and the government and people of China for helping Cambodia.
Tourism Minister Thong Khon, also president of the National Olympic Committee of Cambodia, said the 60,000-seat stadium would be able to be evacuated in seven minutes if needed.
According to the master plan, the 39.9-meter-tall stadium will be built in the shape of a sailing ship in which both prows are 99 meters tall, and it will be encircled by an ancient Angkor-style moat.
Khon said the sailing ship symbolizes a long-standing traditional friendship between Cambodia and China because Chinese people used to travel by sailing ship to Cambodia in ancient times.
The stadium covers a 16-hectare parcel in the 85-hectare Morodok Techo National Sports Complex, which is located 18 km north of central Phnom Penh.