Putin to miss APEC summit, attend BRICS summit: Kremlin
MOSCOW, Oct. 30 (Xinhua) - Russian President Vladimir Putin will miss the Asia-Pacific Economic Cooperation (APEC) summit that would happen in Chile, but plans to attend the BRICS summit, another major event to be held next month in Brazil, the Kremlin said Wednesday.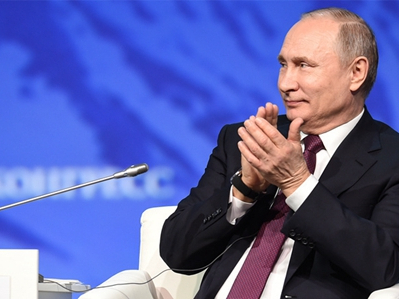 File photo: VCG
Kremlin spokesman Dmitry Peskov told reporters that the decision has nothing to do with the current unrest in Chile.
"At the moment, Putin's program does not provide for such a trip due to internal events and the need to deal with internal Russian problems," Peskov said.
He said that Russia will still be represented at a "high level" at the APEC summit.
However, Peskov said, Putin plans a three-day trip to Brasilia to attend the BRICS summit on Nov. 13-14, together with the heads of the other BRICS states of Brazil, India, China and South Africa.
Later in the day, Chile announced to suspend the hosting of the APEC summit due to social crisis.