China's high-speed rail offers model for other countries
China's high-speed railway (HSR) has registered rapid growth and offered many viable practices for other countries considering HSR investment, according to a World Bank report released Monday.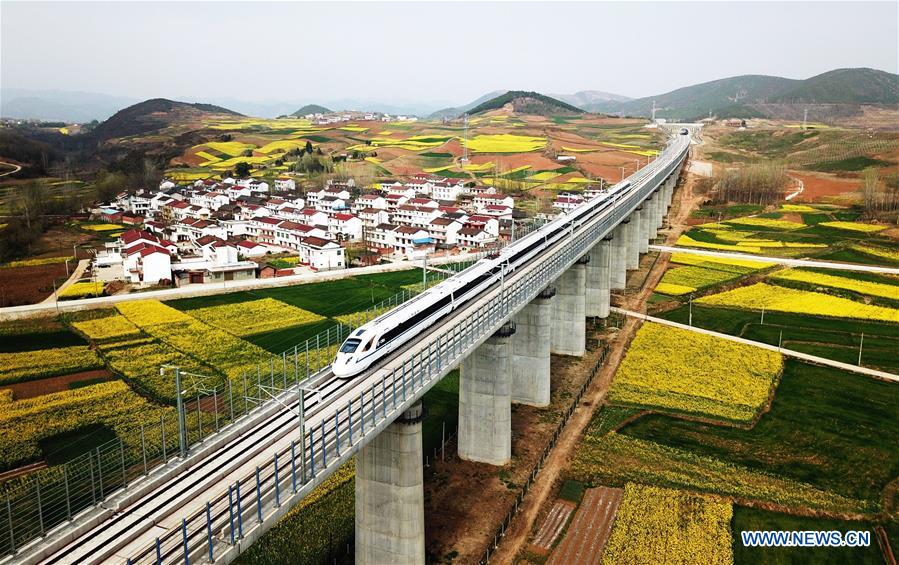 A bullet train runs on the Yangxian section of Xi'an-Chengdu high-speed railway line in northwest China's Shaanxi Province, March 21, 2018. (Photo: Xinhua)
Key factors enabling the growth include the development of a comprehensive long-term plan and the standardization of designs and procedures, said the report, which summarizes China's HSR development.
China's Medium- and Long-Term Railway Plan, which looks up to 15 years ahead, provides a clear framework for the development of the system, according to the World Bank.
Meanwhile, the construction cost of the Chinese HSR network stood at about two-thirds of the cost in other countries, the report said, citing an average of 17 million US dollars to 21 million US dollars per km.
"China has built the largest high-speed rail network in the world. The impacts go well beyond the railway sector and include changed patterns of urban development, increases in tourism, and promotion of regional economic growth," said Martin Raiser, World Bank director of China.
By the end of 2018, the total railway operation mileage reached 131,000 km, five times higher than 1949, while the high-speed railway exceeded 29,000 km, accounting for more than 60 percent of the world's total, according to a recent report by the National Bureau of Statistics.
In China, high-speed rail service is competitive with road and air transport for distances of up to about 1,200 km, while fares are about one-fourth the base fares in other countries, which allows HSR trains to attract passengers from all income groups, the report said.
"Large numbers of people are now able to travel more easily and reliably than ever before, and the network has laid the groundwork for future reductions in greenhouse gas emissions," Raiser said.