Ambassadors' spouses visit ancient city of Xi'an
The themed trip to Xi'an for foreign ambassadors' spouses was launched on July 5 in Lintong district in Xi'an, the capital of Northwest China's Shaanxi province.
A total of 10 foreign ambassadors' spouses from 10 countries – Gabon, Niger, Mali, Sierra Leone, Mauritius, Indonesia, Samoa, Pakistan, Madagascar, and Gambia, as well as the counselor for culture, science, technology and education of the Embassy of Egypt in China, participated in the event.
At the launch ceremony, Shen Liping, deputy mayor of the Xi'an municipal people's government, stated in her speech that 2021 is the 100th anniversary of the founding of the Communist Party of China. She added that Xi'an will also be the main host city of China's 14th National Games this year.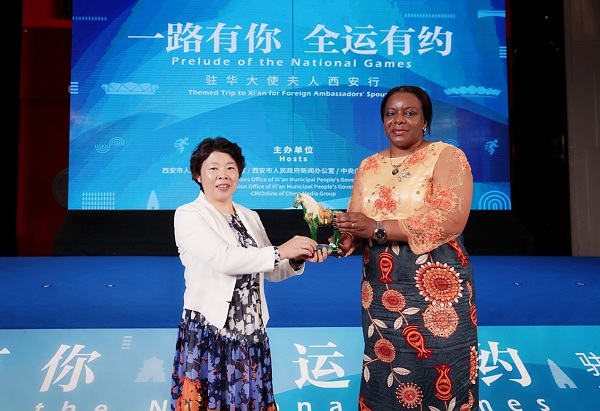 It is hoped that ambassadors' spouses will learn more about Xi'an's development of culture and history, modern industry, basic education, ecological protection, and innovation and entrepreneurship, Shen added.
Ndong Ella Christian, the spouse of the Gabonese ambassador to China, delivered a speech. She said: "Xi'an's cultural diversity and social diversity give the city infinite charm. Our delegation can't wait to explore the brilliant historical and cultural miracles of the beautiful ancient city and the brand-new modern Xi'an just before China's 14th National Games."
Deputy Mayor Shen also presented a gift representing the traditional culture of Xi'an – a piece of tri-colored glazed pottery of the Tang Dynasty – to Ndong Ella Christian.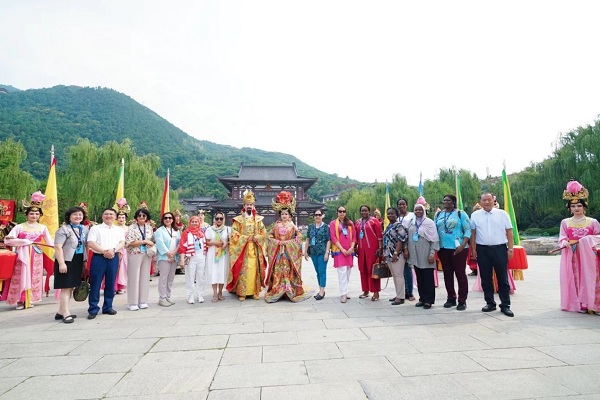 The tour will last for four days, during which time the ambassadors' spouses will visit Xi'an Museum, Xi'an Olympic Sports Center, Xi'an Expo Park and the Qinling Panda Breeding Base.
It will promote friendly exchanges between Xi'an and other countries, build a bridge of communication and cooperation, and continue to expand Xi'an's reputation and international influence.