Xi'an online shopping festival kicks off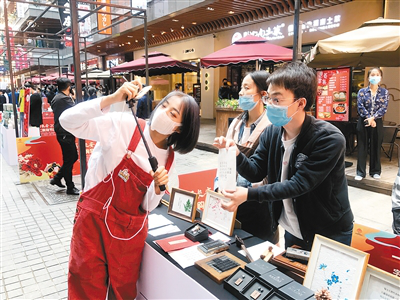 A livestreaming host promotes products at the 2020 Xi'an online shopping festival. [Photo by Huang Xiaowei/xinhuanet.com]
Hosted by the Xi'an municipal government, the 2020 Xi'an online shopping festival kicked off on April 24, helping businesses sell products online.
The event aims to connect with customers by launching various forms of consumer promotion activities and helping them buy upmarket goods and services through livestream and social marketing.
During the novel coronavirus epidemic, consumers gradually adapted to the consumption habits of home consumption and home delivery services.
From January to February, online retail sales in Xi'an increased by 27 percent year on year.
Involving 10 theme activities, organizers said the shopping festival is rich in content and novel in form. It will last throughout the year and the scale of activities has been greatly improved compared with previous years.
It is estimated that more than 300 companies and about 5,000 merchants will participate, supporting more than 1,000 promotional activities for businesses, which will benefit more than 8 million consumers.
Officials said that for the upcoming May Day holiday, Xi'an's commerce and trade authorities at all levels and businesses will use the shopping festival as an opportunity to fully release their potential and restore vitality to Xi'an.