Improved ties spur Philippine tourism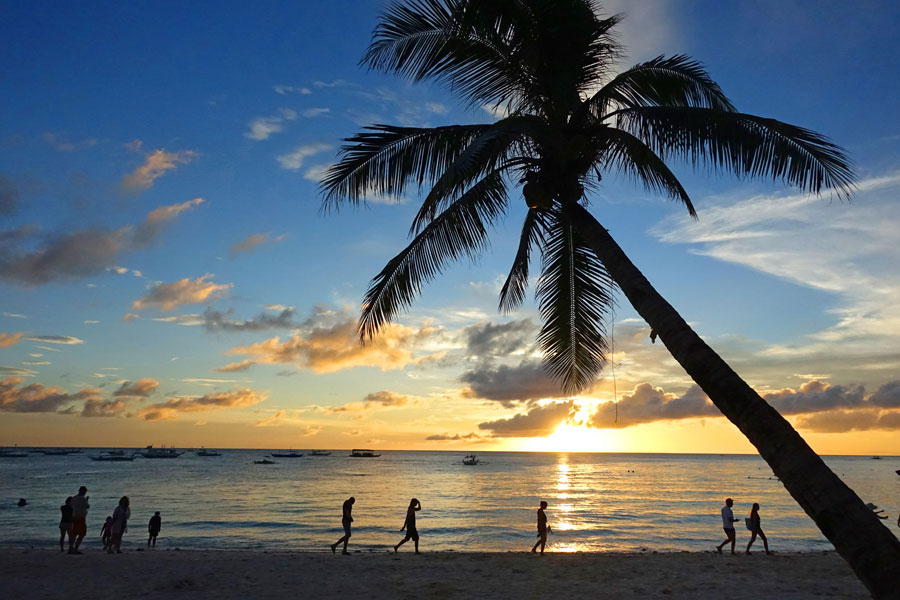 People walk on the beach on Boracay Island in the Philippines. (Photo: VCG)
The rise of Chinese travelers is finally making the Philippines a key tourism destination in Southeast Asia.
Despite its pristine beach resorts and colorful festivals, the Philippines has been a laggard compared with neighbors in the region. It was attracting only about 6 million tourists each year, versus the tens of millions received by Thailand and Malaysia.
But in 2018, the Philippines posted a record high 7.1 million tourist arrivals. Nearly half of them came from South Korea, China and the United States, according to the Philippine Department of Tourism.
The department said China alone accounted for roughly 17 percent of the Philippine tourism market, recording 1.25 million arrivals last year. This is nearly 30 percent higher than 2017's arrivals, making China "the most improved market" and the second-largest source market for Philippine tourism.
Tourism Undersecretary Benito Bengzon said the Philippines aims to attract more Chinese tourists, targeting 1.63 million arrivals by the end of this year. This is also in line with the department's target of 8.2 million total tourist arrivals in 2019.
Speaking to China Daily, Bengzon said Philippine President Rodrigo Duterte's decision to improve diplomatic relations with China has encouraged more Chinese tourists to come in.
"Healthy diplomatic relations will definitely work to secure robust economic and business ties," Bengzon said. This complemented efforts by both the government and the private sector to attract more Chinese tourists. These include attending travel fairs, easing visa restrictions on Chinese tourists, and offering more direct flights to Chinese cities like Beijing and Shanghai.
In 2018, flag carrier Philippine Airlines ramped up operations to China by increasing flight frequency to 103 times weekly.
Early this year, Cebu Pacific Air launched its first direct flight to the city of Shenzhen, in South China's Guangdong province. The budget airline flies 23 times weekly between the Philippines and China.
The department's target is on track so far. According to latest official data, 733,769 Chinese tourists visited the Philippines from January to May, 31 percent higher than for the same period last year. Chinese tourist arrivals accounted for 21.03 percent of the total 3.5 million arrivals in the first five months of 2019.
Duterte's election in 2016 has improved bilateral relations that were once strained by conflicts over the South China Sea.
Duterte's visit
Duterte started his fifth state visit to China on Wednesday.
Duterte's efforts to improve relations with China has benefited the Philippine travel industry, according to John Paolo Rivera, associate director at the Dr. Andrew Tan Center for Tourism of the Manila-based Asian Institute of Management.
"The Chinese market is definitely a contributor to the Philippines' success in achieving its tourism arrival targets," Rivera said.
He added that in general, more Chinese are traveling, thanks to their country's growing economy and rising incomes.
China is now the world's biggest market for outbound tourism, with Chinese tourists making nearly 150 million outbound trips in 2018, according to a report issued in March by the China Tourism Academy and Ctrip, China's largest online travel agency.
The report said Chinese travelers prefer convenient and safer foreign destinations and the Philippines was among top 10 destinations for Chinese travelers in 2018.
Colliers International said the increasing number of Chinese tourists is the main driver behind the rising hotel occupancy and tourist spending in the Philippines.
The property investment firm said overall hotel occupancy in the capital region of Metro Manila reached 71 percent in the first half of 2019. Three-and four-star hotels recorded occupancies of 69 percent and 65 percent, respectively.
"Developers have been responding to the growing arrivals from China by building more three-to four-star hotels," Colliers said. It said that about 40 percent of the 10,000 new hotel rooms due to be completed from 2019 to 2022 are classified as three-star, while about 35 percent are four-and five-star hotels.
George Siy, chairman emeritus of Anvil Business Club, a Manila-based organization of young Chinese-Filipino entrepreneurs and professionals, said that besides better bilateral relations with China, another factor in increasing the number of tourists has been Duterte's increased infrastructure spending.
"More investments in not only physical connectivity but soft connectivity like language, cultural and traditional understanding will also go a long way in making the market more vibrant," he said.
Analysts said that while the Philippines is attracting more Chinese tourists, China likewise is emerging as a key destination for Filipino travelers.
In 2014, 967,900 Filipinos traveled to China, according to the Center for Strategic and International Studies, a think tank. The figure two years later increased to 1.13 million.