World Invited to Celebrate Spring Festival in Xi'an
The "Celebrate 2020 Spring Festival in Xi'an," a series of culture and tourism activities set to celebrate the upcoming Chinese Lunar New Year, officially kicked off on January 1, 2020 at Daming Palace National Heritage Park.
The municipal government of Xi'an is vowing to coordinate efforts citywide to ensure the success of the activities that will be held throughout the city, including in the main activity area Qujiang New District, three development zones, namely Xi'an Hi-tech Industries Development Zone, Chanba Ecological District and Xixian New Area as well as the districts of Xincheng, Beilin, Lianhu, Weiyang, Chang'an and Gaoling.
The festivities will feature unique local cultures, present an international vision and orientation, showcase the city's characteristics and follow world-class standards with efforts to highlight the main theme while pursuing commercialization and internationalization, making it a joyful and stylish culture and food festival that combines traditional and modern cultures as well as the Spring Festival customs.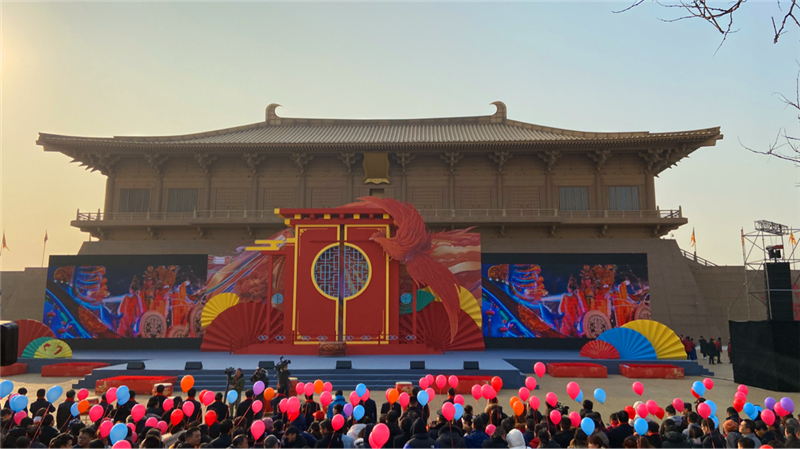 The opening ceremony of the "Celebrate 2020 Spring Festival in Xi'an" serial activities.
(Photo: Wu Yuting)
Celebrations scheduled for the Spring Festival holidays include a city wall lantern fair, a grand lantern exhibition, a Spring Festival culture carnival, an E-sports summit and an electronic music festival.
They are among 46 major events and 301 culture and tourism activities categorized in 9 sections that will last from December 31, 2019 to February 9, 2020.
Celebrate the Chinese Lunar New Year in Xi'an! The city is inviting the world to enjoy a brand new Spring Festival cultural gala that combines global visions and local features.