How the BRI is bolstering China-Arab ties
CAIRO, July 10 (Xinhua) -- Ahmad al-Sahli gives a thumbs up when asked about a Chinese company building the world's largest oil-fired power station in the port city of Yanbu in western Saudi Arabia.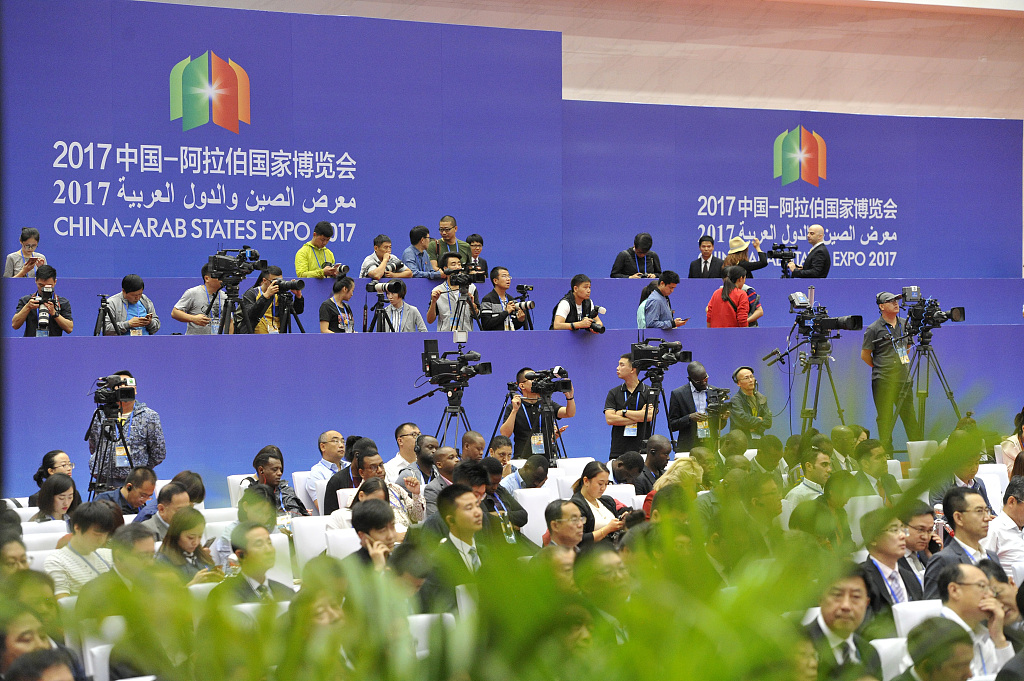 Journalists work at the China-Arab States Expo 2017 in Yinchuan, capital of northwest China's Ningxia Hui Autonomous Region, Sept. 6, 2017. (Photo: VCG)
"I am very proud of working for a Chinese company that is helping to build my hometown," said the 32-year-old Saudi man.
He works as the project's personnel assistant at the Chinese company SEPCO III, a branch of Shandong Electric Power Construction Corporation. The Yanbu project, with seawater desalination as one component, is also tasked with supplying water to Medina, his hometown and an Islamic holy city.
The Belt and Road Initiative (BRI) has brought large-scale projects to Saudi Arabia. In a larger sense, the BRI complements Saudi Vision 2030, an ambitious plan to reduce the country's dependence on oil and diversify its economy. "China and Saudi Arabia are moving in the same direction, enjoying win-win relations," said al-Sahli.
The Yanbu project exemplifies the growing ties between Arab states and China over the past year after Chinese President Xi Jinping called for efforts to build a China-Arab strategic partnership of comprehensive cooperation and common development in Beijing last July.
GROWING MOMENTUM
The first concrete step towards solidifying Chinese-Arab ties occured at the heels of the China-Arab States Cooperation Forum (CASCF) in Beijing one year ago, with Xi paying a three-day state visit to the United Arab Emirates (UAE). Months after Xi's trip, Chinese Vice President Wang Qishan visited Egypt and the UAE and agreed with leaders to further bilateral cooperation.
The visits "elevated China-UAE relations to a new height," Ni Jian, the Chinese ambassador to the UAE, said in a signed article in the leading UAE newspaper The National.
In April this year, UAE Vice President and Prime Minister Sheikh Mohammed bin Rashid Al Maktoum visited China and attended the second Belt and Road Forum for International Cooperation -- a trip which "continued the momentum of the high-level exchanges," Ni added.
On ties with Kuwait, Chinese ambassador to the oil-rich country Li Minggang said that after the trip by Kuwaiti Emir Sheikh Sabah Al-Ahmad Al-Jaber Al-Sabah to the Beijing CASCF meeting, "the two sides have been implementing the consensus (reached between heads of the two states) as a priority in the development of bilateral relations."
Addressing the CASCF meeting, Xi said, "We must strive to uphold peace and stability in the Middle East, safeguard fairness and justice, promote common development and learn from each other as friends do."
Palestinians are impressed that China never imposes strength on its relations with other countries. "China plays a big role in (the world) following the two-state solution and the international laws to resolve the Palestinian-Israeli conflict," Palestinian Deputy Foreign Minister for Asia, Africa and Australia, Mazen Shamiyah, told Xinhua.
INFRASTRUCTURE EXPANSION
Last July, China and several Arab states signed at the CASCF meeting the Declaration of Action on China-Arab States Cooperation under the Belt and Road Initiative (BRI). Seeing opportunities from the initiative launched in 2013, at least 17 Arab states have signed BRI-related cooperation documents with China.
China is now the Arab world's second largest trading partner and has established strategic partnerships with 12 Arab states.
"The Belt and Road brings cooperation between China and Qatar to a deeper and higher level," said Zhou Qiao, deputy head of China's mission counsellor there.
Official data showed trade between the two countries rose to 13.4 billion U.S. dollars in 2018, up 28.6 percent year on year, making China Qatar's third largest trading partner.
Meanwhile, trade between China and Kuwait reached 18.7 billion dollars, an increase of 55.1 percent, and for Kuwait, China has become the largest exporter and second largest importer.
Besides boosting trade, BRI cooperation projects have also yielded fruits in infrastructure construction, raising living standards and creating jobs.
In the Moroccan city of Ouarzazate, the gateway to the Sahara Desert, Chinese-built solar power plants, two of the world's largest, have since January supplied electricity to Morocco's grid.
The two projects created more than 13,000 job opportunities for local residents over three years, said Wang Guangchun, the projects' general manager.
The Palestinian city Ramallah is expected to see nine roads paved to help accommodate its increasing traffic, thanks to a Chinese-funded project worth 8 million dollars which was launched last November.
In Egypt, China State Construction Engineering Corporation Ltd, a world leading construction company, is building a huge business district for its planned new capital. Among the structures will be a 385-meter-high iconic tower, an African record.
China and Arab states are also jointly building a "Space Silk Road" with the application of China's Beidou Navigation Satellite System (BDS) in Tunisia, Algeria, Kuwait and Sudan, facilitating precision agriculture, telecommunications, maritime monitoring and disaster relief among other fields.

CULTURAL TIES
From decorating Chefchaouen -- a Moroccan town known for its omnipresent blue walls and alleys -- with 1,500 red lanterns to celebrate the Chinese Spring Festival to meetings in Kuwait between Chinese and Arab librarians and information specialists, cultural exchanges are deepening the mutual understanding between Chinese and the Arab civilizations.
Last week in Tunis, state television channels Watanya 1 and Watanya 2 ran Chinese Television Week to display Chinese feature films and documentaries to mark the 55th anniversary of diplomatic relations with China.
In its capital, a Chinese delegation took part in the 20th edition of the Arab Festival for Radio and Television held from June 27 to 30, showcasing cartoons and drama series subtitled in Arabic.
Abdel Rahim Suleiman, director-general of the Arab States Broadcasting Union (ASBU) that jointly sponsored the festival, said, "Cooperation among China, ASBU and Arab countries is still being strengthened. We are pleased with the level of China-Arab cooperation in the spheres of media and culture."