China-Brunei joint venture provides training, employment for local Bruneians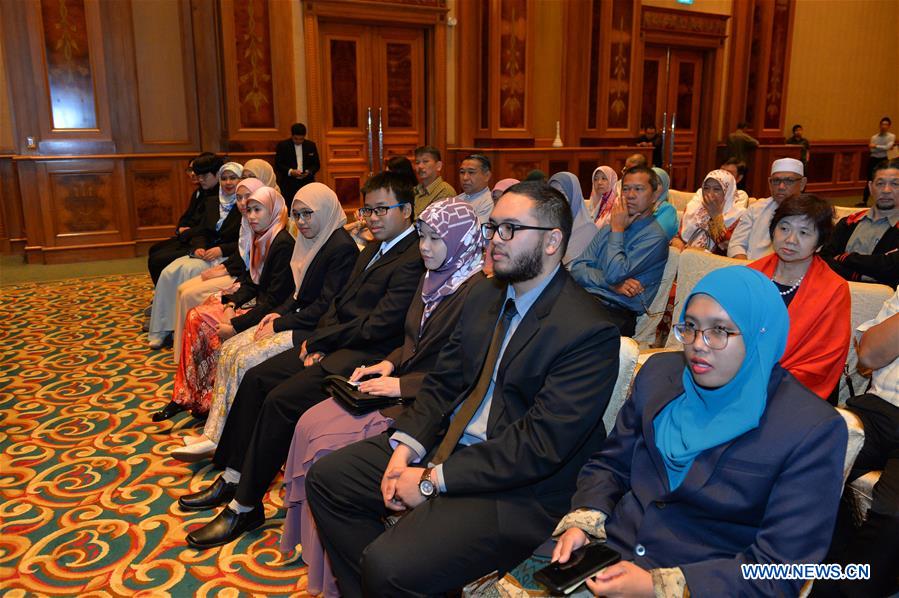 Scholarship recipients and their parents attend a graduation ceremony for the fifth batch of 11 scholarship students under the Joint Chemical and Process Engineering Scholarship Program provided by Hengyi Industries Sdn Bhd, in Bandar Seri Begawan, capital of Brunei, July 10, 2019. (Xinhua/Jeffrey Wong)
Hengyi Industries Sdn Bhd, a China-Brunei joint venture, hopes to provide at least 50 percent of over 2,000 new jobs to local Bruneians in the second phase of Pulau Muara Besar (PMB) refinery and petrochemical plant, Li Peng, director of General Affairs of Hengyi Industries told Xinhua on Wednesday.
The company is currently providing locals with scholarship training program in China and in local institutions for future recruitments. The graduation ceremony for the fifth batch of 11 scholarship students under the Joint Chemical and Process Engineering Scholarship Program was held on Wednesday.
Li said the PMB project is in its first phase and currently employs more than 300 locals.
The first phase is scheduled to be operational by the end of 2019.
Hengyi Industries is a joint venture between China's Zhejiang Hengyi Group and Damai Holdings, a subsidiary under the Brunei government's Strategic Development Capital Fund, owning 70 percent and 30 percent respectively.
According to Li, the first phase will generate 7 billion to 10 billion U.S. dollars in sales annually, while the second phase is expected to further boost crude oil processing capability by 14 million metric tonnes annually.
With the success of the Joint Chemical and Process Engineering Scholarship Program between Zhejiang Hengyi Group, Zhejiang University and University Brunei Darussalam, Hengyi Industries has announced that the scholarship program has been extended for a further five years, Li said.
During the graduation ceremony, Chen Liancai, chief executive officer of Hengyi Industries, said the extension of this scholarship program not only demonstrates Hengyi's commitment to providing employment for local Bruneians, but also showcases the determination of Zhejiang University and University Brunei Darussalam, two top universities of both countries, to push forward bilateral culture and academic cooperation.
Dyg Syahiirah, a scholarship recipient, expressed her gratitude to Hengyi Industries for the scholarship.
"Academic wise, our study in China has helped to widen our knowledge to a bigger scale and give us a better understanding on our chemical and process engineering course as we are more exposed to the application of the theoretical knowledge for real-life situations and the ways to deal with different problems that may be encountered in the future," she told Xinhua.
Under the scholarship program, the students study in China's Zhejiang University for around 18 months, including industrial training at Hengyi Industries' petrochemical plant in China. The students will then accomplish their final semester at University Brunei Darussalam before being offered a job at Hengyi Industries.
Earlier this year, Hengyi Industries also awarded scholarship to 30 students from the Institute of Brunei Technical Education (IBTE). It was the first batch of Hengyi Scholarship in a joint collaboration between Hengyi Industries and the Centre for Capacity Building (PPK) together with IBTE and China's Lanzhou Petrochemical Polytechnic.
After nine months of study at IBTE, the students are now undergoing one-year institutional-based training in Lanzhou Petrochemical Polytechnic, and will then complete the final 15 months of their course through an on-the-job-training with Hengyi Industries at PMB, and will be offered employment after completion.