Outbreak takes a toll on peak season earnings of carriers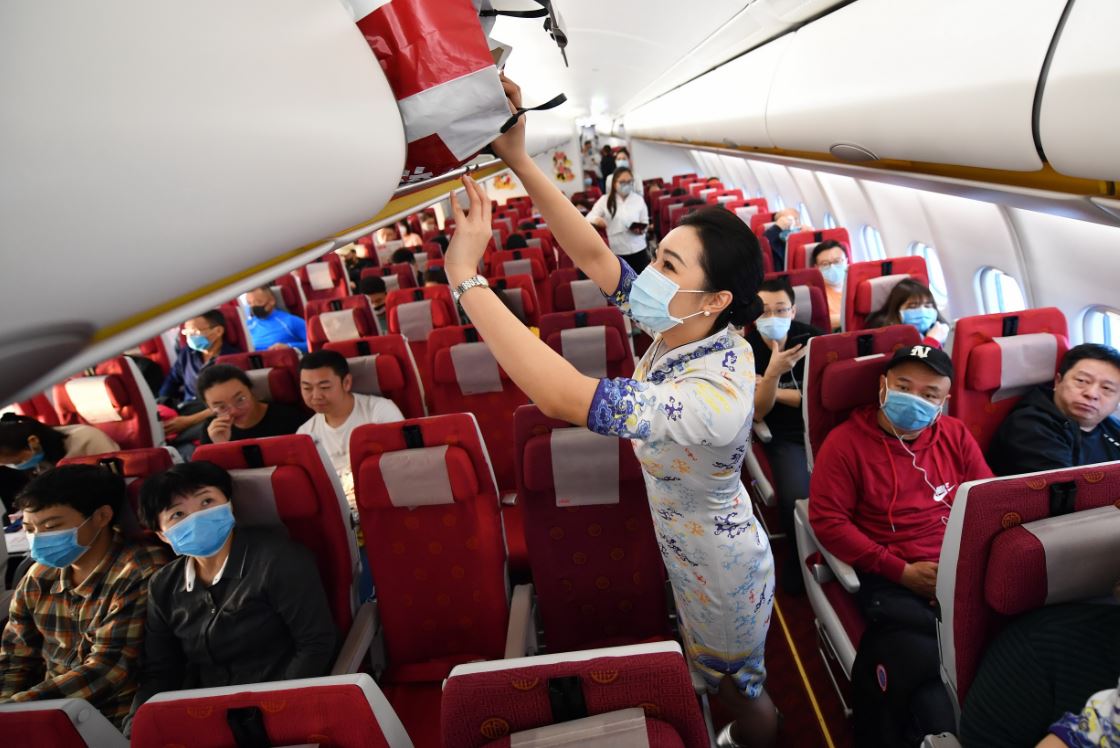 (Photo: Xinhua)
More measures soon for companies to optimize capacity, plan reorganization
The cancellation of many international and domestic flights in the wake of the novel coronavirus outbreak during and after the Spring Festival holiday has resulted in a difficult time for carriers as it came in the middle of a peak travel season.
On Feb 10, the first day of going back to work after an extended holiday for many companies, 11,485 domestic flights were canceled out of about 15,000 planned flights operated by Chinese mainland airlines, said VariFlight, one of China's top air-data services firms.
The sharply falling demand since Jan 23 saw the total number of operating domestic commercial flights start to drop. On Feb 5, 70 percent of domestic flights were canceled. On Feb 8, domestic flights transported 270,000 people, down 84.6 percent year-on-year, the data showed.
Feng Zhenglin, head of the Civil Aviation Administration of China, said on Tuesday the government will focus on the operational risks to the industry, carry out further measures to cut taxes and fees, support carriers to optimize their capacity, and plan reorganization based on demand.
Aviation industry analyst Lin Zhijie said the civil aviation industry will suffer a loss, which is a rare occurrence during the Spring Festival transportation period. The threat to the industry is expected to be far greater than that of the SARS epidemic in 2003 because China is playing an increasingly important role in the international air travel market. "The outbreak of SARS occurred in March, a relatively slack travel season. This time, airlines will experience a more significant loss as they have lost the demand during the Spring Festival period. Besides, the novel coronavirus has a higher infectivity and it has a great impact on market confidence," he said.
Lower travel demand from SARS epidemic caused the aviation sector in China to lose 2.8 billion yuan ($400 million) for the whole year, as about one fifth of aircraft stopped flying daily on average. It was the largest overall loss besides two global economic crises in 2008 and 1998, according to industry reports.
Now, China has become the largest passenger source country for most Asia-Pacific countries. China operates more than 3,800 aircraft in total, which is five times higher than in 2003.
Last week, Hainan Airlines, Shenzhen Airlines, Tianjin Airlines and Kunming Airlines canceled over 80 percent of their flights. Some smaller carriers canceled more than 90 percent or nearly all of their flights, but more flights are resuming with people going back to work.
"For most Chinese carriers, the asset liability ratio has been over 70 percent. The large number of flight cancellations and refund of passengers' tickets make them more difficult for airlines. They have little cash inflows so they have to cut costs and strive for support from the government," Lin said.
"For many small-and medium-sized airlines, they even face a survival crisis. The most important thing for airlines now is to manage their cash flow well."
To help airlines, the government has announced it would waive payment by the airlines to the civil aviation development fund. Waiving the payments will last until the epidemic is over.
Lin added that later in the crisis, airlines should operate some flights that can bring in revenues, instead of canceling too many flights. They may also change the pre-sale period of domestic flights from one month to about six to eight months ahead, thus increasing their cash flows. Airlines can also consider selling their aircraft to banks, and then lease the aircraft for operation.
As the number of people infected with the virus around the world grows, airlines worldwide have canceled, cut or suspended their flights to China until as late as March. European and US airlines largely make up that list.
The coronavirus outbreak in China could cause a "sizeable disruption" to passenger traffic, especially for operators in the Asia-Pacific region. An analysis of past epidemics such as SARS, the avian flu, and MERS indicated that "any effect on air transport would be temporary," the International Air Transport Association said.
The International Civil Aviation Organization last week calculated the potential impact of the novel coronavirus on the Chinese aviation market for the first quarter of 2020.
If the seat capacity reduction rate remained the same in February and March, it would mean a passenger traffic decline of 16.4 million from January to the end of March.
If the seat capacity reduction added another 7 to 10 percent in March from February, the passenger traffic would drop 19.6 million in total. The potential revenue loss for airlines could reach $4.9 billion, ICAO said.
It also estimated the potential economic loss of Chinese tourism income due to the contagion. Meanwhile, Thailand, Japan, the United States, France and Australia, respectively, will be suffering the most severe impact, and their total potential tourism income loss could reach $24 billion.