China supports prosperity in southeastern Bangladesh with mega rail project
A mega-project to connect Bangladesh's top tourist destination Cox's Bazar, which borders Myanmar, with a rail network is finally underway.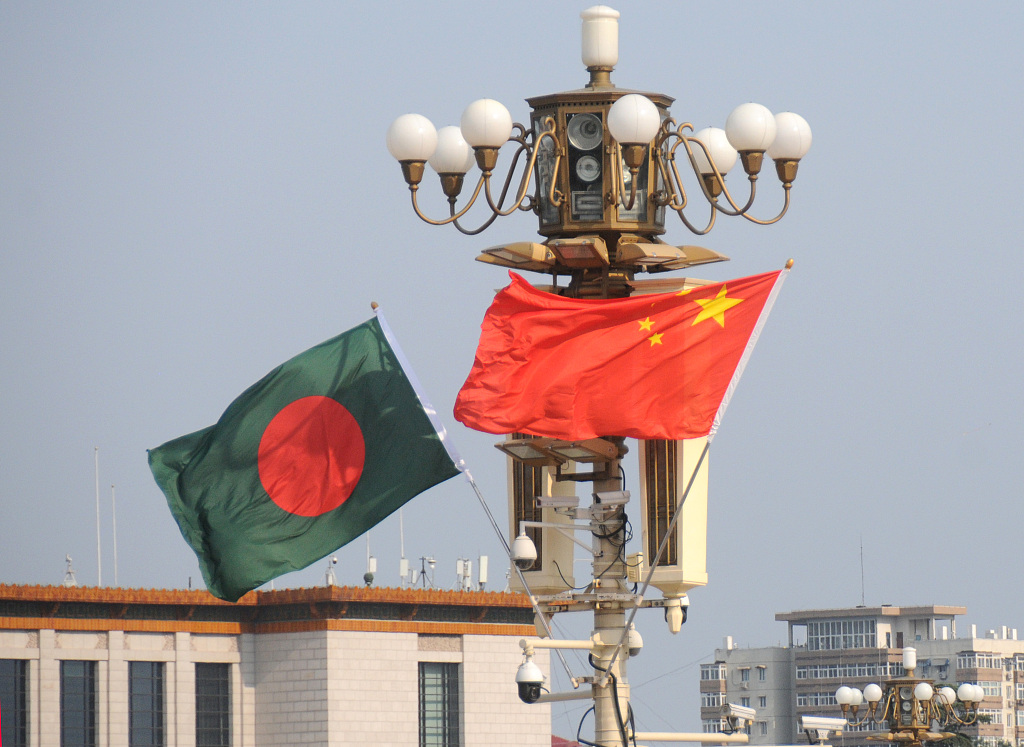 (Photo: VCG)
The crucial part of the project, laying tracks up to Gundam in Cox's Bazar, some 292 km southeast of the capital city of Dhaka, near the Myanmar border, to link with the planned Trans-Asian Railway (TAR), has been left out in the first phase of the project.
In September 2017, officials from Bangladesh Railways and China Civil Engineering Construction Corp. (CCECC), MAX JV (a joint venture between CCECC of China and MAX international Ltd.) and a joint venture between China Railway Group Ltd. and Toma Construction Co. Ltd. signed the deals on behalf of their respective sides to implement the project.
In line with the agreements, the Bangladeshi and the Chinese firms will construct 102 km of new dual gauge line along with 185 major and minor bridges under two different projects to connect the Cox's Bazar district with the country's premier seaport city Chattogram, some 242 km southeast of Dhaka.
Guo Zhipei, a procurement manager for CCECC in Bangladesh, told Xinhua recently that for the project they have already procured over 250 pieces of brand new equipment including 60 dump trucks, 30 generators and 50 excavators from China.
"Our investment in this project has been completed. The work is now going on as per schedule. And a series of training programs have been conducted to enhance project officials' skills and help local technical people understand more about operating new equipment," Guo said.
Zhao Xu, deputy project manager of CCECC, said under the Chattogram-Cox's Bazar Railway Project they are now building a total of 51-km rail lines and constructing 21 bridges and 76 culverts.
Chinese and Bangladeshi workers have been working hand in hand to implement the project at various related construction sites.
Officials and experts said that once the project is completed, the railway would facilitate the growth of Bangladesh's tourism as the Asian Development Bank-supported rail line aims for the country's efforts to reach China and other Southeast Asian countries and regions through its next-door neighbor Myanmar.
Chinese companies' smooth working systems have impressed both local workers and their officials.
Ruhul Amin, a project worker, said he is very happy to be able to have the opportunity to work with the Chinese company.
"My boss is a good teacher too. I have been lucky to have had many useful experiences working here. They always see our benefits and offer the best facilities. We are very happy with a Chinese company, (and) it is a very good company," he said.
Another worker, Mohammad Ariful Islam, whose work involves piling and basement construction, said he is receiving a lot of new, useful and important experiences working with Chinese people.
Local engineer Mohammad Mezba Uddin, meanwhile, said they have something new to learn from the Chinese experts and their companies.
"As a bridge engineer, I am telling you very frankly that the Chinese technicians are extremely well skilled and they can take on any challenge."
Shibli Mahmud Ibrahim, a local resident, noted that Chinese people work so hard and diligently.
They seem highly skilled and their experience is excellent, their quality of workmanship is also very good, he said.
"We are inspired by their working stamina and capacity. They work sincerely. In doing every task they ensure quality," he added.
Ariful Islam, a foreman, said, "At the beginning of my work here my Chinese superior taught me how to work properly. Now we work confidently following the instructions we learned initially. All the laborers properly understand their working systems."
Sakhawat Hossain, a local engineer, said the Chinese experts had ensured safety and a better working environment.
"Over the past year, there was not a single incident relating to an occupational hazard," he said.
Manager Ma Qiang said they are working as part of their efforts to contribute to friendly Bangladesh-China ties and help Bangladesh improve its society and economy, create more jobs and boost people's standard of living.
"In the future people may travel from Dhaka to Cox's Bazar not only by bus but also by train," he said.
Highlighting various steps her government has taken to expand the rail network across the country, Bangladeshi Prime Minister Sheikh Hasina said recently it is now mulling a high-speed tourist train on the Dhaka-Cox's Bazar route.