Chernobyl children exhibition staged to celebrate Cuba's love for peace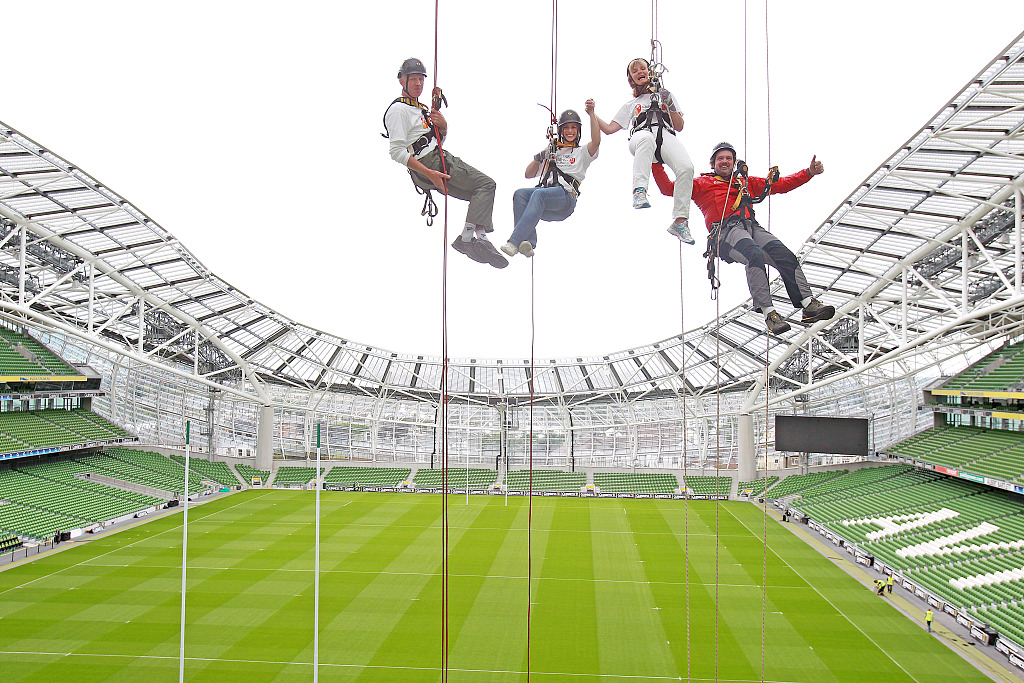 Conall Mallen, Lucy Kennedy, Adi Roche CEO of Chernobyl Children International and Mike O'Shea of Work at Height training high up on an abseil in the Aviva Stadium, Dublin, to launch one of the charity's biggest events of the year, due to take place on 1 and 2 October where 1,000 abseilers will drop 130ft from the roof of the Aviva Stadium to raise much-needed funds for the charity's life-saving work in the Chernobyl regions.(Photo via VCG)
For Peruvian artist Sonia Cunliffe, the "Lost documents: Chernobyl children in Cuba" exhibition is to revive the memory about Cuban people's altruism taking in Chernobyl victims in the wake of the disaster more than three decades ago.
"For a country like Cuba and its people, it is heroic to receive these children, and I wanted to tell that story to the world," Cunliffe told Xinhua. The exhibition opened on Friday at the Cuban Photo Library in Old Havana.
Between 1990 and 2011, at the request of the then Cuban leader Fidel Castro, the Ministry of Public Health established a program that offered free care to some 26,000 Chernobyl nuclear disaster victims, including children from Ukraine, Russia and Belarus.
Cunliffe said that an incentive to her artistic endeavor was the book "Voices from Chernobyl: The Oral History of a Nuclear Disaster" by Belarussian author Svetlana Alexievich, the Nobel Prize laureate for Literature in 2015.
"It made me want to do the exhibition even more, because I realized the importance of this Cuban humanitarian project and the reflection needed on nuclear disasters," she said.
Dr. Julio Medina, now 57, was barely 27 and practically just graduated as a primary care physician when he was sent to Tarara to assist the victims and the children. Tarara, about 25 km east of Havana, had been the place where the Chernobyl's children received their treatment.
Medina served as the coordinator of the medical care program until it ended in 2011. It was a unique experience not only as a professional, but also as a human being, he said.
"We had never treated people exposed to a nuclear or radiological accident before... and the most important thing was to contact with those children, who mostly came alone. We had to become their close friends," Medina said.
The physicians needed to cover "all the patients' needs, not only the medical ones, but also to make them happy, and fell loved," he added.