China hails BRI progress
Global Times
1555978536000
Shift to building uniform rules, standards: officials
Chinese officials on Monday hailed the progress in a wide range of areas in the China-proposed Belt and Road Initiative (BRI) and the tangible benefits it has brought to participating countries, signaling a major shift in focus from building infrastructure to establishing uniform rules and standards for trade and investment.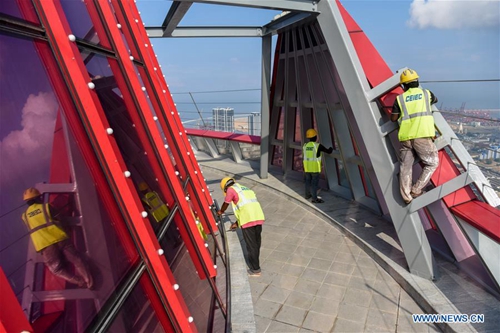 Workers clean the Lotus Tower in Colombo, capital of Sri Lanka, on April 10, 2019. Under the Belt and Road Initiative, Sri Lanka and China signed the Lotus Tower agreement in 2012 to build the highest TV tower in South Asia, with China National Electronics Import and Export Corporation being the general contractor. To make the tower a success, both Chinese and Sri Lankan workers have put in years of hard work and dedication. The project will be completed later this year. By then, the Lotus Tower will not only function as a TV tower, but also a hotel, a shopping mall and a conference center. (Photo: Xinhua)
Facing a complicated external environment for implementing the BRI, Chinese officials and analysts also pushed back on what they call "unsubstantiated criticism" of certain aspects of the massive initiative and argued that BRI principles of inclusiveness will draw more support and complement a troubled global government system.
"Over the past five years, we have achieved significant results, all participants have seen tangible benefits and recognition, and participation in the BRI has continued to improve," said Xiao Weiming, director general of the Department of General Affairs of the Office of the Leading Group for Promoting the Belt and Road Initiative.
"It confirms an old Chinese saying: Peaches and plums do not have to talk, but the world beats a path to them," Xiao told a press event in Beijing, where a report on the progress, contributions and prospects of the BRI was released.
The report was released just days ahead of the second Belt and Road Forum for International Cooperation to be held from April 25 to 27 in Beijing, where leaders of 37 countries and 5,000 guests to be held from over 150 nations and 90 international organizations will attend.
Solid progress
The report concluded that implementation of the BRI has made "solid progress" in several key areas, including policy coordination among participating economies, infrastructure connectivity, trade, investment and industrial cooperation.
As of the end of March 2019, the Chinese government had signed 173 cooperation agreements with 125 countries from Asia, Africa Europe and Latin America and 29 international organizations, according to the report.
Trade and investment between China and participating countries have increased dramatically. In 2018, trade between China and other BRI countries reached $1.3 trillion in 2018, up 16.4 percent year-on-year, the report said. Chinese companies also made a total of $90 billion in direct investments in BRI countries, it added.
Major infrastructure projects have been completed or nearly completed, including the Addis Ababa-Djibouti Railway, which connects the capitals of Ethiopia and Djibouti, the China-Maldives Friendship Bridge in the Maldives and the Gwadar Port in Pakistan, according to Song Lihong, director general of the Comprehensive Department of the Chinese Ministry of Commerce.
"There are many infrastructure projects like these, which have effectively promoted economic development in the host countries and improved people's lives and are widely popular among the local people," Song said at the same press event on Monday.
Infrastructure projects not only have brought a lot of jobs but also boosted development in dozens of related areas, which in turn, economic growth, said Liang Haiming, dean of Hainan University's Belt and Road Research Institute.
"After all, building roads is the first step to becoming prosperous," Liang told the Global Times on Monday.
However, the BRI, despite its widespread reputation as an infrastructure program, is slated to expand into more and deeper areas.
Shifting focus
"As joint implementation of the BRI deepens, we will shift our focus from building 'hard connectivity' through infrastructure links in the past five years to establishing 'soft connectivity' through [the setting-up of uniform] rules and standards," Xiao said. "Or at least the two will move forward simultaneously."
Xiao said that establishing a unified set of rules and standards under the BRI is more "important and will last much longer." But all of these must be in line with international norms as well as the laws and regulations in the specific countries, he said.
Such a shift in focus would mark a significant step for long-term cooperation under the BRI, ensuring the smooth implementation of future projects, but it will also be a very challenging task, analysts said.
"It is, indeed, very difficult," Wang Yiwei, Jean Monnet Chair Professor at the Renmin University of China, told the Global Times on Monday. He pointed out that the participating countries are diverse in development stages and political systems, and the unified rules and standards will have to fit the different environments.
As with the infrastructure projects under the BRI, efforts to set up uniform rules and standards will also likely encounter strong criticism from certain countries, most notably the US, which has become increasingly paranoid of what officials call growing Chinese influence, analysts said.
But Chinese officials don't seem to be worried. "If all countries adhere to an open and cooperative attitude, instead of a closed one, the mainstream trend for cooperation will be unstoppable," Song said.
Despite mounting pressure from the US, several Western countries, including Italy and Switzerland, have signed up or are planning to sign up with the BRI, inject fresh momentum to the program at a moment of rising protectionism and geopolitical tensions.
"The more complicated the world is, the more countries will join the BRI," Liang said, adding that the BRI presents a better solution for countries along the BRI routes, most of which are developing nations, compared to the troubled economic models from Western countries.