Xinjiang, an emerging investment hotspot
Belt and Road Portal
1575870349000
Rich in resources but remote, Xinjiang in China's far west has become a magnet for investors for its unique position on the Silk Road.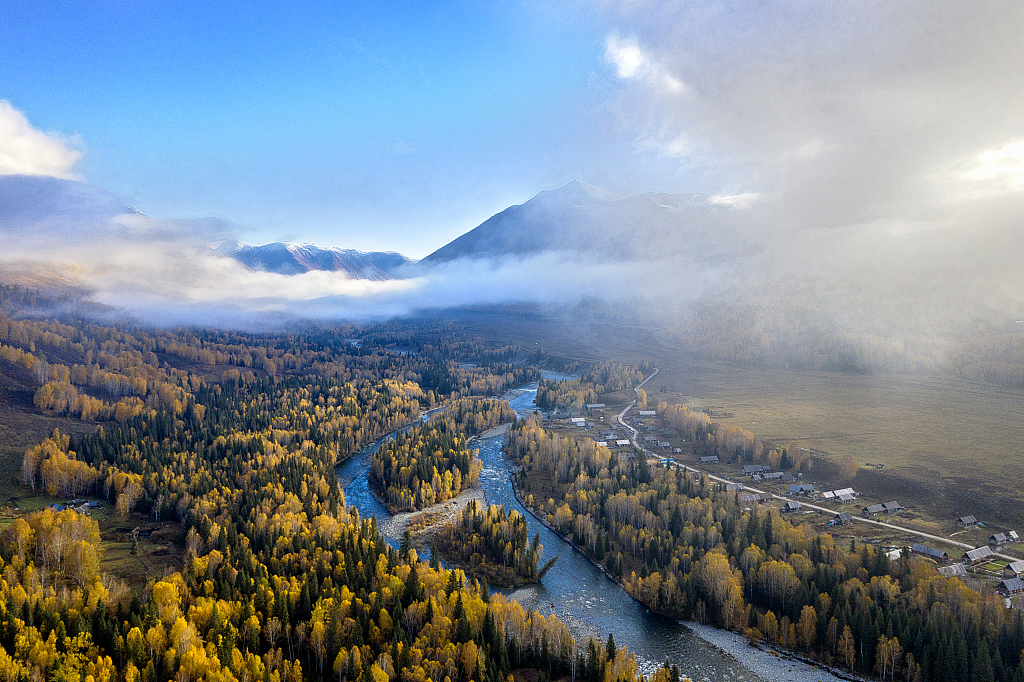 File photo: VCG
In a workshop of the Amer International Group in Urumqi, capital of Xinjiang Uygur Autonomous Region, workers are busy adjusting and packing laptops.
Recently, Amer sent the first batch of 2,000 laptops it produced for the German company TrekStor to the European market via China-Europe freight trains.
Headquartered in the southern Chinese city of Shenzhen, Amer invested 20 billion yuan (around 2.8 billion U.S. dollars) to build an industrial park in Xinjiang in 2018. So far, the industrial park has produced and exported around 1.5 million mobile phones, according to Wang Wenyin, the founder and chairman of Amer International Group.
"We saw Xinjiang's geographical advantages, so we established the industrial park and cooperated with our counterparts in South and Central Asia in the fields of smartphones and IT high-end manufacturing," Wang said.
Amer International Group is among a growing number of enterprises that have been attracted by Xinjiang in recent years, as trains and planes have made Xinjiang better connected than ever before.
As China's key trade gateway to Central and West Asia, the remote region's position as the heart of the Belt and Road Initiative is unmistakable. In 2013, China proposed the BRI, which opened up new space for the world economy, spurring trade and economic growth and stimulating investment and creating jobs worldwide.
Urumqi Customs saw the number of China-Europe freight trains skyrocket to 5,743 in the first 10 months this year, up 53.68 percent year on year, outnumbering the total of 2018.
To attract more investors, the local government has gone to great lengths creating a more friendly business environment, such as cutting the time required for starting a business and lowering the entry threshold for products.
Up to now, Xinjiang has had more than 1.8 million market entities including 359,000 enterprises, up 18 percent year on year.
Foreign and domestic business giants including German chemical giant BASF and China's real estate conglomerates Wanda Group have also invested in the region.
Lai Naixiang, head of Kashgar Oumeisheng Energy Technology, a home appliance manufacturer, moved his business from Shenzhen to Kashgar in southern Xinjiang in 2017.
"We chose to settle in Kashgar because of the great market potential in adjacent Central Asian countries as well as Xinjiang's lower electricity prices and preferential tax policy," he said.
Last year, the company exported electric kettles worth more than 16 million yuan to Kyrgyzstan and Tajikistan.
Foreign trade in Xinjiang has seen booming growth. The region recorded around 131.5 billion yuan in imports and exports in the first 10 months of this year, up 28 percent year on year.
In the first 10 months, Kazakhstan topped the list of Xinjiang's major trade partners, with trade volume between the two growing by 28.2 percent to 60.2 billion yuan.
Xinjiang's trade with Kyrgyzstan, Australia, Pakistan, Britain, Argentina and Vietnam also showed fast growth, according to the local customs authorities.
"With further Belt and Road construction, Xinjiang will get more impetus in economic and social development. I see great potential in the region," Wang said.