China-Africa cooperation in high-gear, powering global growth
NAIROBI, July 4 (Xinhua) -- The China-organized trade expo facilitates the flow of African products to a bigger market, said Gerard Sina, owner of a Rwanda-based food-processing company, after attending the first China-Africa Economic and Trade Expo last week in central China.
Having returned home from the expo, the entrepreneur said, "I have high hopes of tapping into the big Chinese market for my products."
China remains Africa's largest trading partner over the past decade with bilateral trade jumping by 20 percent year-on-year to 204.2 billion U.S. dollars in 2018.
The strong ties between the world's biggest developing country and the largest developing continent received another boost last week when several events, including the trade fair held in Changsha, capital of China's Hunan Province, yielded more tangible benefits and consolidated their consensus on win-win cooperation.
PLATFORM FOR BIGGER MARKET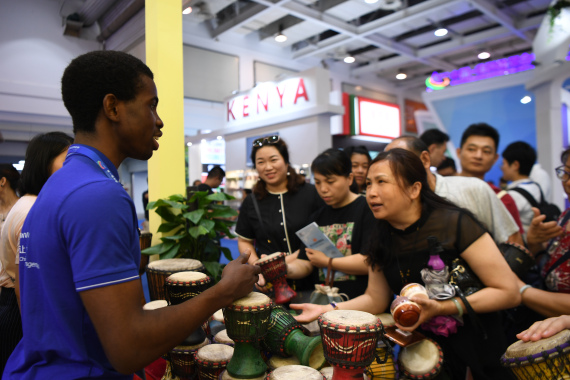 A staff member from the Republic of Ghana introduces hand drum to visitors during the China-Africa Economic and Trade Expo in Changsha, central China's Hunan Province, June 28, 2019. (Photos: Xinhua)
From June 27 to 29, Sina vended his company's fruit juice and chili pepper sauce as well as banana wine at the Changsha expo, which attracted more than 10,000 guests and traders, including those from 53 African countries.
According to the organizer, 84 deals worth 20.8 billion dollars were reached in trade, agriculture, tourism and other fields during the three-day event, an outcome of the Forum on China-Africa Cooperation (FOCAC) Beijing Summit held last September.
Sina hailed the exhibition as "another opportunity to expand our networks," adding that the trade fair provided a platform for African entrepreneurs to learn more about international brands.
"Such trade fairs are important in supporting existing and startup businesses in Rwanda and Africa in general," he said.
"The expo was a success. The Chinese leadership is keen to provide the best business environment for exhibitors to showcase their products," he said.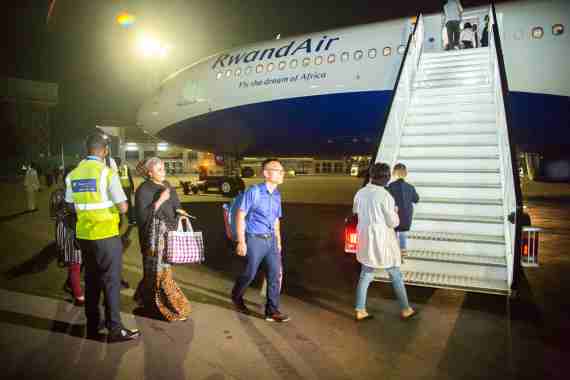 Passengers board RwandAir's flight to China's Guangzhou at Kigali International Airport in Kigali, Rwanda, June 18, 2019.
A delegation from Zambia's North-Western Province said it used the expo to highlight the investment opportunities in the province's such sectors as agriculture, mining, and manufacturing.
During the expo, the delegation invited Chinese investors to attend a local expo scheduled for August in the province.
According to the Chinese Embassy in Uganda, the eastern African country reached a strategic cooperation agreement with Hunan Province as 14 Ugandan firms participated in the exhibition.
Over the past few days, African media has been awash with reports on the expo.
Kenya's national broadcaster KBC reported that the nation's agriculture and tourism sectors are set to benefit.
Nigeria's Daily Trust newspaper reported that the Jigawa state government signed a deal with Hunan Province to boost the state's capacity for rice production, while Namibia's New Era newspaper said the expo would provide new prospects of economic and trade cooperation between China and Namibia.
As China-Africa cooperation moves into high gear, airlines started to provide more demand-driven flight services.
In June, Rwanda's national carrier RwandAir launched its first flight service to the southern Chinese city of Guangzhou, and China Southern Airlines also added another direct flight service between Kenyan capital Nairobi and Changsha, on top of its existing flight service that connects Guangzhou and Nairobi.
CLOSE COORDINATION ON PROJECTS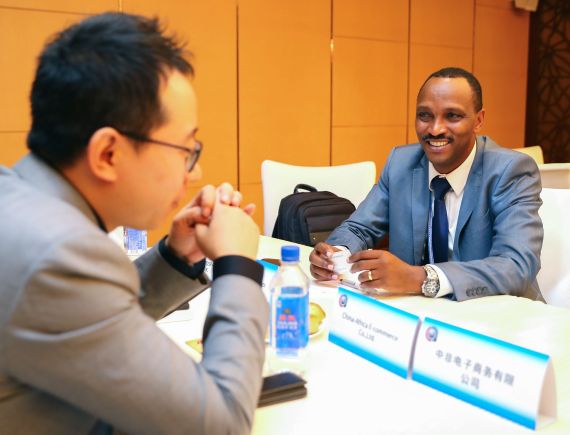 Representatives from Rwandan and Chinese enterprises attend a business match-making side event of the High-Level Dialogue Between Chinese and African Leaders and Business Representatives and the Sixth Conference of Chinese and African Entrepreneurs in Beijing, capital of China, Sept. 4, 2018.
Just days before the Changsha expo, over 80 ministerial-level officials gathered in Beijing for a coordinators' meeting on the implementation of the follow-up actions of the FOCAC Beijing summit.
At the FOCAC Beijing summit, China proposed eight major initiatives with African countries, covering fields such as industrial promotion, infrastructure connectivity, trade facilitation, and green development.
Chinese State Councilor and Foreign Minister Wang Yi told the coordinators' gathering that China values its relations with Africa, saying it respects and supports the continent.
China never goes after selfish geopolitical gains in Africa, and never imposes its own will on others. China's approach to cooperation with Africa has been entirely different from that of traditional powers, Wang said.
During the coordinators' meeting, Chinese financing institutions and banks told African representatives that China follows internationally accepted rules in its investment and financing cooperation with Africa and attaches importance to debt risk control so that it helps Africa build its capacity for self-driven development.
Zeng Aiping, a researcher on developing countries at the China Institute of International Studies, said the coordinators' meeting ensures that China and African nations can timely follow up FOCAC outcomes and the identified projects are implemented so that they benefit the peoples.
CONSENSUS ABOUT FUTURE COOPERATION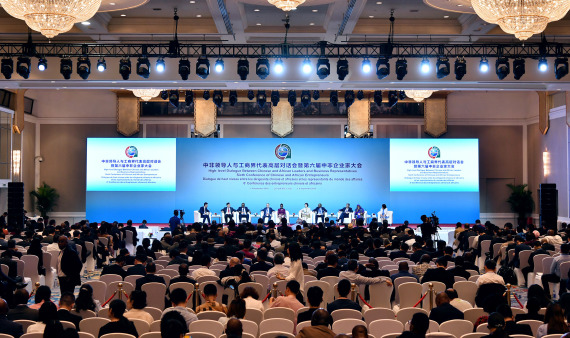 A panel meeting is held at the High-level Dialogue Between Chinese and African Leaders and Business Representatives, also the Sixth Conference of Chinese and African Entrepreneurs, in Beijing, capital of China, Sept. 4, 2018.
On the sidelines of the just-concluded Group of 20 summit in the Japanese city of Osaka, a China-Africa leaders' meeting was held, during which they reached a broad consensus on major issues such as deepening China-Africa cooperation, supporting the development of Africa and the work of the United Nations, and safeguarding multilateralism.
During the leaders' meeting, the Chinese side called on the countries to be pioneers for win-win development so that the fruits of cooperation will benefit more Chinese and African people.
China also called on the countries to lead the way in opening-up and cooperation and build stronger synergy to support Africa's development.
Liu Haifang, director of Center for African Studies at Peking University, said that China-Africa ties are "at its best in history" despite a trend of trade protectionism and anti-globalization facing the world.
The researcher said that against this background, it is necessary for China and Africa to demonstrate the strong will and determination of the two sides to strengthen unity and cooperation, adhere to multilateralism and build a closer community with a shared future.
Liu added that the economic and trade expo in Changsha further showed China's commitment to opening up its market to Africa and helping the continent realize sustainable development.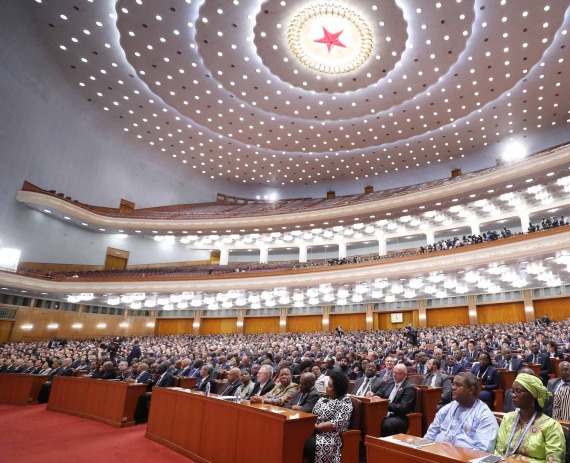 The Beijing Summit of the Forum on China-Africa Cooperation (FOCAC) opens at the Great Hall of the People in Beijing, capital of China, Sept. 3, 2018.
Kiram Tadesse, an Ethiopian communication consultant, said the Africa-China relations have been growing tremendously over the past couple of decades, and that the trade expo in Changsha would contribute immensely to bilateral and multilateral cooperation.
China has been a key partner of many African countries, offering a global, multilateral view of the future, Tadesse added.