Xi'an high-tech zone shines at Silk Road International Exposition
During the recent fifth Silk Road International Exposition, Xi'an High-tech Industries Development Zone (XHTZ) signed 53 project contracts with a total investment of 156.93 billion yuan ($24.38 billion).
These projects cover the fields of biomedicine and the high-end equipment industry chain, new materials, new energy and the automobile industry chain, electronic information and the core technology industry chain, modern finance, the cultural tourism industry chain, the construction industry and the modern service industry chain.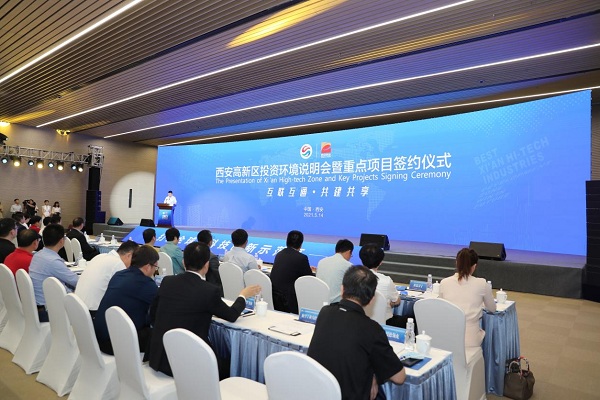 The expo was held from May 11 to 15 in Xi'an, capital of Northwest China's Shaanxi province.
In the past few days, relying on the expo platform, XHTZ organized a series of exhibitions and investment promotions, demonstrating its development achievements of key technologies and core technologies and its desire for open cooperation.
The compound semiconductor epitaxial wafer R&D and production project by Xi'an Tangjing Quantum Technology Co will carry out the R&D and production of metal-organic chemical vapor deposition (MOCVD) epitaxial equipment, chip verification test equipment and new material devices in XHTZ. The project has an investment of 600 million yuan.
After the project is put into production, its main business revenue will reach 300 million yuan, which will further enhance the strength of the high-end equipment industry chain in XHTZ and help Xi'an to accelerate the construction of an advanced manufacturing city.
XHTZ is one of the national high-tech zones with the largest economic aggregate and the highest level of development in West China.
Since the beginning of this year, XHTZ has successively introduced nine measures to support technological innovation and fully promoted investment.
In the first quarter of 2021, the economic indicators of XHTZ continued to improve, with a GDP growth of 12.7 percent reaching 63.66 billion yuan, which further enhanced the support for the economic development of Shaanxi and especially Xi'an.