Opportunity for Liberia to benefit from Chinese innovation
People's Daily app
1555978118000
The people-centered initiative aimed at building a community with a shared future for poverty-stricken Liberia includes concepts that demonstrate a humanitarian responsibility necessary to overcome the obstacles that have prevented the prosperous development of Liberian society.
The measure would lead to socioeconomic growth while promoting fundamental BRI principles. The concept of one belt, one road, rooted in Chinese culture and development methodologies, is the embodiment of harmony through positive governance. At its foundation is a respect for global human rights, rule of law and justice, the safeguarding of global peace, and the promotion of global development.
Considering Liberia's economic apathy and development gap, BRI is the right policy at the right time, from the right people, while Liberian leaders must be proactive and not reactive, or even worse, passive, when considering Chinese innovation, industrialization, and win-win diplomacy.
There is little doubt BRI aims to create new networks in Africa, the Middle East, Eastern Europe and Asia based on China's high-speed rail innovation and resuscitation of the historic Silk Road. The initiative, shifting to railways, may appear to be a leap backward, but production chains rely on offshore industries and trade.
Since BRI was introduced in 2013, it has grown from a blueprint to a global roadmap, and has taken concepts from paper to the ground.
During Xi's visit to Duisburg in March 2014, 'One Belt, One Road' was a new phrase that only been heard by a small few. Today, it is a buzzword heard worldwide. Moreover, the economic corridors reveal the initiative has expanded from including just 'one' belt and 'one' road, to many 'belts' and many 'roads.'
Recent history has proven it takes more to convince others of the benefits. In 1949, the birth of China opened a new chapter in Sino-African relations.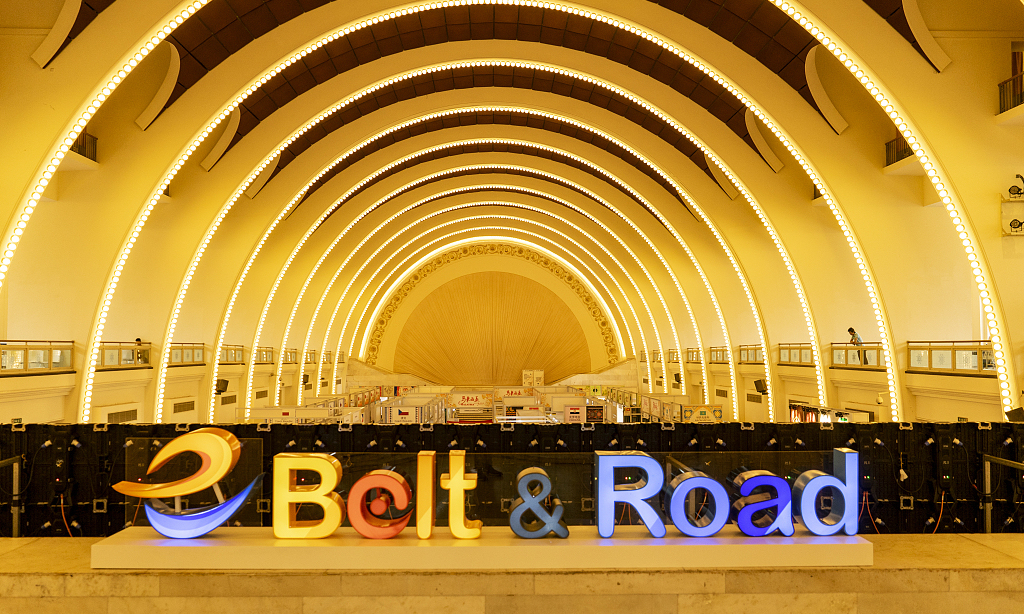 A logo for the Belt and Road Initiative is seen at an expo in Shanghai on June 30, 2018. (Photo: VCG)
When African and Chinese leaders met in Beijing, last September during the Forum on Africa-China (FOCAC) future development the world's attention had shifted from the ongoing trade war and protectionism to the multilateral initiative.
It was an opportunity to promote the modern era of development and BRI implementation that fosters socio-economic growth, industrialization, innovation, infrastructure, and human capacity.
Indeed, our world order can be better regulated if all nations subscribe to BRI principles and a community with a shared future. However, inequality is a major concern of developed and under-developed countries, and if not addressed properly it could threaten world peace.
If African leaders pay keen attention to economic independence, turn from the Western concept of development and introduce Africa's own model of development concepts, and ease foreign aid reliance from the Western imperialists, focusing on flagship projects and the structure of the Community of Shared Future for Mankind, the continent can ultimately overcome abject poverty, wars, political, social and cultural conflicts.
A series of new concepts and new approaches if properly managed effectively might become a path to the attainment of Building a Community of Shared Future for Mankind, where world peace is secured and protected, a common development is promoted and the Belt and Road reflectively visible across from one region to another, indeed result is bound to date prosperity. As a cue, the Community of Shared Future for Mankind includes a win-win cooperation, mutual understand and just partnership, fairness, openness, and importantly, inclusiveness which promotes harmonious interactions and exchanges among different societies and developments.
As a Chinese proposition that reflects China's wisdom, this concept is based on the long-standing cultural tradition and the advanced Chinese ideological system, representing a new perspective for international cooperation and international order and the new concepts of development, security and civilization; it offers the right direction for the ongoing efforts to improve global governance.
Understandably, China and Africa's countries share a comprehensive consensus on major international issues, common interests and a willingness to deepen their cooperation. China emphasizes the notion of "respect" for African countries, and vice versa. With a policy of noninterference in the domestic affairs of sovereign countries and with an approach to conflict resolution on the continent that is seen as much less confrontational than Western interventions, China has cultivated a mutual respect with African countries and governments.
Before deliberating further, kindly permit me to provide equilibrium on "peace, development and Belt and Road"; the three are interconnected and illuminate human survival. The key to them is peace on the content of harmony and intimacy; in the absence of a safeguarded peace, there will always be obstacles along the way to development which can pose a serious threat to the successful achievement of the Belt and Road, not to mention building the Community of Shared Future for Mankind.
When the leaders of African countries and the People's Republic of China met in Beijing, the capital of the world's second-largest economy on September 3 to 4 in 2018 to map out the FOCAC future development and a new way forward, much of the world's attention was shifted from the ongoing trade war and protectionism to the platform of multilateralism. The successful gathering provided an opportunity to promote a modern era of development and the implementation of the Belt and Road Construction & Building a Community of Shared Future for Mankind which helps to offer socio-economic growth, industrialization, innovation, infrastructure, and human capacity building.
The new dynamic of the global system shows that China has energetically provided the intercontinental public with a succession of a productivity and new motivation innovations into the emerging concept of building a Community of Shared Future for Mankind and the Belt and Road. The concept of world peace promotes and helps to unify individual rights and collective rights, unifies basic principles including socio-economic, political, industrialization and innovations are geared towards promoting an era of common development and shared values.
Let me further reiterate that the concept boons the principles of universality and advocates finding the common values and norms. However, this concept can only be achieved if states outdo unilateralism and understand the importance of peace and security, the principles on which the United Nations was founded in 1945, and ratified by 193 UN member countries.
Subsequently, there should be no distraction by the parties while African leaders and policy-makers learn more about China's concept of the Belt and Road and the Building of a Community of Share Future for Mankind. It contains the basic pursuit of common human values such as peace, development, fairness, justice, democracy freedom, as well as respect for the particularity and diversity of countries with different cultures, societies, institutions and stages of development. Every effort should be made in order to win the concerted battle against corruption and poverty on the African continent.
Also, there is a need for the exchange of ideas in the areas of promoting industrial capacity, infrastructure and agriculture. There also needs to be an exchange of ways of increasing the voice of the parties, economic development, and means of tightening the communication gap and cooperation between African countries and China to help achieve Belt and Road and construction of Community of Shared Future for Mankind, since the concept serves as a tool for poverty reduction and the elimination of corruption.
The significance of safeguarding global peace and promoting an era of a common development relies on two main dynamics, workable policy and inclusiveness. These are backed by sincerity and fairness and include good governance, respect for human rights, socio-economic and industrialization; all shielded by an international best practices and standards. This will help to accelerate the industrialization process on the continent and support flagship projects, such as road constructions for the African continent connectivity, human resource development, job creations, railways, seaports, airports, industrial parks, and economic zones.
Due to the importance of the concept of a Community of Shared Future for Mankind and as an important topic on good governance and on international human rights, it is entrenched in United Nations Security Council and Human Rights Council resolutions; this demonstrates how imperative the concept is to the society and a community of mankind. However, the concept can become an unfulfilled reality if the right policies for the greater good of the largest population cannot be adopted and fully implemented.
African countries and global south especially the People's Republic of China has an interest in promoting greater connectivity and solidity in their south-south cooperation. This can be attained by removing all lukewarm attitudes, well operational coordinated initiative, and transparency. But through safeguarding world peace, promoting an era of common development and the visionary Belt and Road by Building a Community of Shared Future for Mankind. In modern history, China and Africa shared similar experiences, both having suffered from aggression, plunder, and enslavement by colonialists. Therefore, the Chinese people and the people of Africa are in solidarity and support and share their struggles against imperialism and the fight for national independence and liberation.
Since the 1950s and 1960s, as more and more African countries won independence and established diplomatic relations with China, the Sino-African relationship has ushered in a new era of all-round development that is having a great impact on the lives of millions on both fronts; the presence of China in Africa's development cannot be questioned, China is visible on the continued march as seen by the hundreds of projects undertaking or completed, while new agreements have been consolidated for an effective implementation.
China and Africa have shared a comprehensive consensus on major international issues, common interests and a willingness to deepen their cooperation. The rapid development of the Sino-Africa relationship reveals on-going transitions that facilitate the move towards a new strategic partnership. China also emphasizes the notion of "respect" for African countries, embodied in its policy of noninterference in the domestic affairs of sovereign countries and in an approach to conflict resolution on the continent that is seen as much less confrontational as Western interventions.
Unlike the Western donors who tend to impose Western values like democratic ideas on Africa, China invests and provides aid without many preconditions or interference in their internal affairs which in some instances is not wealthy for some democracies and provides room for bad governances. The Chinese Government has captured the attention of many African countries including Liberia due primarily to Beijing's reasonable approaches towards socio-economic and infrastructural development, and the ways in which the Chinese Government practices win-win diplomacy and its foreign aid's policy. Beijing's "win-win" diplomatic style has featured greater accommodations with several African states, governments and leaderships including Liberia's.
Therefore, it is not unimaginable that China is regarded by Africa as a more cooperative and valuable partner than the West. Africa has long proclaimed its desire to industrialize its economy in an effort to attain higher living standards and increase productive employment opportunities for its populace. Sino-African trade and economic cooperation have been advancing smoothly. For long, China has provided within its capacity foreign aid assistance to the economic development of most African countries. The flexibility of the Chinese model which exemplifies the traditional way of cooperation to western journalists the way through which China promotes multilateral cooperation lacks transparency and is unsustainable because it is not based on codified legal rules.
Liberia is a case study where China's infrastructures are visible. China has provided aid to hundreds of projects in Liberia which involved road construction, infrastructure development, health and education assistance, security, energy, human capacity development and other sectors; but let me specifically stats that America and Europe, in general, have greatly contributed to Liberia's socioeconomic development and stability. Africa in recent years has come to be a major Geo-strategic importance to the oil-dependent industrialized economies and giving attention to Africa from state actors on the global stage in the context of international politics, the idea of an African rebirth seems to be finding more and more acceptance within the contemporary global politics.
Let it be known that peace brings the world closer and unites a diverse group of people into a family and community, and can bring a peaceful and stable order to society, and a beacon for the necessary condition that enhances the survival and development of mankind. A world deprived of peace certainly will be denied itself of being turned into a Building a Community of Shared Future for Mankind where law and justice will protect all; not forgetting that peace is an essential benefit.