Cherries from Central Asia gaining popularity
Cherries from Central Asian countries are gaining in popularity with Chinese consumers, thanks to more convenient delivery and clearance services.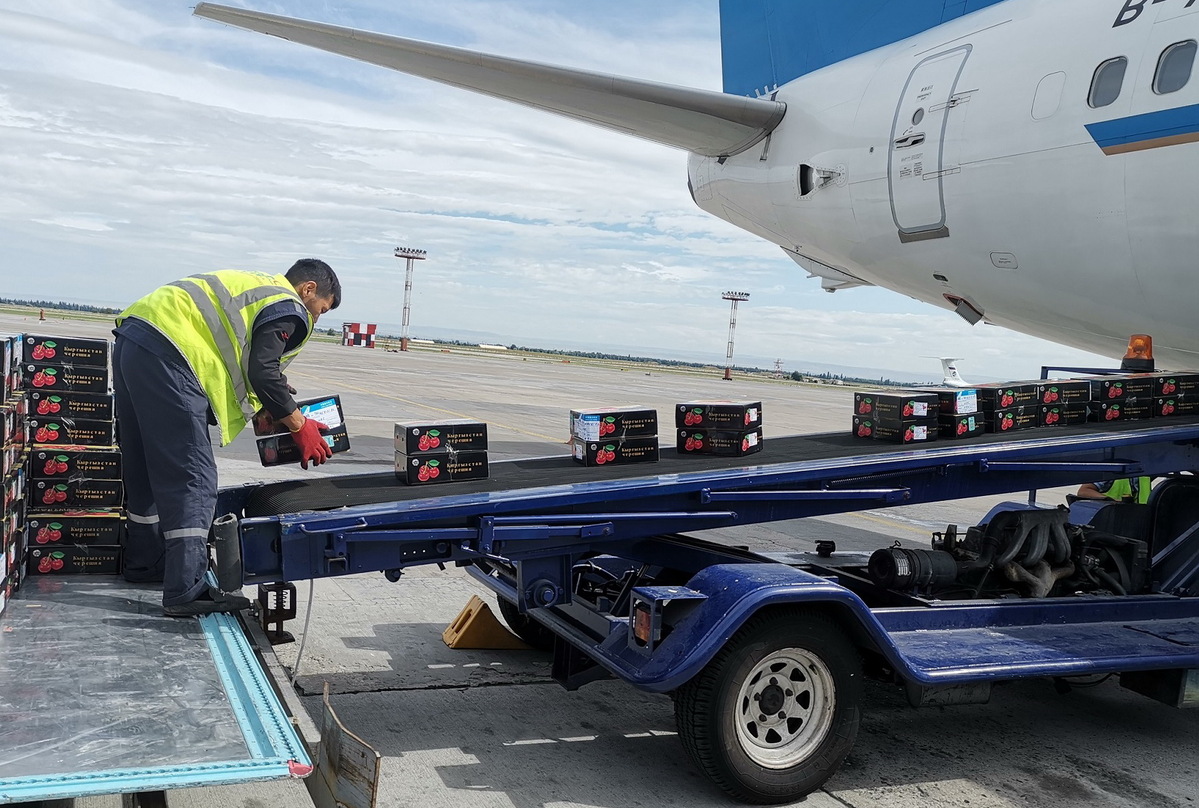 An employee loads cherries for export at Bishkek Manas International Airport, Kyrgyzstan. (Photo: Xinhua)
Cherries, especially imported ones, have become a star fruit and popular gift choice in the country in recent years. The younger generation even created the new term "cherry freedom", referring to the financial capability to buy imported cherries without thinking about the cost.
To meet the surging demand, sweet cherries from Kyrgyzstan and Tajikistan have been taking advantage of their favorable geographic position and convenient transportation under the Belt and Road Initiative.
Yin Zifen, who works at a cargo shipping agent in Northwest China's Xinjiang Uygur autonomous region, told Xinhua News Agency that her company has imported nearly 20 metric tons of cherries from Kyrgyzstan and Tajikistan since mid-May.
"Cherries from Central Asia are of good quality and taste and therefore are well received in the domestic market," said Yin.
Most of the cherries travel on planes to Urumqi, Xinjiang's capital, before reaching consumers in the inland region. The three-hour flight ensures the red fruits are just as fresh as they were when they were picked, as they appear in marts and fruit stores in Urumqi. These high-quality cherries can be sold at about 100 yuan ($14.4) per kilo, twice as much as domestic cherries.
According to Dai Jianpeng at the Xinjiang branch of China Southern Airlines, 90 percent of the shipments the airlines undertook over the past month were cherries. "Our weekly cherry imports can reach 20 tons," Dai said. China Southern Airlines is currently the only Chinese company that has opened air routes to Central Asia in Xinjiang.
A green channel has been established by the Entry-Exit Inspection and Quarantine Bureau, Customs authorities and airline companies to further facilitate the clearance of sweet cherries from these countries. "We imported around 130 tons of cherries last year, and the number is estimated to top 200 tons this year," said Dai.
Not only cherries, but a growing variety of commodities from Central Asian countries, including carpets, garments, wine, honey and seafood, have entered the Chinese market since the Belt and Road Initiative commenced in 2013.
Data from China Southern Airlines show that the company imported 540 tons of goods from countries in Central Asia in 2018, up 72 percent from a year earlier.