Belt and Road Initiative will reshape global economic ties: experts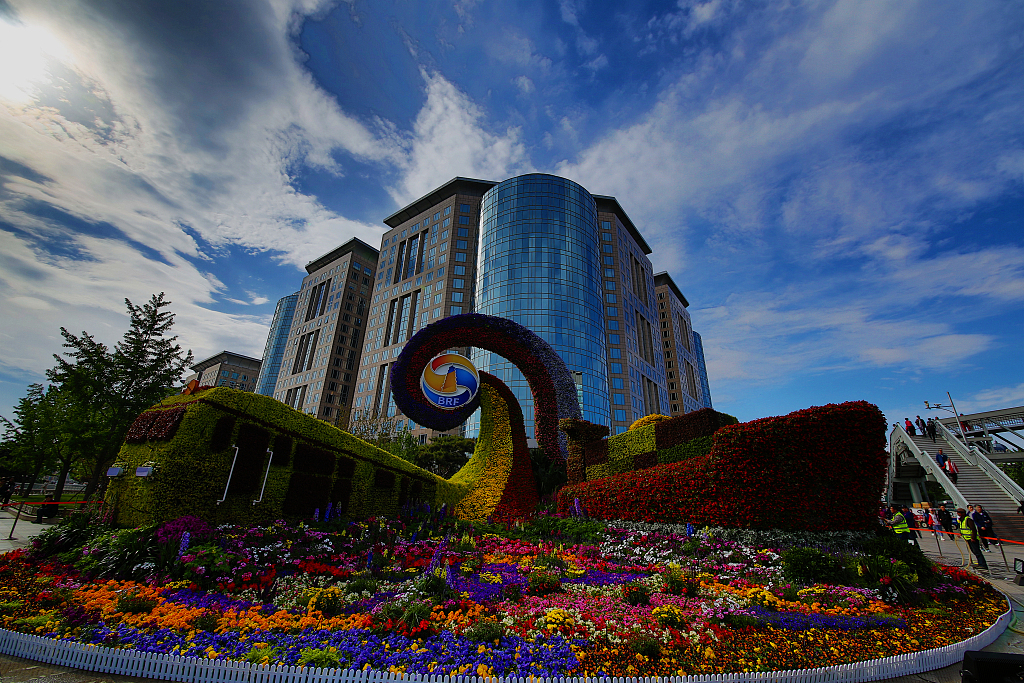 The photo taken on April 25 shows the flower beds crafted to welcome the Second Belt and Road Forum for International Cooperation in Dongdan, Beijing. (VCG)
BAKU, May 1 (Xinhua) -- The second Belt and Road Forum for International Cooperation (BRF), which was wrapped up in Beijing last week, has been in the spotlight in Azerbaijan.
Local political analysts and economists dubbed the Belt and Road Initiative (BRI) as a giant project that will reshape global economic relations.
Proposed by China in 2013, the BRI aims to build a trade and infrastructure network that will link Asia with Europe and Africa along the ancient trade routes of the Silk Road.
"It is not simply a giant project, it is the idea that will reinvigorate the international economic relations," said editor-in-chief of the Ses newspaper Bahruz Guliyev here while commenting on Azerbaijani President Ilham Aliyev's recent visit to Beijing to attend the BRF.
Azerbaijan's engagement in the grandiose project became possible thanks to the country's strong and stable relations with China, Guliyev said.
"Azerbaijan has become an important trading partner for China in recent years. From this point of view, the Belt and Road Initiative opens up new opportunities for our two countries, which maintain traditional cooperation," he said.
Azerbaijan was one of the first countries to support the initiative and a number of documents have been signed under the BRI, he said.
The political analyst described the trans-Caspian east-west trade and transit corridor, which includes Baku-Tbilisi-Kars railway, as Azerbaijan's "most valuable" contribution to the BRI.
Deputy Director General of Trend News Agency, Lina Vaitkeviciene, considered the BRI as "a very ambitious and large-scale initiative" which enjoys an enormous potential for improving the social and economic structure.
Vaitkeviciene believes that Azerbaijan has a role to play in the BRI.
"Azerbaijan is located on the East-West and North-South transport corridors. The country has been at the heart of the historic Silk Road. So it's natural that Azerbaijan will be part of the new Silk Road initiative and unlock its transit potential and natural resources," she added.