Protecting Qinling Mountains is a priority in Xi'an
People's Daily
1591109330000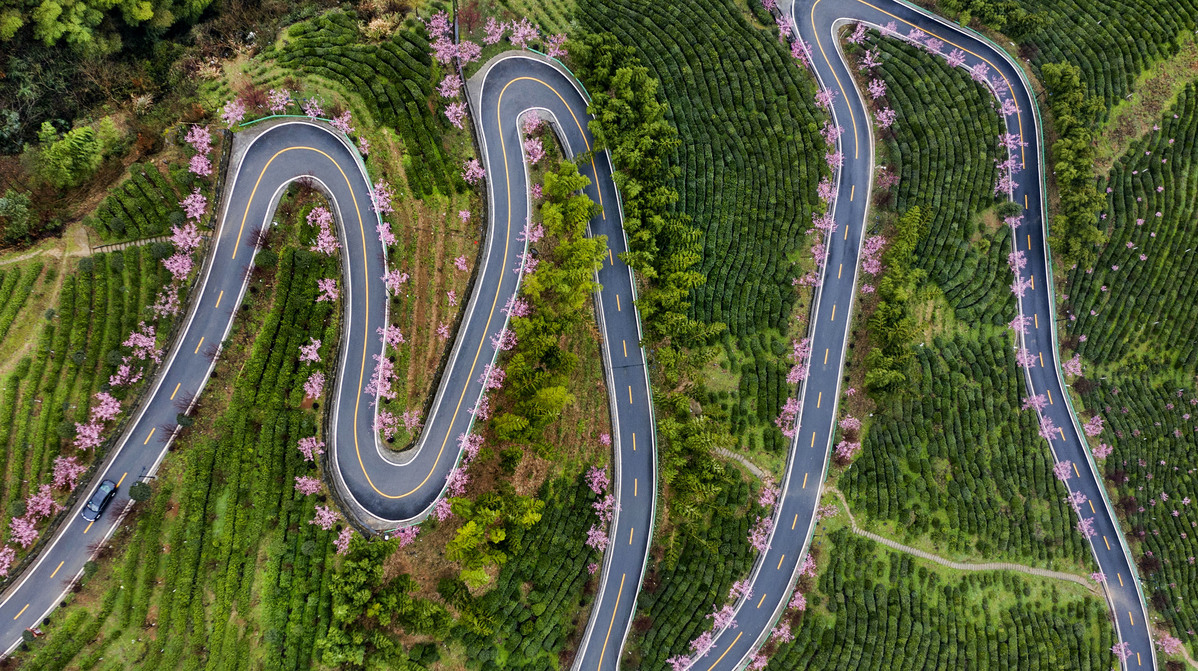 Plum flowers blossom on the side of a highway that passes through a section of the Qinling Mountains in Pingli county, Shaanxi province, in March, 2020. Tea trees are planted on the slopes. [Photo/Xinhua]
The government of Xi'an, capital of Shaanxi province, will strengthen the protection of the Qinling Mountains this year and will make protecting and restoring the ecological environment around them a priority, the city's mayor said.
Last year, Xi'an's financial bureau invested 500 million yuan ($70 million) to protect the mountains, which are located in the south of the city. From this year on, the bureau will distribute 50 million yuan each year in prizes and stipends to people and organizations who are dedicated to protecting them, Li Mingyuan, mayor of the city and a deputy to the 13th National People's Congress, told China Daily on Wednesday.
As the origin of several tributaries of China's major watercourses, including the Yangtze, the Yellow and the Huaihe rivers, the Qinling Mountains are treated as the "central water tower" of the country and are an important Chinese cultural symbol, Li said, adding that preserving the ecological environment of the mountains is vital to China's development.
In late April, when President Xi Jinping made his visit to Niubeiliang National Nature Reserve, located in the mountains, he instructed local officials to be guardians of the ecological environment of this area, which is the natural boundary between the country's northern and southern regions.
Li said the city government has acted on Xi's instructions and has learned a lesson from previous illegal construction in the mountains.
Apart from Shaanxi's regulations on protecting the ecological environment in Qinling that were enacted and implemented last year, city-level regulations are being revised and will take effect in July.
"In addition, the city government is making an all-around plan to ensure that the protection of Qinling becomes the norm," Li noted.
Law enforcement has been strengthened, with 1,194 illegal agritourism villas demolished or shut down. On that basis, a restoration of the ecological system in the mountains is underway and includes the planting of trees, the overhaul of mines and small hydropower projects.
"These measures have helped the mountains become more beautiful with lucid waters and lush mountains," Li said.
To ensure vast coverage of the protection measures, Li said smart environmental protection stations have been established in the mountains, employing modern technologies such as information and digital systems and unmanned aerial vehicles to detect fires or improper behavior by tourists that harm the environment.
"In the meantime, we call on local people and volunteers to join in the campaign of protecting the Qinling Mountains," he said. "A four-layer protection system that involves 1,112 workers has been set up."