Qingdao readies security, public services for SCO summit
Global Times
1525732817000
The port city of Qingdao in East China's Shandong Province is beefing up security and public services in preparation for the Shanghai Cooperation Organization (SCO) summit in June.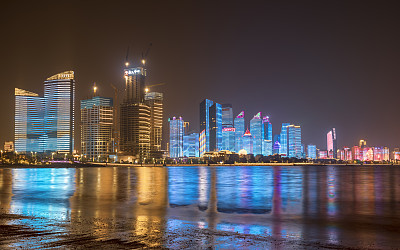 Photo: VCG
The city launched a three-year plan in 2017 to renovate the city and upgrade public services for the summit, Zhang Jiangting, Qingdao Party chief, said at a press conference on Monday.

To be more economical, all the sites for the summit will be renovated from existing buildings and used for other purposes after the summit, Zhang said. The city has also launched several security drills to ensure "absolute security" during the period, he added.

In the latest move, Shandong Airlines imitated a terrorist hijack on April 27 involving security, fire and medical departments, Qilu Evening News reported.

The SCO is made up of China, Russia, Kazakhstan, Kyrgyzstan, Tajikistan, Uzbekistan, India and Pakistan. All SCO members are major countries in China's neighborhood and along the Belt and Road routes. The bloc covers nearly half of the world's population and three-fifths of the Eurasian continent.

By the end of 2017, Qingdao had implemented 74 projects in SCO countries valued at $500 million, Ma Weigang, head of Qingdao's commerce bureau, said at the press conference in Qingdao.

SCO countries have around 226 projects in Qingdao worth around $475 million, covering electronics, fabrics and apparel, and logistics, Ma said. Qingdao is also hosting the SCO summit to better implement the Belt and Road initiative, local officials said.

According to Ma, Qingdao's trade with countries along the Belt and Road routes reached 248.5 billion yuan ($39 billion) in 2017, an 11.2 percent year-on-year increase and accounted for 49.4 percent of the city's total foreign trade. The summit will be the first of its kind after the bloc included India and Pakistan.

In the future, Qingdao will enhance more cooperation between domestic companies and those in India and Pakistan, an official from the city's commerce bureau told the Global Times on Monday. More companies will be encouraged to invest in SCO countries to boost capacity cooperation, the official said.