'We are in the same boat' toward brighter future -- Xi's speech inspires APEC business leaders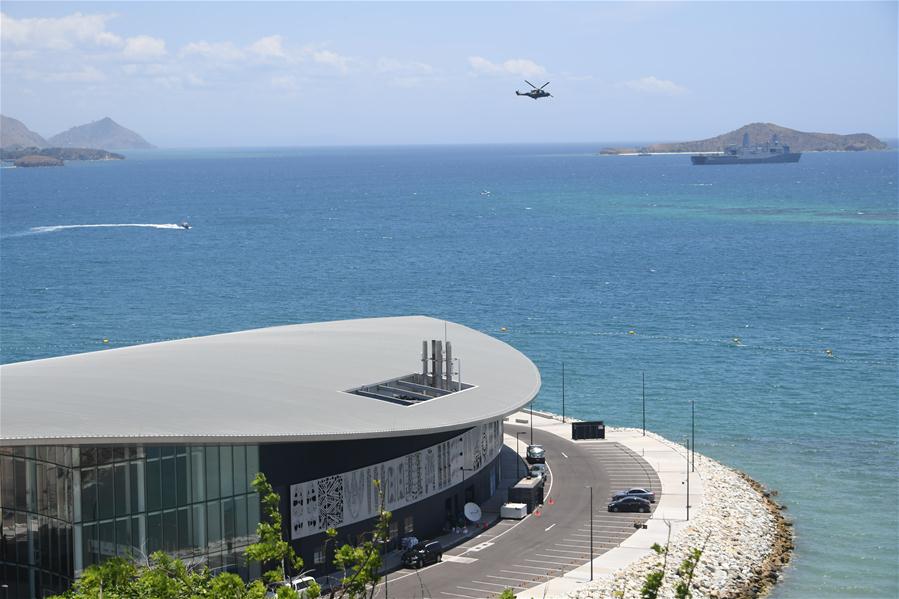 A helicopter flies near the Leaders' Conference Centre in Port Moresby, Papua New Guinea, on Nov. 14, 2018. (Photo: Xinhua)

PORT MORESBY, Nov. 17 (Xinhua) -- "I was looking at the vast ocean when I boarded the ship, and it struck me that we are all indeed fellow passengers in the same boat," said Chinese President Xi Jinping in his keynote speech at the Asia-Pacific Economic Cooperation (APEC) CEO Summit held here Saturday on cruise ship Pacific Explorer.

"As we brave the rough waters of the global economy and confront the many risks and challenges, it is all too befitting that we have come together on this ship to chart the course for future development and cooperation," he said, using vivid images.
With protectionism and unilateralism now casting a long shadow over the prospect of the global economy, and a multitude of changes underway across the globe, mankind has once again reached a crossroads.
"Which direction should we choose? Cooperation or confrontation? Openness or closing one's door? Win-win progress or a zero-sum game?" Xi's remarks prompted pondering among listeners.
And his proposals later in the speech emphasizing openness, inclusive growth and innovation inspired many who are concerned about the future of the Asia-Pacific.
OPENNESS FOR MORE DEVELOPMENT SPACE
Openness brings progress, while closeness leads to backwardness. In his speech, Xi said: "Economic globalization is the sure way for the human society to achieve development, and the multilateral trading system has created opportunities for us all."
Any attempt to erect barriers and cut the close economic ties among countries "is a short-sighted approach and it is doomed to failure," he noted.
Joahnna Esquivias, APEC Voices of the Future delegate from the Philippines, who was on board Pacific Explorer for Xi's speech, told Xinhua that "President Xi's speech was truly inspiring and focused on a future of prosperity shared by all."
Esquivias agrees that there are no winners in trade wars and looks forward to the implementation of Xi's various proposals in the coming years.
When asked to comment on Xi's speech, David Morris, trade commissioner with the Pacific Islands Forum Secretariat, said that "openness and cooperation are the only way to ensure inclusive and sustainable development."
The achievements of APEC and the WTO have proven the benefits of free trade and open economies, and countries should "all recommit to further opening up," he said.
"Partnership trumps confrontation every time. There are many examples across the Asia Pacific of how effective partnerships have been developed, based on mutual benefit and understanding and respecting each other's interests," Morris added.
John Kongoi, managing director of a telecom company in Papua New Guinea (PNG), said he was impressed by Xi's remarks on openness. "It (openness) is important, because business, finance, trade will improve, not only in PNG, but also elsewhere."
Donald Campbell, international co-chair of Pacific Economic Cooperation Council, echoed Xi's remarks about the world being at a crossroads. "We are either going to be closed or we are going to be open, so from my point of view he (Xi) said all of the right things."
Chen Hong, director of Asia Pacific Studies Center at East China Normal University, called Xi's speech "a good dose of medicine" against the current global situation weighed on by protectionism and unilateralism.
INCLUSIVENESS FOR COEXISTENCE & WIN-WIN
"We live on the same planet," President Xi said in his speech. "Diversity and interaction between different civilizations, social systems and paths can provide strong impetus for human progress."
Just like one single prescription can not cure all disease, there is no particular development model that fits all countries, Xi said, in a bid to emphasize the necessity of inclusiveness.
Andrew MacIntyre, director of the Australian APEC Study Center at RMIT University in Australia, said: "I understood him (Xi) that development in the Asia-Pacific region needs to include everyone. That is, we must ensure no nation is excluded and that within each nation, there is opportunity for all people."
"I also understood him to be saying that we needed to accept a diversity of developmental models and no nation should try to impose its developmental model on others," he added.
According to Morris from the Pacific Islands Forum Secretariat, fair, open and transparent business environments will be even more important in the next phase of the fourth industrial revolution, to make sure that "the benefits of new technologies are widely shared and nobody is left behind."
Meanwhile, Campbell asked people to look deeper into Xi's remarks. "We need to look more broadly at economic growth than just trade. Trade is an important driver, but it doesn't benefit everyone in the same way naturally, so you have to take measures to make sure that everybody is included. That people have jobs, that there is a social security system, that your infrastructure is there."
"No country can take the path of 'me only' or 'me first'," said Chen Hong. "Nobody should judge others by its own development path, let alone impose it on others."
"The Pacific Ocean is big enough to converge various countries and people to develop together," he explained. "China will be based in the Asia-Pacific, and make it prosper."
CHINA'S GREATER ROLE
In his speech, Xi recalled the great achievements China has made in the 40 years of reform and opening-up. "It is the relentless efforts of the Chinese people that have made China what it is today!" he said.
He called on business leaders attending the summit to actively participate in China's Belt and Road Initiative and the annual China International Import Expo. "I am confident that the large market of China, with a population of close to 1.4 billion, will be a source of dynamic growth for the global economy," he said.
Chen Yushu, a representative at the APEC CEO Summit, told Xinhua after hearing Xi's speech that the APEC members should closely cooperate under the Belt and Road Initiative and that will "make the world even better."
Morris sees the Belt and Road Initiative as a great contribution by China to "help build the infrastructure and connectivity needed across the developing world and beyond."
He also spoke highly of China's 40 years of reform and opening-up, calling it a "milestone", as it has made it possible for strong economic growth and the huge change in people's lives n the country.
Jenik Radon, a professor from the School of International and Public Affairs in Columbia University, also hailed China's achievements in the past four decades. "It was fantastic. Hundreds of millions of people have been taken out of poverty. Many are better educated. That is very incredible."
To PNG businessman Kongoi, it is a practical choice to join the China-proposed Belt and Road Initiative. "APEC members can join the Belt and Road Initiative to set up infrastructure, not only in building roads, ports and bridges, but also in building digital infrastructure, so that every one has access to internet, especially in countries like PNG," he said.
Away from the APEC venue, Xi's speech also made a shockwave online, with many internet users applauding his remarks.
Facebook user Yuan Long posted a comment on the video of the speech that Xi's thoughts "resonate with the needs of the times. His advocacy of a global community with a shared future reflects his philosophy of leadership."