Interview: Europe to benefit from China's "fascinating" development -- German expert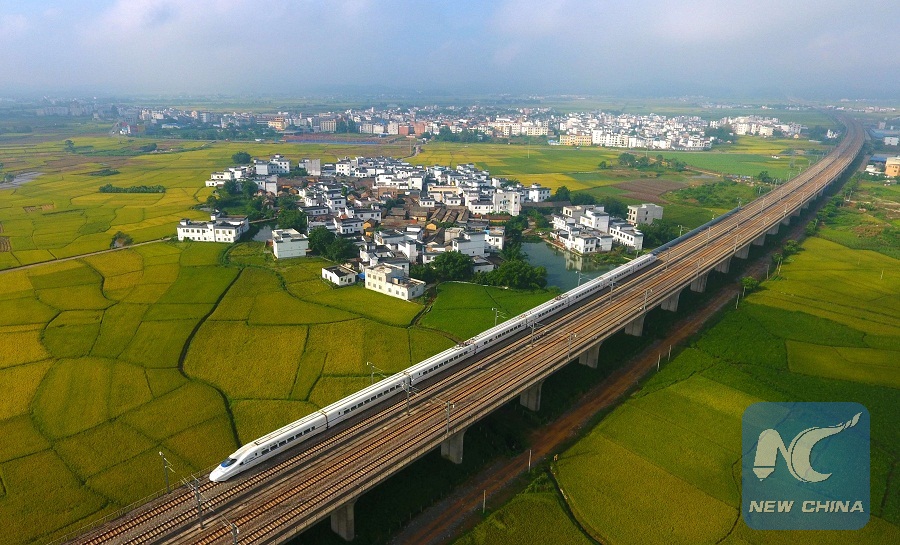 A bullet train drives in Liuzhou City, south China's Guangxi Zhuang Autonomous Region, July 15, 2017. (Xinhua/Li Xin)
BERLIN, Oct. 19 (Xinhua) -- With China's "fascinating" development in the past five years and providing more public goods to the world, Europe will benefit from a strong Chinese economy, a German expert on China has said.
Nele Noesselt, a professor and China expert with the Institute of East Asian Studies at the University of Duisburg-Essen, spoke highly of China's reform measures, especially those listed in a landmark blueprint in 2013.
Issued by the Communist Party of China (CPC), the document known as "The Decision on Major Issues Concerning Comprehensively Deepening Reforms", stipulated the market's leading role in the allocation of resources.
"All these efforts will lead to greener and sustainable development and growth," Noesselt told Xinhua.
Regarding Chinese foreign policy in the past five years, the Duisburg-based expert said China is no longer regarded as a passive observer or bystander in the international system. The change emerged during the 2008 global financial crisis and has become more obvious since 2013, with the Chinese government putting forward an array of ideas for building a just and fair world order, safeguarding peace and promoting development.
While more and more Chinese soldiers are being deployed in UN peacekeeping missions, in a correlated development, China is also becoming increasingly active in global economic governance.
"Chinese companies are growing globally, calling for China's participation in world security affairs to ensure (Chinese)interests. At the same time, (the) domestic economy is more and more intertwined with the world economy," Noesselt said. "China's participation in the international system has somehow stabilized the global market."
The Belt and Road Initiative, one of the major outcomes of the new trend in China's foreign policy, will bring benefits to European countries, he added.
The initiative, proposed by President Xi Jinping in 2013, aims to create greater trade, infrastructure and people-to-people links between Asia, Europe and Africa by reviving and expanding the ancient Silk Trade routes. The modern version comprises an overland Silk Road Economic Belt and a 21st Century Maritime Silk Road.
China is providing infrastructure and securing transport routes, thereby not only benefiting Chinese markets but also providing economic growth and stability to Europe and other regions, Noesselt said.
"We have to keep in mind that we are just over the financial crisis. Everyone (was) hoping that Chinese companies (would) jump in, in a bid to stabilize the European market and also to re-stabilize the euro as a currency. And China did contribute," he said.