Hungary: China's best friend in Central Europe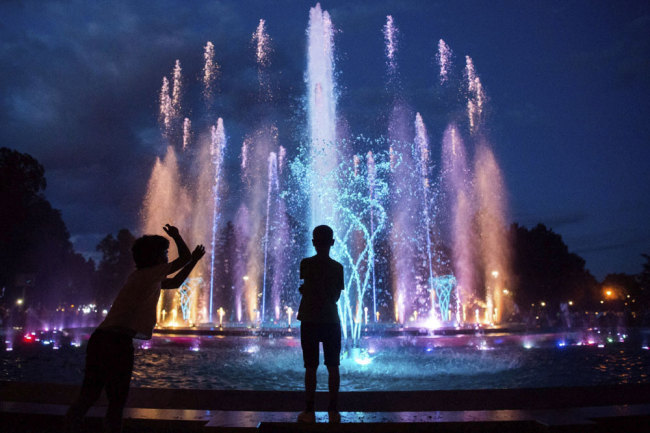 In this June 29, 2017 photo young visitors look at the fountain of Margaret Island illuminated with multiple color lights during the inauguration ceremony of the Light Garden in Budapest, Hungary. (Photo: AP)
China is not the only country that is misunderstood by the outside world. So is tiny Hungary, nestled in the heart of Europe. Both China and Hungary have had very different historical experiences and have significantly different cultures from the countries and empires that dominated the twentieth century. So outsiders grab for stereotypes to understand China and Hungary, as we all do, of course, with things we don't understand.
We live in turbulent times and a little more understanding is desperately needed. It is instructive to take a closer look at the relationship between China and Hungary, which has potential to be very significant in the future. How is Hungary responding to the biggest change of the twenty first century, the rise of China?
Why is Hungary, under the leadership of Viktor Orbán, recently re-elected for his fourth term as Prime Minister, embracing a special relationship with China?
China under the leadership of President Xi Jinping is asserting its leadership role in the global economy. China's grand vision is to build new Silk Roads, just like the ancient Silk Roads, linking it to centres of commerce and culture. The "Belt and Road Initiative" offers to fund and build infrastructure and connectivity to grow trade, investment and people-to-people exchange between China and Europe, Asia and beyond.
Hungary has a strategic location in these plans, as a logistics hub for China's economic engagement with the Central and Eastern Europe (CEE) region, attracting around one third of China's investment in the region. China is building a $3 billion, 370km high speed Budapest-Belgrade rail link, likely to be just one component of future north-south transport links between the Port of Pireus in Greece and the major economies of Northern Europe.
Hungary was the first European country to sign a memorandum of understanding with China on promoting the Belt and Road and has joined the Asian Infrastructure Investment Bank (AIIB), a key multilateral funding vehicle for China's Belt and Road plans.
In November 2017, Budapest hosted the sixth "16+1" Summit between China and CEE leaders, at which announcements were made about Chinese bank funding for BorsodChem, a Hungarian chemicals company owned by Wanhua Group, BYD's electric bus plant at Komárom and a $500m credit line between China Exim Bank and its Hungarian equivalent.
At a regional level, a China-CEE bank consortium was announced to which the China Development Bank will grant loans worth $2.4 billion and a second round of the China-CEE Investment Cooperation Fund, established in 2016, which is to raise $1 billion for new projects.
So, Hungary's perspective on the rise of China might be understandably more upbeat than some Western powers that see China as a strategic competitor. The US, for example, has boycotted the AIIB and many of its allies remain skeptical about the Belt and Road as a new geo-strategic play.
On the contrary, Orbán told the 16+1 Summit "We see the Chinese President's 'Belt and Road' initiative as the new form of globalization which does not divide the world into teachers and students but is based on common respect and common advantages".
Hungary is happy to be China's best friend in the region.
In the long game, if Chinese investment can help to build Hungary's economic infrastructure and its connectivity to European as well as Asian markets, being China's best friend may pay off. There is no doubt the rise of China to become the world's largest economy in the next decade or so will change everything. The challenge for countries on the New Silk Road will be to ensure that the benefits are not all one-way, but truly based, as suggested by both Orbán and Xi, on common respect and common advantages.