Senegalese public applauds Xi's focus on bilateral ties, cooperation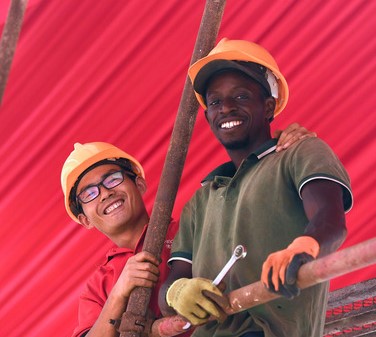 Workers from China and Senegal work in the National Wrestling Arena in Dakar, Senegal, on July 18, 2018. (Photo: Xinhua/Yan Yan)
A signed article by Chinese President Xi Jinping published Friday in a mainstream newspaper in Senegal has been applauded by the African country's public for the article's focus on bilateral relations and cooperation.
In the article titled "SUNU JAPPO, China and Senegal!" carried by Le Soleil ahead of his state visit to Senegal, Xi praised the lifting of bilateral relations to a comprehensive strategic partnership while expressing hope for greater progress in ties.
Bara Ndiaye, the administrator of Senegal's Maison de la Presse, said Xi brings forth brighter prospects for bilateral relations by proposing to "enhance our mutual understanding and friendship, and deepen cooperation" between the two countries.
"The article was written by a leader who knows about and understands Africa well," he said.
Idrissa Faye, a Senegalese citizen, said "I hope Senegal will participate in the China-proposed Belt and Road Initiative (BRI), so that our country could have greater development."
Xi said in his article that by leveraging the BRI and the platform of the Forum on China-Africa Cooperation, China will work with Senegal to tap both countries' strengths in the trade and processing of agricultural and aquatic products.
"I watched on TV that the Chinese people are fond of seafood, and I wish more and more Chinese would eat fish caught by our people," he said.
Senegalese journalist Birane Cisse said he was especially happy with Xi's proposal to strengthen people-to-people ties.
"If more Senegalese students can study in China, and return equipped with China's development experiences, our country will be able to develop faster," Cisse said.
In his article, citing the Wolof proverb "Nit, nit ay garabam (Man is the remedy of man)" as well as a Chinese saying to the similar effect of "One for all, all for one," Xi wrote that China and African countries including Senegal cherish a common dream of prosperity and should work together to make it come true.
"Having gone through thick and thin together, China, Senegal and the vast African countries are bound by similar historical experiences, the same development tasks and a shared aspiration for a better life," Xi wrote.
"To achieve common development and prosperity, we need to join hands to build an even stronger China-Africa community with a shared future," he said.
Agreeing with such a prospect, a Chadian software engineer currently living in Senegal called Hamid, who only gave his first name, believed that developing Senegal-China cooperation will bring progress in the ties between China and the West African countries.
In particular, he said he is longing for Chinese initiatives to facilitate Africa's development of information technology at the upcoming Beijing Summit of the Forum on China-Africa Cooperation in September.
Sana Badji, a student at the Confucius Institute at Dakar University, thanked China for providing the Senegalese people with a lot of support."The Chinese government helped us build the National Grand Theater, and Chinese companies built roads and schools," Badji said.
What's more, he said, "China has offered medical assistance, sending doctors. We are very happy with and obliged for the help."