Xi offers model for governance
Global Times
1512249042000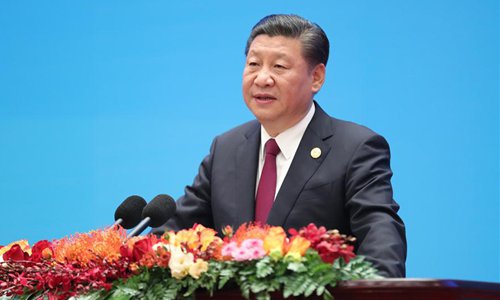 Xi Jinping, general secretary of the Communist Party of China (CPC) Central Committee, delivers a speech at the opening ceremony of CPC in Dialogue with World Political Parties High-Level Meeting in Beijing, capital of China, Dec. 1, 2017. Photo: Xinhua/Liu Weibing

Xi Jinping, general secretary of the Communist Party of China (CPC) Central Committee, proposed Friday to develop a new model of party-to-party relations, in which political parties would seek common ground while shelving differences, respecting and learning from one another, the Xinhua News Agency reported.
Chinese experts said that good party-to-party relations could help make joint efforts in handling common problems amid the anti-globalization trend, and the CPC is sharing experience on governance in an effort to assist global development.
Xi made the remarks at the opening of CPC in Dialogue with World Political Parties High-Level Meeting in Beijing.
"Political parties of different countries should work together for an international network of cooperation and exchange in various forms and at multiple levels... With an open vision and broad mind, the CPC is willing to carry out dialogues, exchanges and cooperation with peoples and political parties of other countries," Xi said.
Su Wei, a professor at the Party School of the CPC Chongqing Municipal Committee, told the Global Times on Friday that political parties play the main role in finding a suitable way for a country to develop during the current anti-globalization trend, and close ties between different parties could help handle shared problems
Wang Yiwei, director of the Institute of International Affairs at the Renmin University of China, told the Global Times on Friday that "the CPC's arranging of the meeting among different parties could help them share governance experience of a country and exchange ideas on building a better community with a shared future for mankind."
Xi noted on Friday that the CPC has placed great importance on learning from civilization achievements created by peoples of other countries and integrating them with Chinese realities. However, Xi said that the CPC will neither "import" foreign models of development, nor "export" the Chinese model and asked other countries to "copy" the Chinese practice.
Su said that "the CPC has developed a socialist road with Chinese characteristics, which lead the country to be prosperous. It is willing to share experience with more developing countries while respecting their own history and situation."

Shared future
Xi also said on Friday that the initiative of building a community with a shared future for mankind is being transformed from a concept into action.
"I'm delighted to see that the friendly cooperation between China and other countries is increasingly expanding and the concept of a community with a shared future for mankind is gaining support and endorsement from an increasing number of people," Xi said, noting that the Belt and Road initiative is the practice of the concept.
Proposed by Xi in 2013, the Belt and Road initiative aims to build trade and infrastructure networks connecting Asia with Europe and Africa via land and maritime routes.
Leaders of political parties from other countries reached by the Global Times praised the meeting.
Kuanganov Farkhad, secretary of the Nur Otan Party of Kazakhstan, said that China's Belt and Road initiative offered an opportunity to Central Asian countries and as an important member of the region, Kazakhstan will actively join it and deepen bilateral cooperation.
He also hailed the CPC's 19th National Congress, saying that the congress has planned China's future development and is also significant to the whole world.
Zulpukarov Torobai, deputy chairman of the Social Democratic Party of Kyrgyzstan, said that China has become an important country to safeguard the new international order and the international community is also happy to see China shoulder more responsibility.
Many parties want to learn from the CPC as it has good experience in managing intra-Party affairs, he said, adding the high-level dialogue meeting offered a good opportunity for them to know more about China and learn from the CPC.