China-Iraq Ties in the New Era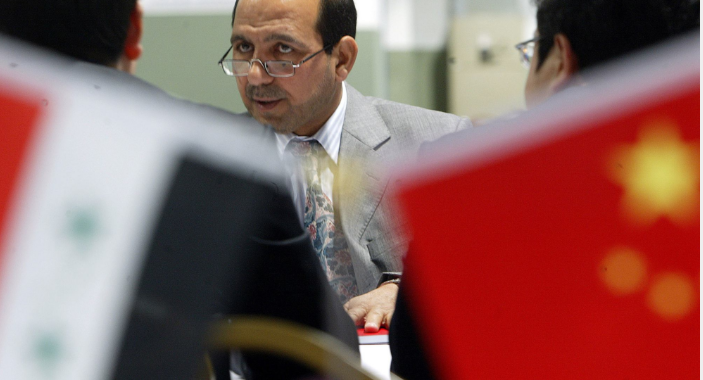 (Photo: CGTN)
Editor's note: Wang Jin is a research fellow at the Charhar Institute and Syria Research Center at Northwest University of China. The article reflects the author's opinion, and not necessarily the views of CGTN.
Relations between the Chinese and Iraqi people can be traced back more than 2,000 years to when Chinese royal envoy Zhang Qian and his deputy Gan Ying arrived at the areas between the Tigris and Euphrates Rivers, or today's central Iraq. Official diplomatic relations between China and Iraq were, however, established in 1958.
Ever since the establishment of bilateral ties, China-Iraq relations have witnessed several achievements.
From the 1960s to 1970s, China and Iraq witnessed steady relations in spite of frequent national leadership changes and military coup attempts in Iraq.
Furthermore, although China condemned Iraq's military invasion of Kuwait led by Saddam Hussein in 1990, Beijing also condemned the blockade and sanctions imposed by the US against Iraq after 1991 largely because of China's concerns over the Iraqi people's social and economic hardships.
China strongly opposed the American and British military invasion of Iraq in 2003 and called for the withdrawal of all foreign forces from the country.
Apart from that, despite the opposition to US-UK military invasions, China has been willing to cooperate with Iraq, especially on energy, to meet China's own growing energy demands as well as lessen the economic hardships for the Iraqi society after the war.
On the one hand, China has been seeking direct investment in infrastructure assets and the energy sector. During the past decade, Chinese energy companies, such as CNPC, Sinopec, CNOOC, Sinochem and Norinco, got involved in investment and oil extraction in several major Iraqi oil fields, including al-Ahdab, ar-Rumaylah, al-Halfaya and Misan.
Thanks to the close energy cooperation between Iraq and China, Iraqi oil exports to China rose from zero in 2007 to 270 million barrels annually by 2017, and Iraq has become China's second largest oil supplier, next only to Saudi Arabia.
On the other hand, cooperation between China and Iraq has generally been expanding significantly ever since the Belt and Road Initiative was advocated in 2013. In 2015, China and Iraq upgraded bilateral ties to a strategic partnership and more opportunities have emerged in various fields.
Iraq has become China's third largest trade partner in the Arab world and the bilateral trade volume reached more than 22 billion US dollars by 2017.
Today, more than half of the electricity in Baghdad city, the capital of Iraq, is produced by Chinese companies, and more and more Iraqi people are grateful to China's Belt and Road Initiative. At the beginning of this year, China and other international states pledged 30 billion US dollars for reconstruction efforts in Iraq.
Meanwhile, Chinese company PowerChina is actively participating in the reconstruction of ports in Fao of Southern Iraq, and China Petroleum Pipeline Bureau might participate in the construction work in the planned Basra-Aqaba oil pipeline.
Given the growing demand of China's energy market and the great importance of Iraq's geographic position in the Belt and Road initiative, both nations will be keen to deepen their partnership and friendship.
In the future, China-Iraq relations could be further deepened in several fields. China's leading competence in infrastructure construction might be an important driving force for Iraq's economic development.
China's military equipment might be of high quality but is an inexpensive alternative for Iraqi forces. In addition, China's solar power generation technology and construction experience might help narrow the gap between electricity demands and generation in Iraq.
Believing in the broad development prospects of our countries and the vast potential of our cooperation, China has full confidence in its future cooperation with Iraq.
China-Iraq friendship during the past six decades has been tested on several important historical occasions, while China-Iraq relations today under the Belt and Road initiative maintain the good momentum of development.
China and Iraq should synergize the valuable historical opportunity of Belt and Road Initiative to bring more benefits to the two peoples in the future.