Veteran Winter Olympians: Embodiments of the Olympic Spirit
People's Daily Online
1645236902000
As the world descended on China for the Winter Olympics Games, the spotlight always goes to gold medal favorites or rookie talents. It is also important to remember that the Olympics Games aren't just about winners, records, and medal tables. Medals may soon gather dust, while records may be quickly broken and forgotten. The golden Olympic moments that resonate through the ages barely matter, including who won or lost, but involve something more profound than results: the human instinct for participation and achieving something beyond themselves. People's Daily Online has picked six veteran winter Olympians, unraveling the true Olympic Spirit behind their stories.
Claudia Pechstein: "The result of today was not so important, it was just to race and to be here. I am super proud."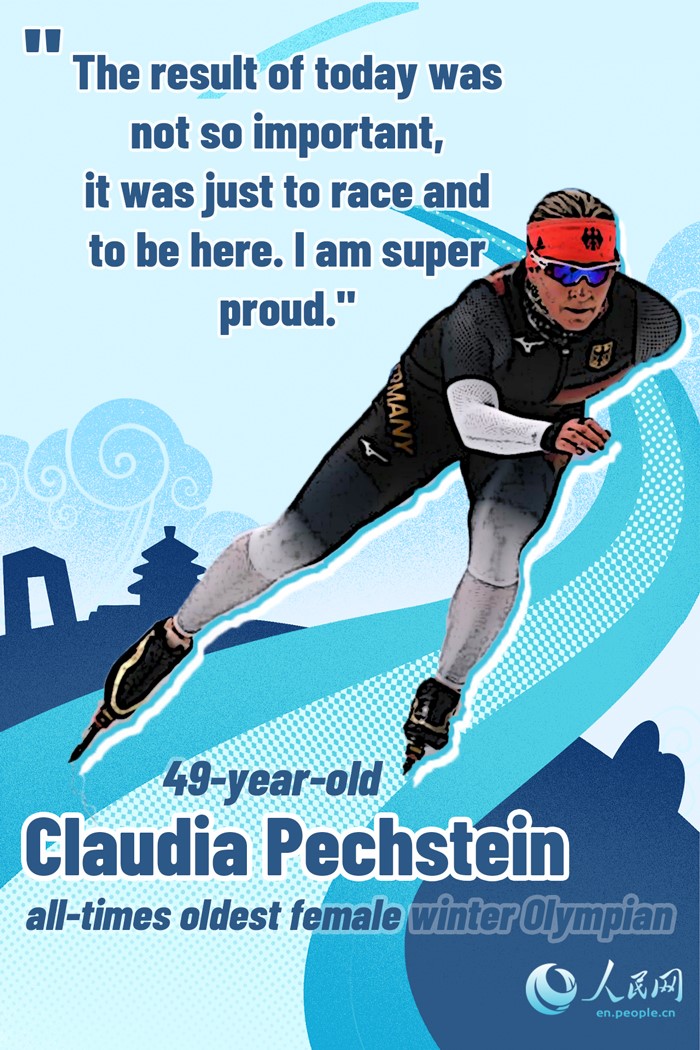 Decades into a decorated speed skating career, Claudia Pechstein is still achieving firsts.
The 49-year-old German speed skater Claudia Pechstein became the oldest woman ever to compete at the Winter Olympic Games and the second athlete — and the only woman — to compete in eight Winter Games when she raced in the 3,000-meter speed skating event at the Beijing 2022.
In the women's 3,000 meters, Pechstein competed with young athletes, some of whom are at their twenties. Although she finished more than 20 seconds behind Dutch gold medalist, Irene Schouten, who broke the record that Pechstein had held for 20 years, Pechstein raised her arms and looked relieved as she crossed the finishing line, the gesture that she would often make when she took a spot on the podium in previous Winter Games.
"I was not too fast, but I smiled because today I got my goal to race in my eighth Olympic Games. This was important for me," Pechstein told the Reuters.
"The result of today was not so important; it was just to race and to be here. I am super proud," Pechstein said.
Shaun White: "I wish I would've done better but I did what I could. I'm proud."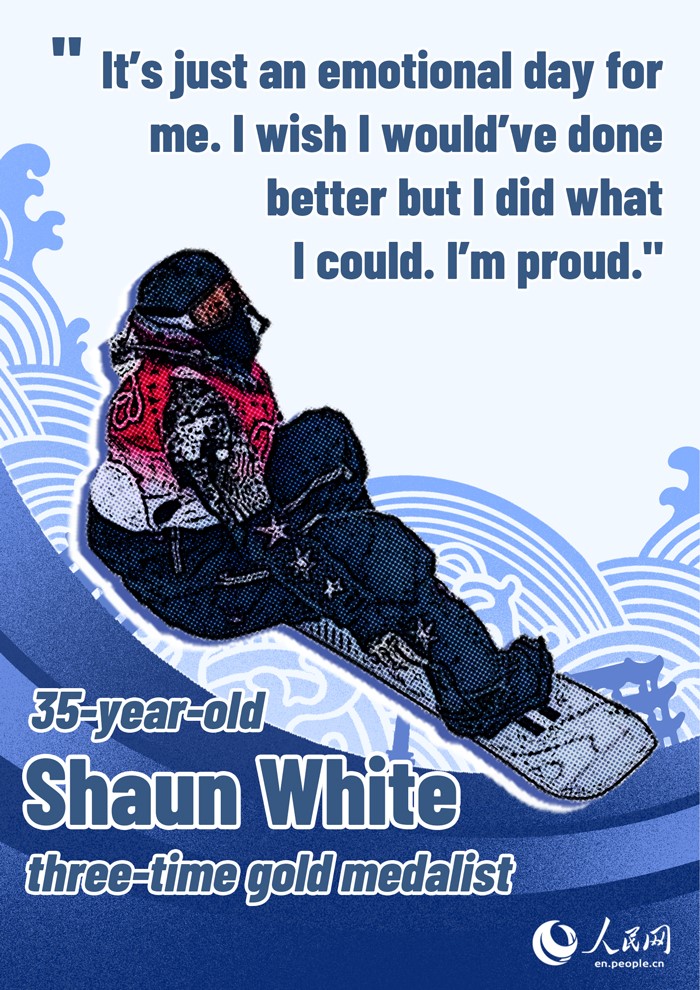 American three-time gold medalist in snowboarding Shaun White, who has pushed the limits of snowboarding for over a decade, ended his legendary career after his last ever competitive halfpipe run at Beijing 2022.
At 35, White was the oldest snowboarder in the men's halfpipe final, being seven years older than the next-oldest snowboarder: his 28-year-old American compatriot Taylor Gold. In his farewell performance last Friday, White perfectly executed his patented Double McTwist 1260 and then a front side 1260 as a finishing touch to his second run. At the end, however, he finished in fourth place after falling in his third and final run. Even though White didn't make it to the podium, the moment was also a chance for White to say so long to a sport he has hovered over for so long.
After the Games, Shaun removed his helmet and waved it in the air, breaking into a big smile. He stopped at the scoring area, hugging his competitors – who lined up to congratulate him on his incredible career – and shedding into tears. The weight of the moment gripped the veteran athlete, bearing witness to his having competed for 25 years in the sport and his contribution to changing the landscape for competitive halfpipe. Although he will leave the 2022 Winter Games without a medal in hand, his indelible legacy will live on.
"It's just an emotional day for me," White told the Associated Press. "I wish I would've done better, but I did what I could. I'm proud ."
Xu Mengtao: "We have won. I have finally won on my home front."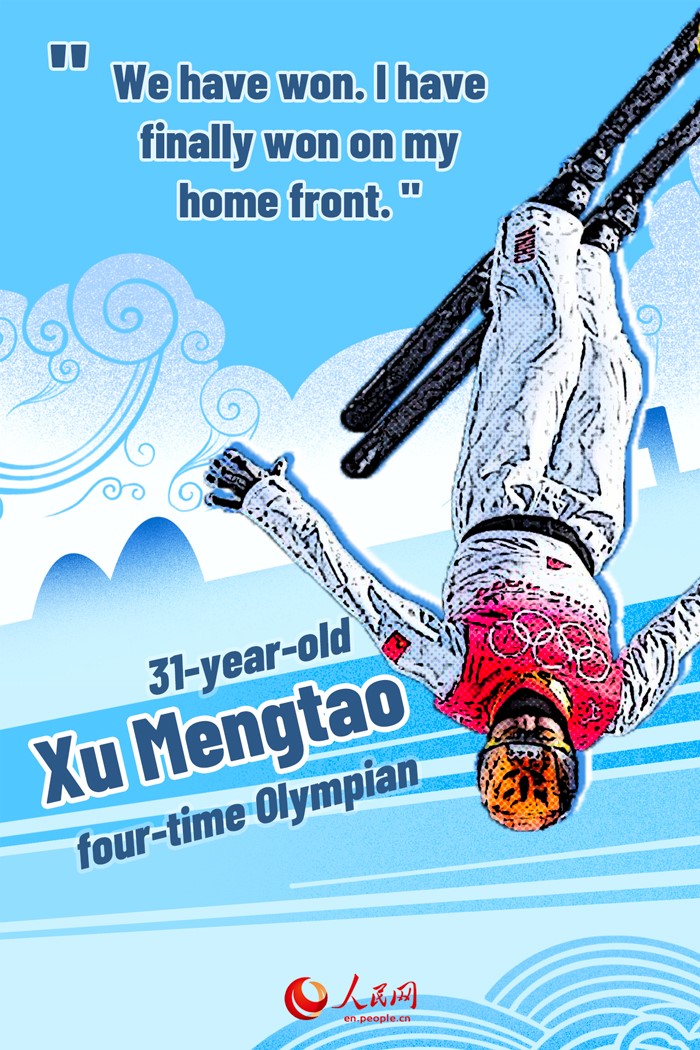 China's veteran Xu Mengtao, now 31 years old, claimed the women's aerials freestyle skiing gold medal on Feb. 14, 2022. This was China's first-ever gold medal for this event and also the first Winter Olympics gold medal Xu, a four-time Olympian, won in her remarkable career.
Xu's 16 years of perseverance was even more impressive than securing the top spot on the podium. Before Beijing 2022, she failed to win the gold medal in three consecutive attempts, but she never thought about giving up.
"I never thought about retirement," she said in a previous interview with CGTN. "My only wish now is to win the first gold medal for the Chinese Women Aerials Team at the Winter Olympics and see the Chinese national flag flying at the top."
It takes four years of dedicated practice for only a few seconds of high-level performance inside the arena. To compete for the gold medal, Xu kept pushing the limits of her body to master the highest-scoring and most extreme tricks. Xu, no longer a young athlete, is exhausted by her many injuries sustained during multiple years of high-intensity routine training. But her efforts and personal sacrifice have paid off.
During the competition, Xu stomped a back-full-full-full in near perfection, registering a match-best 108.61 points among the six skiers competing in the second run during the final round Her winning trick brought the few audience members in the grandstands to their feet and caused them to cheer loudly. With much delight upon winning gold, Xu rejoiced repeatedly and let her emotions be known.
"We have won. I have finally won on my home front," Xu enthused . "I'm just super excited. This is the first gold medal by China in women's aerials, and it's just super cool."
Qi Guangpu: "This is my fourth Olympics. I have learned a lot."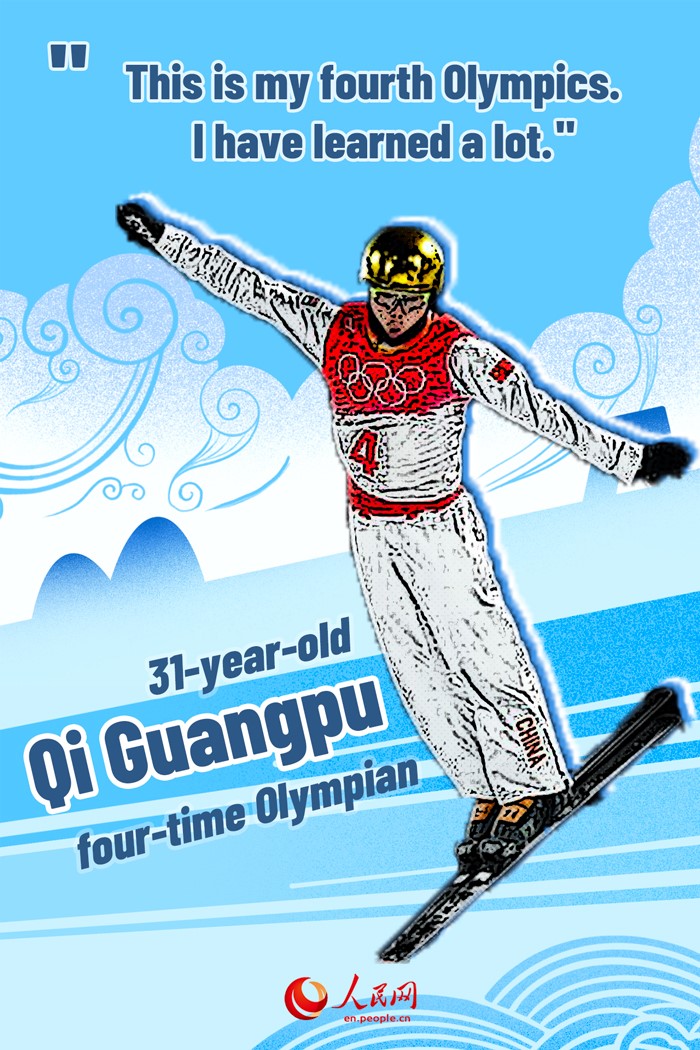 Chasing his Olympic dream for 22 years, Chinese veteran Qi Guangpu won the men's aerials gold in his fourth Olympic appearance at Beijing 2022.
It was the first time for the 31-year-old Qi to reach the top spot on the podium during the Winter Olympics. Of his previous three appearances, Qi had his best performance at Sochi 2014, achieving fourth place, while having finished seventh twice at Vancouver 2010 and PyeongChang 2018. He kept a low profile until Wednesday night when he stunned the world with his near-perfect performance in the final round, which quashed all of the competition.
Having always maintained an ambitious goal of becoming an Olympic champion, his dream eventually came true after 22 years of effort. In the breathtaking final round, Qi jumped to the top of the crop through a brilliant trick, performing a back double full-full-double full, which boasts a degree of difficulty at 5.000, the highest in the world so far. The commanding performance having won 129 points for the veteran Chinese athlete as he climbed to the top of the podium.
"I did my best in the competition; almost every competitor did their best, so every trick was wonderful," he said.
"This is my fourth Olympics. I have learned a lot from the previous ones. This is just the right time for me to win the gold medal in China, my home country," Qi said.
Wu Dajing: "I'm taking every race like it's my last one."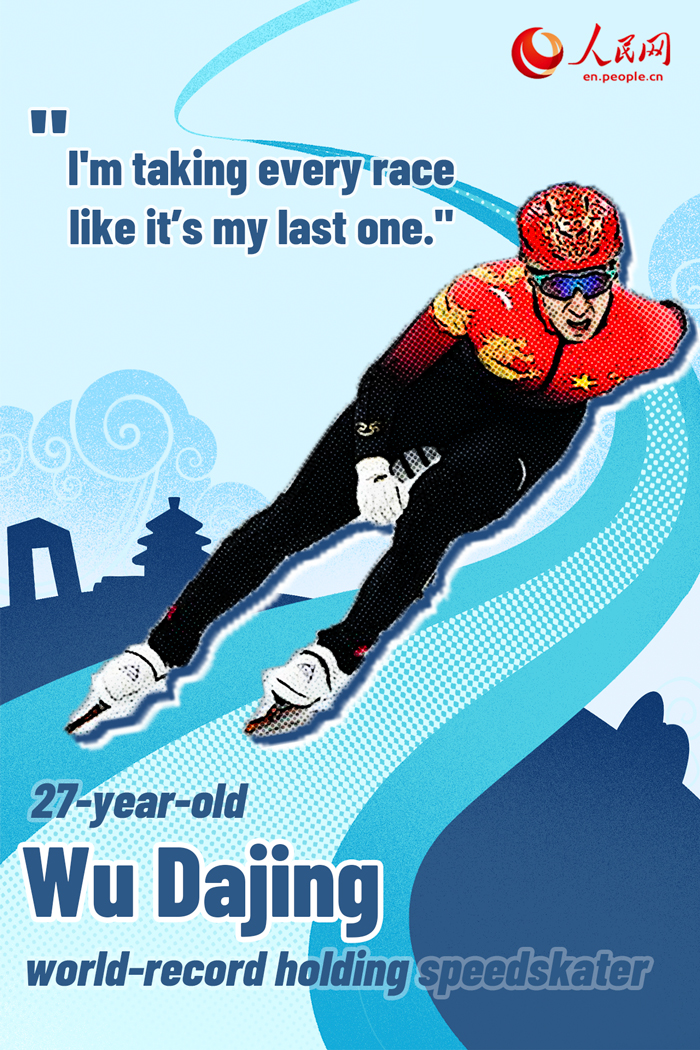 The essential thing about the Olympic Games is not to have just conquered your achievement, but to have fought well along the way, with the recent performance of China's short-track speed skater Wu Dajing at Beijing 2022 having provided a vivid illustration of this profound sentiment.
The 27-year-old Wu had a tight schedule at Beijing 2022. Before the final race of his signature event, the men's 500 meters, he had competed in 11 high-intensity short-track races within four days. During those races, Wu and his teammates won China's first gold medal of the Beijing 2022 Games in the short-track speedskating mixed relay event.
However, not every race has ended in a good result. Wu finished 4th in the men's 1,000 meters on February 7; a few days later, he missed out on the chance to seize a medal at his signature event as he failed to move onto the championship-deciding final A. Pressing his lips downward, Wu reacted disappointedly after swallowing the result.
"It's a great pity. I have prepared for this for so many years. Everyone in the semifinals has a chance to finish on the podium. But no matter the result is good or bad, I can accept it," said Wu .
In his final B race, Wu finished in first place after leading in every lap. Even though Wu failed to get back on top of the podium a second time at Beijing 2022, his resume in short track speaks for itself: the first Chinese male skater to win an Olympic gold medal in short track and the world record holder in the men's 500 meters at 39.505 seconds.
For Wu, the most important thing is not about defending his title in the 500m event, but instead about enjoying every competition.
"I'm taking every race like it's my last one, because I don't know if I'll be able to compete at the next Olympics, or any international competition later," he said.
Hanyu Yuzuru: "I went for it, and it's something I will cherish forever."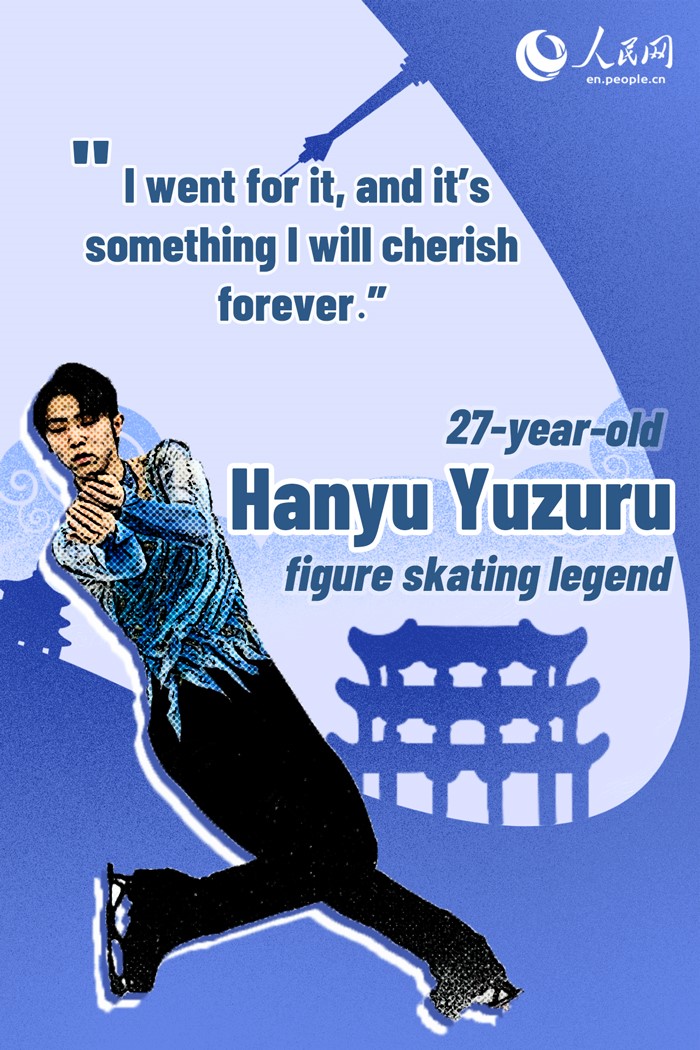 The 27-year-old Japanese figure skating legend Hanyu Yuzuru has added yet another entry into his practically peerless skating resume: two Olympics gold medals, two world championships, and a decade's worth of spellbinding, record-shattering performances. During Beijing 2022, he nearly made history with an attempt at the quadruple Axel.
Hanyu said before the Games that his most significant motivating factor when arriving in Beijing, even bigger than winning a record-tying third gold, was to pioneer the quadruple Axel, the most challenging jump ever attempted in figure skating.
Last Thursday, Hanyu, the defending champion, attempted the most difficult jump in the history of men's figure skating and the Olympics, which required him to spin four-and-a-half times in mid-air before landing. Twenty seconds into his free skate, he fell on his quadruple Axel attempt and a last-second jump. The mistake cost him a medal, and for the first time in his career, he left the Games empty-handed.
The star Japanese athlete may not have landed the first quadruple Axel in history, but he can walk away from the arena proud and with his chin up.
"I was at top gear right from the start, and I thought I rotated the Axel as well as I could. I went for it, and it's something I will cherish forever," he said.
"Sure, the result is disappointing, but I think I went all in," he remarked, after landing in the fourth place spot. "It is what it is. This Olympics was a challenge, and I gave it everything I have."