A farmer harvests the barley by hand in Tibet autonomous region. (Photo:VCG)
Craft beer. Red wine. Pineapples.
Yak burgers. Burger King. Harley-Davidson.
Most folks would find at least many of these prospects enjoyable.
But few would immediately associate them with the Tibet autonomous region.
Many people instead envision herders guiding yaks to graze beneath snowcaps. And they wouldn't be wrong. Such traditions not only survive but also thrive in Tibet.
Yet they do so at intersections with such dimensions of development as advancing infrastructure, accelerating innovation and enhanced economic growth.
That's not to mention internationalization.
You can order a yak burger from at least one of Lhasa's five-star hotels, where a Harley Davidson shop stocked with a fleet of top-end choppers greets visitors immediately inside the main entrance.
Their engines are off. But their very presence rumbles.
Or you can eat at a Burger King next to — but, importantly, not on — Bakor Street.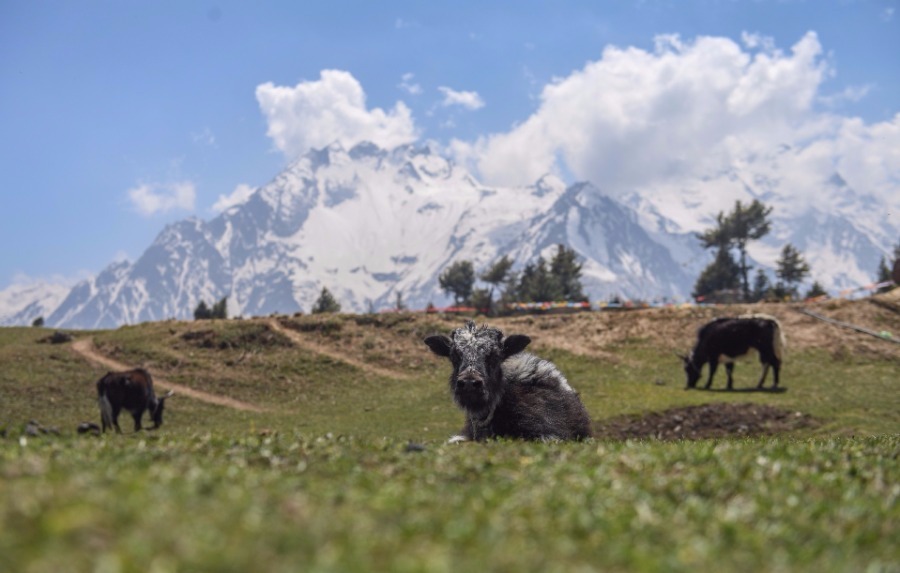 Photo taken on April 28, 2019 shows a yak resting at Gyirong county of Xigaze city, southwest China's Tibet autonomous region. (Photo: Xinhua)
The hogs and burgers beg questions about how Tibet's past and future intersect in terms of the region's place in time in the world today, especially within its key position within the Belt and Road Initiative's potential for tomorrow.
Speaking of time, I didn't have enough to eat any of these sandwiches there.
But I did buy bags of yak jerky and milk candy to give to friends and family when I make my summer visit to my US hometown.
I did so last time, too, using cash. This time I paid using WeChat.
Indeed, the autonomous region is modernizing and internationalizing while sustaining local traditions — in sometimes surprising ways.
It's not a land where the ancient and contemporary collide, like a time-machine fender bender.
Rather, it's a place where they coexist and work in synchrony, like the various parts of a vehicle steering forward on the road toward tomorrow.
Tibet is a place to expect the unexpected — and when you least expect it. It's a destination that surprises, especially as its development accelerates.
This is what I've learned while exploring its vast territory during the Forum on the Development of Tibet, China, first in 2016 and again earlier this summer.
I was particularly impressed by an agricultural-innovation project in which tropical fruits — yes, like pineapples — were being grown on what's often described as the "planet's third pole", during my first visit.
This year, I was intrigued by the opportunity to sample locally produced microbrews and red wine.
It's not that Tibet isn't known for beer. Its mass-produced varieties, typically flaunting highland barley as its main ingredient, are popular around the country.
I like them. I sometimes buy them in Beijing.
The craft brewer, who sources most ingredients internationally, told me his young company is the first to enter the sector in Tibet. Two other entrepreneurs penetrated the regional market soon after.
Their unique concoctions are currently only available in Tibet.
But I'd buy them in Beijing. And I think many people in cities around the country and world would, too.
The region certainly isn't known for its wine. Few would think of vineyard-to-bottle production if they even ever thought of Tibet in vino terms.
It's perhaps time to start. Grapes do grow on the plateau. And their potential is being bottled locally only to be uncorked globally.
That said, traditional — consequently, more conventional — local products are also not only making inroads into the travel sector but also project their trade viability through trans-Himalayan exchanges in such areas as traditional medicine.
Three years ago, I learned a tremendous amount about how such poverty-alleviation measures as urbanization, vocational training and climate-change mitigation are transforming the Tibet autonomous region.
This year, I also learned about how Tibet's increasing prosperity and accelerated innovation are mutually reinforcing China's exchanges with other countries and regions, and how it is becoming a major node of the Belt and Road Initiative.
I listened as Nepalese participants, in particular, explained why they enthusiastically support plans for a cross-border railway from Tibet to Kathmandu agreed upon within the BRI framework. And I heard other participants voice hopes for their particular countries.
That was not only during onstage speeches and in discussion groups.
I perhaps learned the most about the reasons why they applaud their homelands' involvement in the initiative when we informally discussed it between swills of the local microbreweries' pale ales, stouts and lagers during an informal dinner.
The journey through Tibet also offered opportunities to visit villages and small towns in Nyingchi city to witness the region's rural development firsthand.
Many people in the countryside told us they've swapped herding and farming for tourism, and earn multiplications of what they could previously, producing food.
One family we visited in a village owned six cars and two cargo trucks. They earn about 400,000 yuan ($58,000) a year from their transport business, tourism, farming and herding, construction materials and such products as wild herbs.
Indeed, it seems some rural Tibetans today realize the value of diversifying their business portfolios. And rapid development means they can.
The spacious homes of such entrepreneurs we met offer contemporary conveniences, yet are built according to traditional architectural styles.
They stand as a testimony to, and perhaps a metaphor for, Tibet's best-of-all-worlds approach to development of blending times over time.
Such rural homestays, indeed, may be the kind of place worth riding a Harley to after a yak burger in Lhasa.